News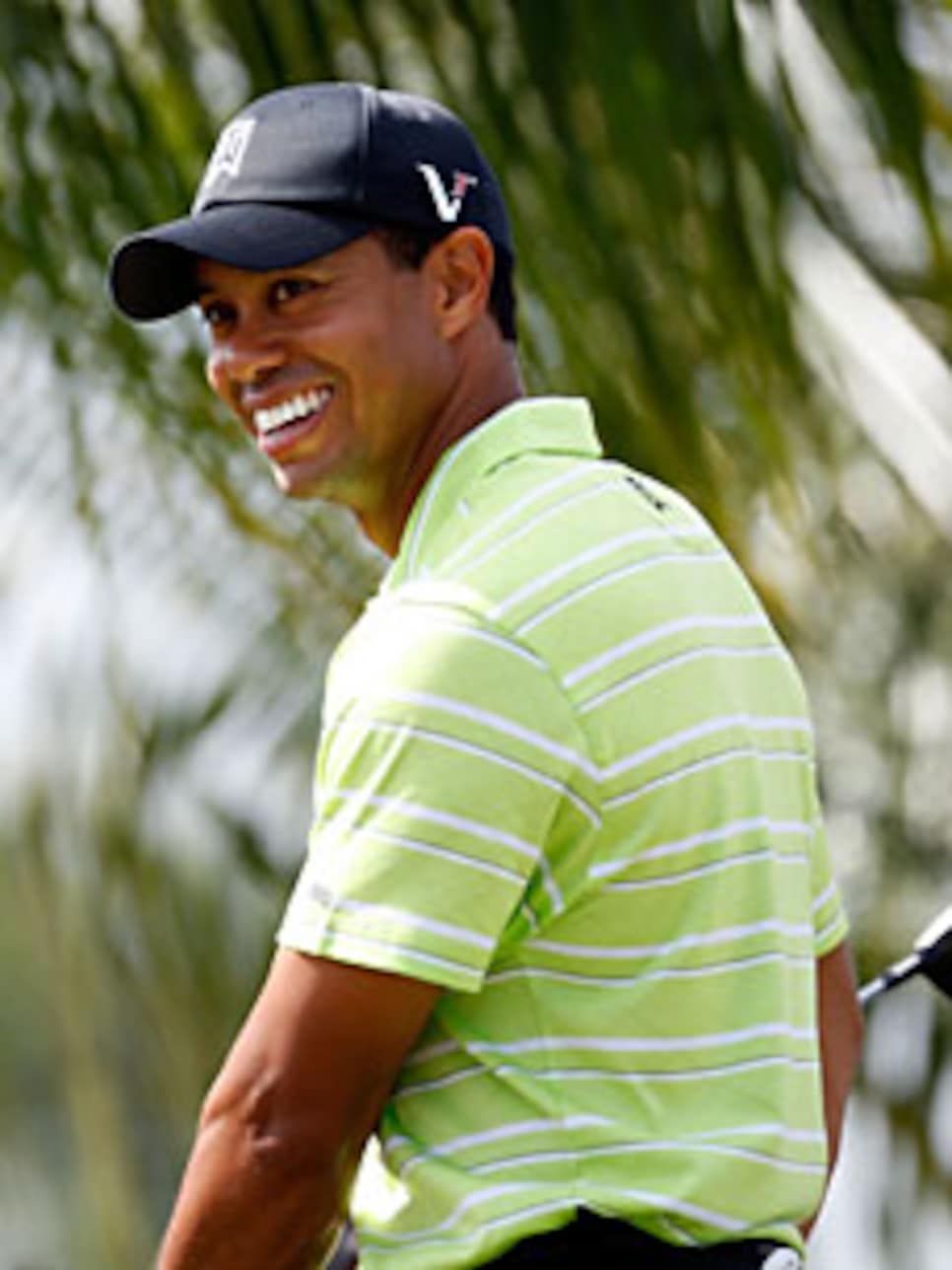 About to play the third tournament of his comeback, Tiger Woods said he's been pleased with his progress.
ORLANDO -- The PGA Tour is ticking on Tiger Time again this week at the Arnold Palmer lnvitational at Bay Hill, where the defending champion sized up his own game and said his comeback is not proceeding at the pace he expected. No, it's gone faster.
"To be honest with you, I think it's taken less time to get my feel back for the game," Tiger Woods said Wednesday at Bay Hill.
Woods, who has won this tournament five times, is paired with Padraig Harrington and Mark Wilson for the first two rounds at the 7,137-yard par-70 layout. The countdown to the Masters for Woods shows one tournament and counting, with Bay Hill his third and last opportunity to get ready for it after coming back from left knee ligament replacement surgery nine months ago. Woods said he wasn't sure how his knee would hold up, which meant he wasn't sure how long it would take to get his game in order.
"I thought it would take a little bit longer because . . . the question mark to me was how many rounds could I play? Recovering from day-to-day, I didn't know. That's been probably the greatest positive, I've been able to recover . . . and not feel a thing, and therefore I can start working on my feel."
His feel is his short game, principally his putting. At Doral two weeks ago, where Woods tied for ninth, he counted 20 potential birdie putts lip out the first three days. Perhaps the puzzling part of that is he put more work into his putting than any other part of his game when he was rehabilitating his knee, because that's all he was physically able to do for some time.
Palmer, the tournament host, said he's been closely following Woods in his comeback, and thinks Woods is at full strength.
"It sure looks to me like he's hitting the ball very well, and I'm sure that he's going to do everything he possibly can to win as quickly as he can," Palmer said. "Am I putting that out of reach? No, not in any way, shape or form. I think he could win any tournament he wants at this point in time."
Palmer said he supposed the "finer" parts of Woods game might be rusty and specifically mentioned putting. Woods said he has enough time to get his putting straightened out and positioned the way he wants.
"I'm not that far off," he said. "Some fall in, you get a little bit of momentum; you get a little feel and get some 'mo' on your side. I didn't get any of that [at Doral]. To have that many lip-outs and still finish in the top 10, that's a positive side for my ball-striking. Now I just need to get a few putts to go in, and this week I worked on it pretty good and I feel pretty comfortable with it."
As far as the comfort level of his playing partner the next two days, Woods believes the buildup over Harrington's two straight major victories will only increase.
Woods would know. Just as Harrington won the British Open and PGA Championship back-to-back last summer, Woods has boasted three different consecutive majors streaks in his career.
"It's just going to be the expectations, the responsibilities that come with winning two majors in a row, the questions he's going to get asked, week-in and week-out," Woods said of Harrington, who will be going for three straight majors at Augusta. "But that's just something that he's had to deal with. He's had plenty of months to deal with it, and it's just right around the corner now."
As usual, the Masters is so huge, it's begun to dominate the horizon already. Despite Harrington's stature with two majors in a row, they were both won with Woods on the sideline. And Woods will certainly remain the most-watched player at Augusta National.
But he hasn't won the Masters since winning his fourth in 2005, although he's had at least a share of second the last two years. Palmer said that it would be wrong to count Woods out of anything, especially the Masters.
"I feel like he's pretty ready -- right now."