News
Pair Of Aussies Share Lead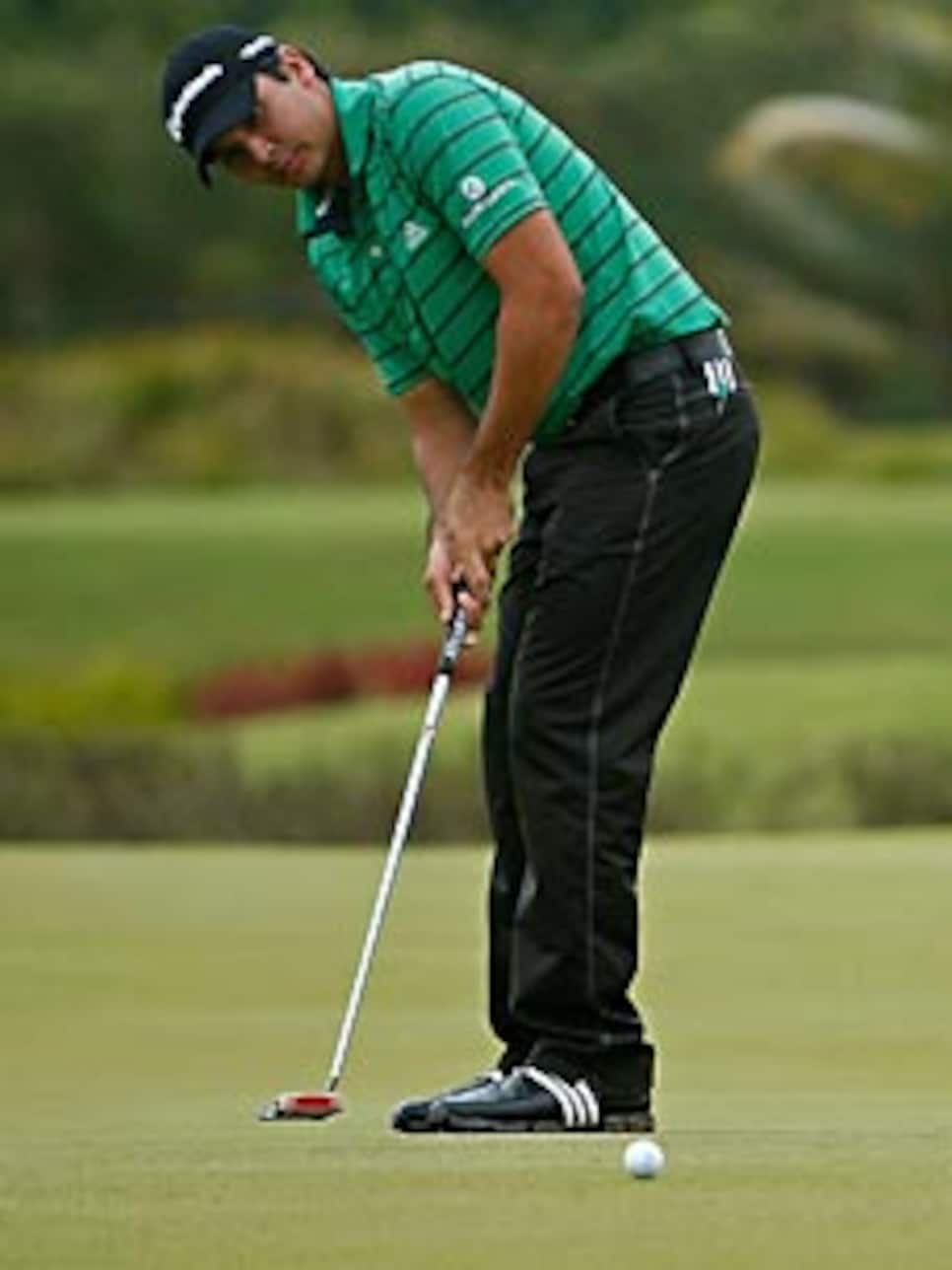 Day, a Nationwide Tour graduate, is in his second season on the PGA Tour.
RIO GRANDE, Puerto Rico (AP) -- Matt Jones shot a 30 on his back nine Friday and finished with an 8-under 64 to match the course record, giving him a share of the 36-hole lead with fellow Australian Jason Day in the Puerto Rico Open.
Playing in swirling wind and occasional rain at Trump International Golf Club, Jones tied the course record set last year by Bo Van Pelt in the inaugural event.
"Actually, I find the course easier to play in the wind than with no wind because it changes the club you hit off the tee," Jones said. "So the holes you're into the wind you're still going to be hitting drivers off them anyway, so I like the wind."
The 21-year-old Day, a rookie on the PGA Tour last year who failed to live up to his hype and wound up losing his card, had a 68 to match Jones at 10-under 134. Day eagled the 600-yard, par-5 15th that plays into the coastal wind.
"It's the first time I've been in this position going into the weekend, and I'm just going to soak it up and try to get some strength out of it," Day said.
Bart Bryant, whose victories include the Memorial and Tour Championship, was a shot back after a 68.
"There's not a Tiger Woods or a Phil Mickelson or somebody up there that you know they're going to be up there at the end," the 46-year-old Bryant said. "So I think there's just a lot of unknowns -- but somebody's going to play really good and someone's going to win."
The four players at 8 under included Estanislao Goya, a 20-year-old Argentine who received a sponsor's exemption. He shot a 67 and was in good position going into the weekend at his first PGA Tour event.
"Of course, if I can play good and win the tournament it will be great because I can get my PGA Tour card. But you know, I try to enjoy my rounds," said Goya, the Tour de las Americas money champion last season.
The $3.5 million tournament is being held opposite the World Golf Championship at Doral, which has attracted the best players from around the world.
Some thought Day would join the elite in golf when he won a Nationwide Tour event at age 19. But he struggled last year as rookie, finishing 136th on the money list and failing to make it through Q-school.
Two dozen players were separated by four shots, a group that included Charles Howell III, 18-year-old Tadd Fujikawa and U.S. Open runner-up Rocco Mediate, all at 6 under. Howell had a 69, Fujikawa shot a 68, and Mediate had a 70.
Fujikawa has made the cut in all three PGA Tour events he has played this year.
Wind and rain were expected to continue through the weekend on the 7,526-yard tropical course.
"We had a little squall there. I mean it was coming down sideways there on three and four, which made four play really hard. But we all have to deal with it," said Mediate, who lost a 19-hole playoff to Tiger Woods in the U.S. Open last year.
Among those missing the cut were Erik Compton, who had his second heart transplant last May. Compton made the cut last week in the Honda Classic, tying for 44th. He had rounds of 77-73.