News
Mickelson Alone Out In Front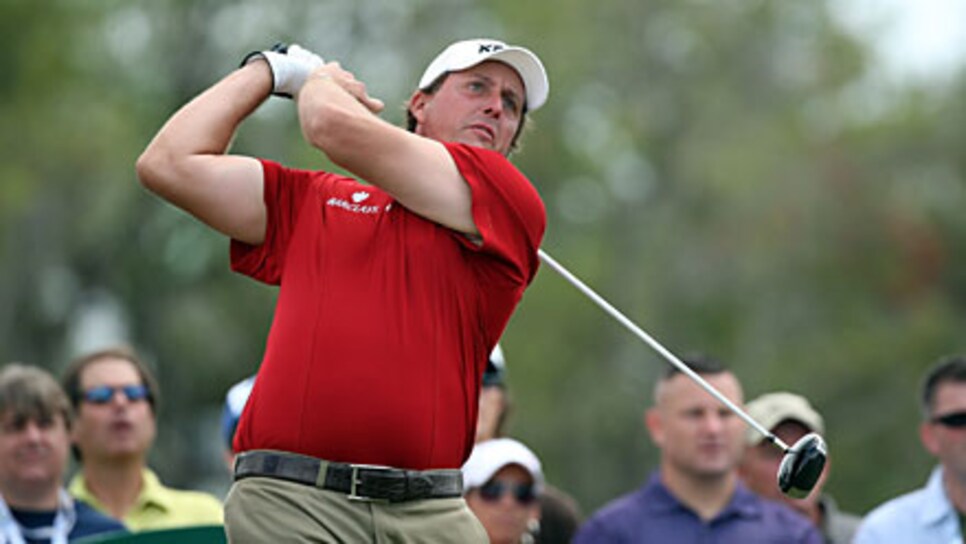 Phil Mickelson will carry a two-shot lead into the third round at the Blue Monster.
DORAL, Fla. (AP) -- The CA Championship looks like any other big golf tournament held over the last nine months.
Phil Mickelson brings some star power. He built a two-shot lead Friday by chipping in for birdie for the third time and smoking a 3-wood from 245 yards around the palm trees and over the water, setting up another birdie.
The group chasing him includes two guys who already have won this year -- Nick Watney (Buick Invitational), who shot 67 and was two shots behind; and Kenny Perry (FBR Open), who had a 64 and was another shot back.
And Tiger Woods was nowhere to be found.
Only this time, he's actually playing in the tournament. Mickelson finished strong for the second straight day and put himself in the last group at Doral for the first time in three years. His foil on the Blue Monster typically is Woods, but Lefty will be keeping different company this time. Woods was 10 shots behind.
"It kind of (stinks)," Mickelson said. "I hope he comes out tomorrow and plays a great round and makes a move. I would love to get him back from '05. I came close in '05 and got beat, and I would love the opportunity to play head-to-head."
Mickelson was at 13-under 131 and will have to settle for Watney, the only player at Doral who has yet to make a bogey.
Rory McIlroy, the 19-year-old from Northern Ireland who is trying to become the youngest PGA Tour winner in history, finished with an eagle and a birdie on two dangerous holes for a 66 and was two shots behind. He was tied with Perry, 48, who has three children older than McIlroy.
Woods beat Mickelson in an electric final round four years ago at Doral that came down to the last shot. They were paired again in the last group in the third round in 2006, and Woods got the best of him again.
This time, however, Woods looks like just another player in the field. He again struggled with his distance control, the frustration growing with every shot too long or too short, leaving him few birdie chances. He made some progress, though -- a 70, one shot better than the day before.
But he was at 3-under 141 and in a tie for 35th in the 80-man field at this World Golf Championship. Told that Mickelson was disappointed he could not face Woods, the world's No. 1 player smiled.
"Me, too," he said. "What am I? Ten back? That's not a very good spot to be in. Hopefully, tomorrow I can shoot a good round and at least give myself somewhat of a chance going into Sunday."
Woods returned from knee surgery two weeks ago in match play, but this is first stroke-play event since he won the U.S. Open last June, and it showed. It was the first time in his 19 starts at a WGC event that he has failed to break 70 the first two rounds.
And he has never been this low on the leaderboard at any time, let alone the weekend.
"I need to play well and I need to have help, and that's the problem when you're so far back," Woods said. "You're not really in control of your destiny being that far back."
He didn't have much control of his shots, either.
The worst of it came on the par-5 10th, when he was in the middle of the fairway with a 3-iron in his hand. Feeling it should have been a 4-iron, Woods blocked it into the bunker. He blasted out long and onto the fringe, caught the lip with his birdie putt, then missed his 3-foot putt for par. It was his first bogey on a par 5 at Doral since the 12th hole in the second round in 2005.
Mickelson also made bogey on a par 5 at No. 12 when he hooked his first tee shot out of play. But he escaped with a bogey, and that was the only big blunder of the round. He ran off three birdies in a four-hole stretch starting on the 14th hole -- the exception was a 4-foot birdie he missed at No. 16 -- and seized control at the end of his round.
First, he chipped in for birdie from about 20 feet short of the seventh green. Then came his best swing of the day, carving a 3-wood around the palms, over the water and into a slight breeze from 245 yards into 15 feet on the par-5 eighth. He two-putted for birdie.
That gave him a cushion going into the weekend, but Mickelson has been around long enough to not let that excite him.
"There's going to be low scores out there, and I'm going to have to keep pace," he said. "But fortunately, I'm playing well enough, and believe I can do it."
Watney last month won at Torrey Pines with two birdies on the final three holes, his second career victory. About the only thing he has in common with Mickelson is a swing coach -- Butch Harmon -- but he has played a half-dozen times with Mickelson.
"I definitely like the pairing," Watney said. "He's one of the best players of our generation, and I'm looking forward to what I can learn and see if I can hang with him for a couple of days."
A dozen more players were within five shots of the lead, coming from all over the world.
Prayad Marksaeng of Thailand, who first struck a golf ball with a club he fashioned from a bamboo stick and bicycle tires, was atop the leaderboard until a triple bogey on the 18th hole. He shot 70 and was at 9-under 135 with Camilo Villegas and Rod Pampling.
"I think we all as players cannot wait for Tiger to get back on top of his game and hopefully be able to keep pace with him," Mickelson said. "Not that we've been able to do it in the past, but we are hoping to have those opportunities to go head-to-head."
For now, Mickelson will have to carry on without him.