News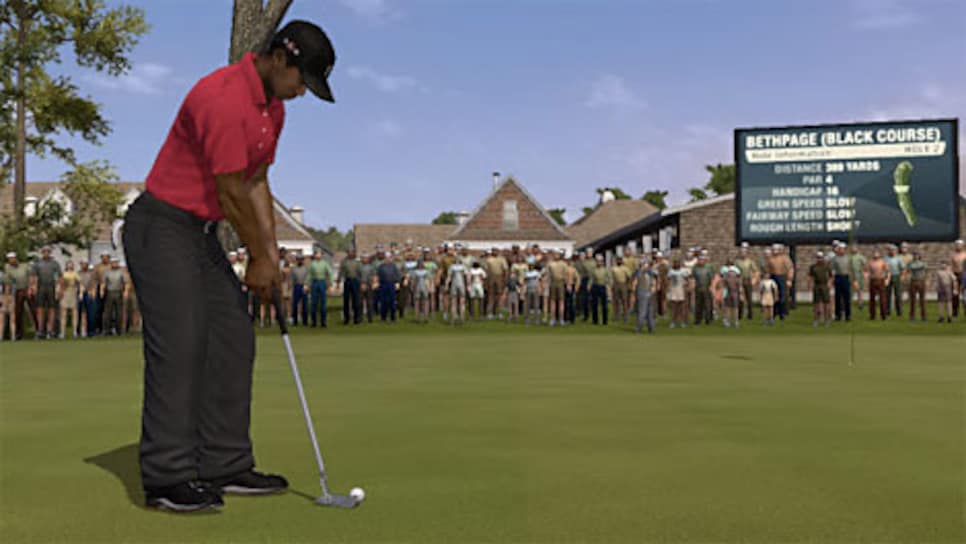 The 2009 U.S. Open is still months away, but you can already get a feel for Bethpage Black courtesy of EA Sports' new Tiger Woods PGA Tour 10.
SAN FRANCISCO -- He's only been back, what, a couple of tournaments now, but is Tiger Woods already overexposed? A wetsuit couldn't keep you dry from the saturation coverage -- a massive front stretched from Arizona to Florida. But as it turns out, that's just the start of it.
Because there's Tiger, already playing the U.S. Open course at Bethpage Black, wearing a red shirt, whacking balls onto green fairways, the fans cheering from their positions around the putting surfaces. This is not an illusion . . . or maybe it is. It's a video game, Tiger Woods PGA Tour 10, which was just introduced to a controller-friendly throng by EA Sports at an enthusiastic gathering along the waterfront near the Financial District.
Yes, the Financial District. This is clearly the correct Woods neighborhood. But it's not in the game.
Lots of stuff is, though. For anyone who can't get enough of Tiger, you can chill, because there's no way you're going to run out of him. EA Sports is making darned certain the Woods game has more platforms than a national political convention, from Nintendo Wii, to Microsoft Xbox 360, to Sony Playstation3 to the Apple iPhone. All Tiger, all the time, and thanks for playing our game.
"Not too long ago, up until he came back, if you wanted to see Tiger play, the only place was on Tiger Woods PGA Tour," said Peter Moore, president of EA Sports. "He's a perfect fit for us."
Woods is far from a newcomer to the EA Sports stable of sports superstars, but the version of the game that will be shipped Tuesday of U.S. Open week in June is new in a few ways. If you're playing with the hand-held Wii controller, there's a Wii MotionPlus accessory that's designed to simulate a more authentic swing motion. Randy Chase, the product marketing manager, said the accessory allows players to draw or fade the ball for the first time, and also makes putting more precise.
"Plus, we've got a gallery on the course for the first time," he said.
Tiger surely must appreciate that, because they're usually for him. And he would probably feel the same way knowing that he doesn't have to wear those red shirts all the time (there's a variety of colors from which to choose) and neither does he have to play the extremely difficult Bethpage Black all the time (it's one of 27 different courses in the game).
"Golf is the No. 1 game on Wii."
Like always, at the pressing of a digit, gamers can alter the on-course weather conditions, but the in-game tournament news updates are new. Plus, the announcers have been changed to include Scott Van Pelt from ESPN, who joins Kelly Tilghman from the Golf Channel. Still no word if there's an "over-to-you" button. Meanwhile, as omnipresent as he may be, the virtual Tiger shared the stage with others at the EA event, which kicked off its season-opening introduction of its game titles. Among many in the lineup, there's a new tennis game, which features a cartoonish-drawn John McEnroe. He makes his video game debut in Grand Slam Tennis.
So welcome to the not-real world, Mac. Check it out. Tiger's got some red shirts for you to wear.