News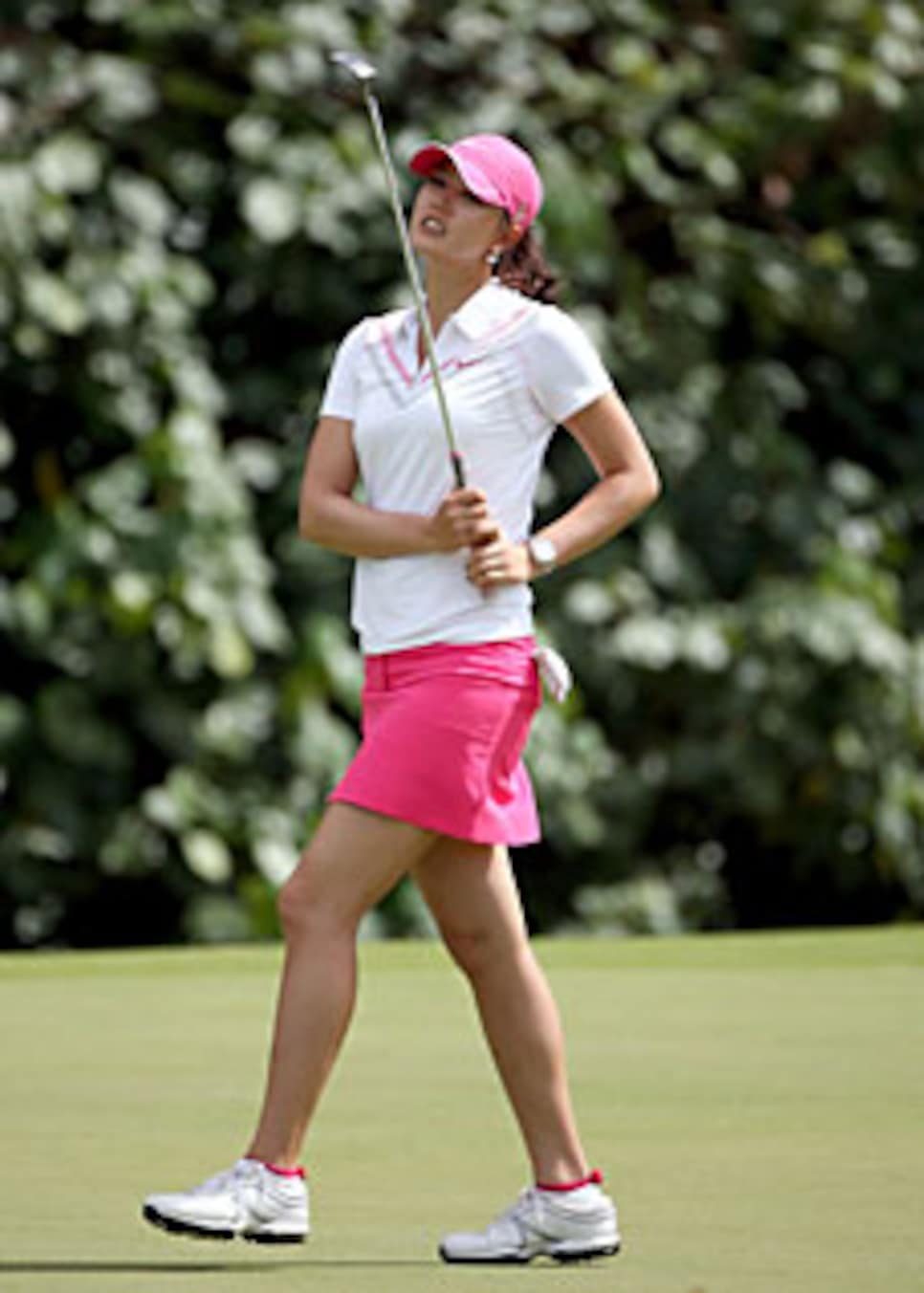 Still in search of her first LPGA win, Michelle Wie is moving on to her fourth agent.
In October 2005, when Michelle Wie turned pro and announced she would be represented by the William Morris Agency, a talent group unfamiliar with the world of golf, an agent who represents an impressive group of players for International Management Group said: "We'll come in about two years from now and clean up their mess." The agent may have been off by 18 months.
Wie has dumped William Morris and, while IMG is mum on the matter, it would be no surprise if she signed with the Cleveland-based mega-agency, especially if the Wie camp is willing to drop its previous demands for monetary guarantees -- something IMG does for no one. With a client roster that includes Tiger Woods, Sergio Garcia, Annika Sorenstam and Paula Creamer, as well as having a worldwide web of tournaments it runs, IMG is well positioned to resurrect the reputation of the once can't-miss-kid who has spent nearly three years immersed in chaos.
The 19-year-old Wie, who has been on a rollercoaster ride of a pro career and last won a tournament nearly six years ago, went through three different agents while with WMA. First there was Ross Berlin, who lasted about a year, and then Greg Nared, who served a similar sentence. Always overseeing the operation for WMA was Jill Smoller, who was handling Wie's affairs directly when the relationship came to an end after the SBS Open in Hawaii in February.
"It's all good," Smoller said about the termination of the business deal with Wie. "I and we love Michelle and always will." That's a lot kinder than most of her many ex-caddies would say about a work situation that includes intense involvement by Michelle's parents, father B.J. and mother Bo. In all, Wie has had about 15 caddies since she started playing LPGA events seven years ago.
Wie's career to date has had more to do with the promise of potential than it has with the proof of performance. In what was an ominous foreshadowing of calamities to come, Wie was disqualified in her very first event as a pro, the 2005 Samsung World Championship, when she took an illegal drop and failed to reflect it on the scorecard she signed.
The next season, her first full one as a pro, glittered with promise. She finished in the top five in the first six LPGA events she played, including three major championships. And with a two-stroke lead with seven holes to play at the Evian Masters in late July, it appeared as if she would get her first LPGA victory -- only to have Karrie Webb reel off three birdies to win.
Something happened that day. Whatever it was, Wie did not break par again for a year -- until Evian in 2007. That season began with a wrist injury and included two withdrawals and three missed cuts. One of those withdrawals was the infamous 88-Gate, when she walked off the course with two holes to play in the first round of the Ginn Tribute, citing her sore wrist. Many players felt she quit because she was afraid she would not break 88 and, because she was not a tour member, be disqualified for the rest of the year.
Now, after a 2008 season that showed flashes of her brilliance -- despite two more missed cuts and another disqualification, this one for failing to sign her card before leaving the scoring area -- she is a tour member, having secured her card at Q school last December. And, in her first event as a member, the SBS Open, Wie had an impressive second-place finish. But, as with many things with Wie, it came with a caveat. She had a three-stroke lead with eight holes to play but stumbled to a closing 39 while Angela Stanford sprinted past her to claim the title.
The other thing that has happened while Wie has been distracted by forays onto the men's tour and by spending four quarters at Stanford University is that other young talents have surpassed her. Morgan Pressel, Yani Tseng and Inbee Park all defeated Wie in match play in junior golf -- and all have gone onto win LPGA major championships as teenagers. Just like that, Wie is not the only young talent on the scene.
Wie plays next March 26-29 at the J Golf Phoenix LPGA International Presented by Mirassou Winery followed by the Kraft Nabisco Championship, the first major of the year, the next week. One goal she has for this year is to play her way onto the Solheim Cup for the August competition against Europe. She will have stiff competition in the Rookie-of-the-Year race since Jiyai Shin has already won an LPGA event this year, as well as winning three times, including the Ricoh Women's British Open, last year as a non-member.
Whoever emerges as the agent for Wie will have some challenges of their own. Her lucrative five-year deals with Nike, Sony and Omega watches run out next year. In the current economic climate, the $12.5 million-a-year price tag that now comes with those contracts isn't likely to be renewed unless there is some very real success on the golf course to back it up. Perhaps that's why this change is happening now.