News
Hull Pulls In Front By Two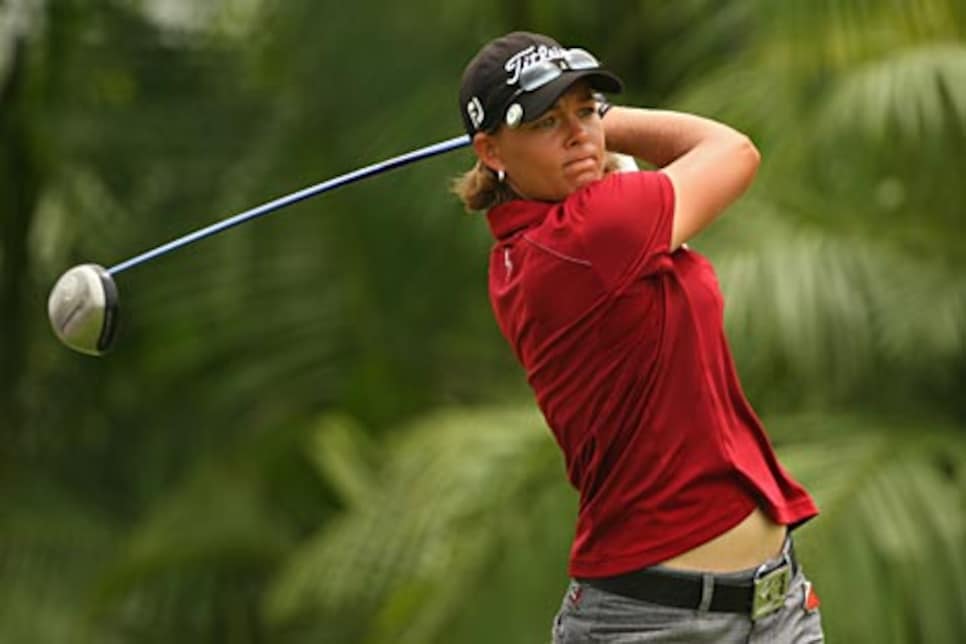 Hull's season is off to a good start. In February she won the Australian Ladies Masters.
SINGAPORE (AP) -- Australia's Katherine Hull had seven birdies en route to a 6-under 66 on Saturday to take a two-stroke lead over Angela Stanford after the third round of the HSBC Women's Champions.
Hull, who won the Australian Ladies Masters last month, had an 11-under 205 total on the Tanah Merah Country Club, where play was suspended for 2 hours, 19 minutes because of lighting and heavy rain.
"I'm liking the fact I have a two-shot lead, and I'm confident in how I'm playing," Hull said. "So game on."
Sun Young Yoo (68) was a stroke back of Stanford and a shot ahead of Korean compatriot Mi Hyun Kim (70), with second round co-leader American Paula Creamer (72) five strokes off the lead.
Creamer was disappointed with her round.
"I didn't hit it very well and didn't putt well at all. I didn't have any speed or anything that got any momentum going," Creamer said. "Hopefully, I can start off well and then maybe make (Hull) nervous and try and put some pressure on the leaderboard."
Stanford shot a bogey-free 66 to move into position for her fourth victory in her last nine starts. The sixth-ranked Texan won the season-opening SBS Open in Hawaii after closing last season with two victories in her final six events. In addition to the three wins, she has five other top-seven finishes in her last eight tournaments.
Stanford got her sixth birdie of the round on 16 to move into a tie for the lead with Hull at 9 under. But Hull made birdies on Nos. 16 and 18 with accurate approach shots. She hit a wedge to 7 feet on No. 16 and hit a 5-iron to 4 feet on the par 4, 414-yard 18th hole.
Hull could win her second LPGA Tour event Sunday. She won the Canadian Women's Open last summer.
"I probably won't watch the leaderboard a whole lot tomorrow," Hull said. "I'm probably going to go out there wanting to think about my golf game. The things that worked for me in the past. I just want to treat it as another day in the office and go out there and do my best."
Top-ranked Lorena Ochoa, the defending champion coming off her 25th LPGA Tour victory last week in Thailand, shot a 69 to top a group six shots off the lead. Hall of Famer Juli Inkster (69), fifth-ranked Jiyai Shin (66), Amy Yang (69) and Jane Park also were 5 under.
"I want to win and I believe it's possible so I need to be more aggressive tomorrow, get some birdies early and hopefully continue the momentum," Ochoa said.