News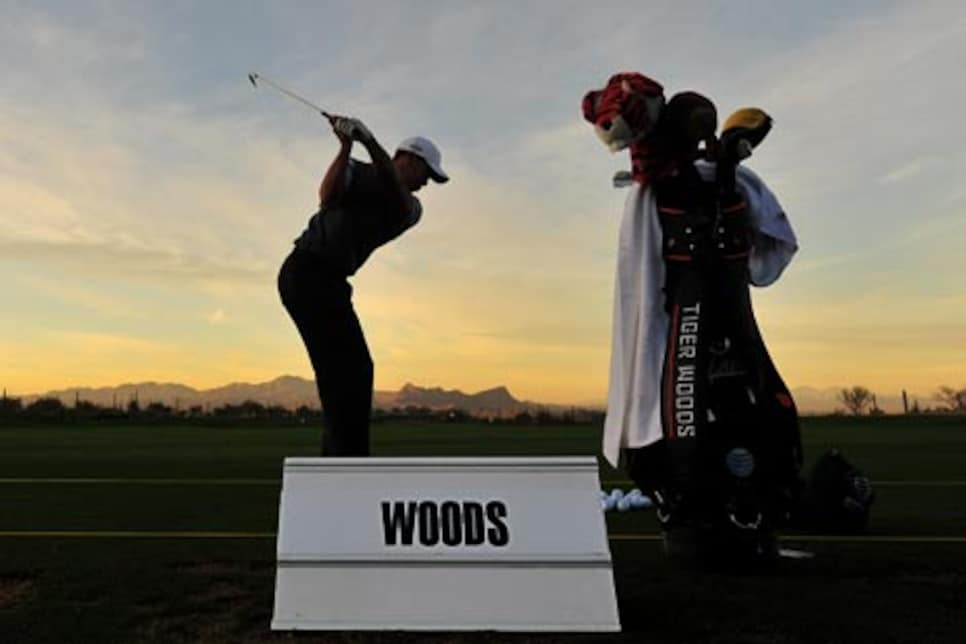 Hungry as ever to win, Tiger Woods' real focus this week is beginning preparation for Augusta.
In a certain manner of thinking, it was the perfect return. Tiger Woods played good golf, not great golf, against a vastly inferior opponent in his first round since knee surgery last summer. A sharper performance might have raised expectations to ridiculous levels. A lesser showing might have jeopardized his chances of advancing, and if there is any long-term value to Woods' presence at the WGC-Accenture Match Play Championship, it's all about the reps.
The longer he stays alive this week, the better off he'll be down the road. He's here to win, of course, and nothing that happened yesterday would lead one to believe that can't happen. Tiger was four-under par through 16 holes when he shook hands with Brendan Jones. He was never seriously threatened after a birdie-eagle start and will now face Tim Clark, whom he pummeled at the same juncture of this tournament in 2007.
When you look at Woods' quarter of the bracket, it's easy to figure the next couple of days will feature some clear sailing. A victory this afternoon would pit him against the Rory McIlroy-Hunter Mahan winner, McIlroy being the 19-year-old Irish wonder boy whose triumph in Dubai last month prompted veteran Mark O'Meara to call him, "the next Tiger."
I'm figuring that rose-colored future won't arrive by Friday and that McIlroy, should he get the opportunity to play Woods, will walk away from the experience with a keener appreciation for greatness -- and the weekend off. It's all guesswork, of course, as no tournament betrays projection more often than this one. Tiger has lost six times in the history of the Match Play, only once to someone who would qualify as a top-tier player: Darren Clarke in the 2000 finals.
Nick O'Hern beat him twice. Peter O'Malley upset Woods in the first round in 2002, Chad Campbell in the third round in '06. Not only can anything can happen, anything frequently does, and in that context, Woods finds himself in a very rare position this week. More than ever, because of the eight-month layoff, he is playing with nothing to lose, although he would never admit it. Mentally, he just doesn't have that gear.
Realistically, everything between yesterday and the final round at Bay Hill amounts to competitive calisthenics leading into the Masters. As a pro, Tiger has never gone four years without winning a green jacket, but that's where he stands as he enters the 2009 season. His last victory in the year's first major was in 2005, when he roared back to catch Chris DiMarco, then added the ultimate signature to the comeback by holing that miracle chip from behind the 16th green.
Since then, the course changes at Augusta National have probably hurt Woods more than the average tour pro. The addition of trees has imparted a claustrophobic effect on a layout originally designed to allow players to attack flags from numerous angles. Tiger has spent too much time playing from the treelines -- he broke his 4-iron from a newly installed forest on the 11th hole in 2007, the year Zach Johnson, one of the straightest hitters on earth, claimed the title.
Having spent eight months away from the game, Woods surely gave some thought to the four venues that will host this year's majors. As is often the case, they stack up rather nicely for him, at least on paper. He might be the only man alive who can expect to break par at Bethpage, the U.S. Open site where he won in 2002. Two months later at Hazeltine, a furious Sunday left him two strokes behind the improbable Rich Beem, but as non-victories go, that PGA Championship was a less agonizing memory than some of the other tough losses – the '07 Masters and U.S. Open immediately come to mind.
The British Open returns to Turnberry for the first time since 1994, so Woods has no history there, but the measure of success in 2009 is his pursuit of multiple major titles, not anything he does this week, or what likely will be two appearances on the Florida swing. On that note, I thought Tiger's swing looked very good in yesterday's win over Jones. The one thing that struck me was a slightly accelerated tempo and more coil, which is probably due to the fact that he's playing on two healthy legs.
Instead of those late bursts of speed through the downswing, which often seemed the cause of his errant shots with the long clubs, Woods' rhythm was more evenly balanced. After one mighty cut with the driver midway through the front nine, Tiger sent the old fore-right signal to the marshals down the fairway, which, at least at this event, used to mean his ball was heading for the desert.
This shot landed just a few yards wide of the fairway's edge, safe and sound. If there's anything to be accomplished the rest of this week and all of next month, Tiger might want to groove a trusty move with the big stick. If he drives it relatively straight at Augusta, that green-jacketless streak definitely will end.