News
Mickelson Falls, McIlroy Advances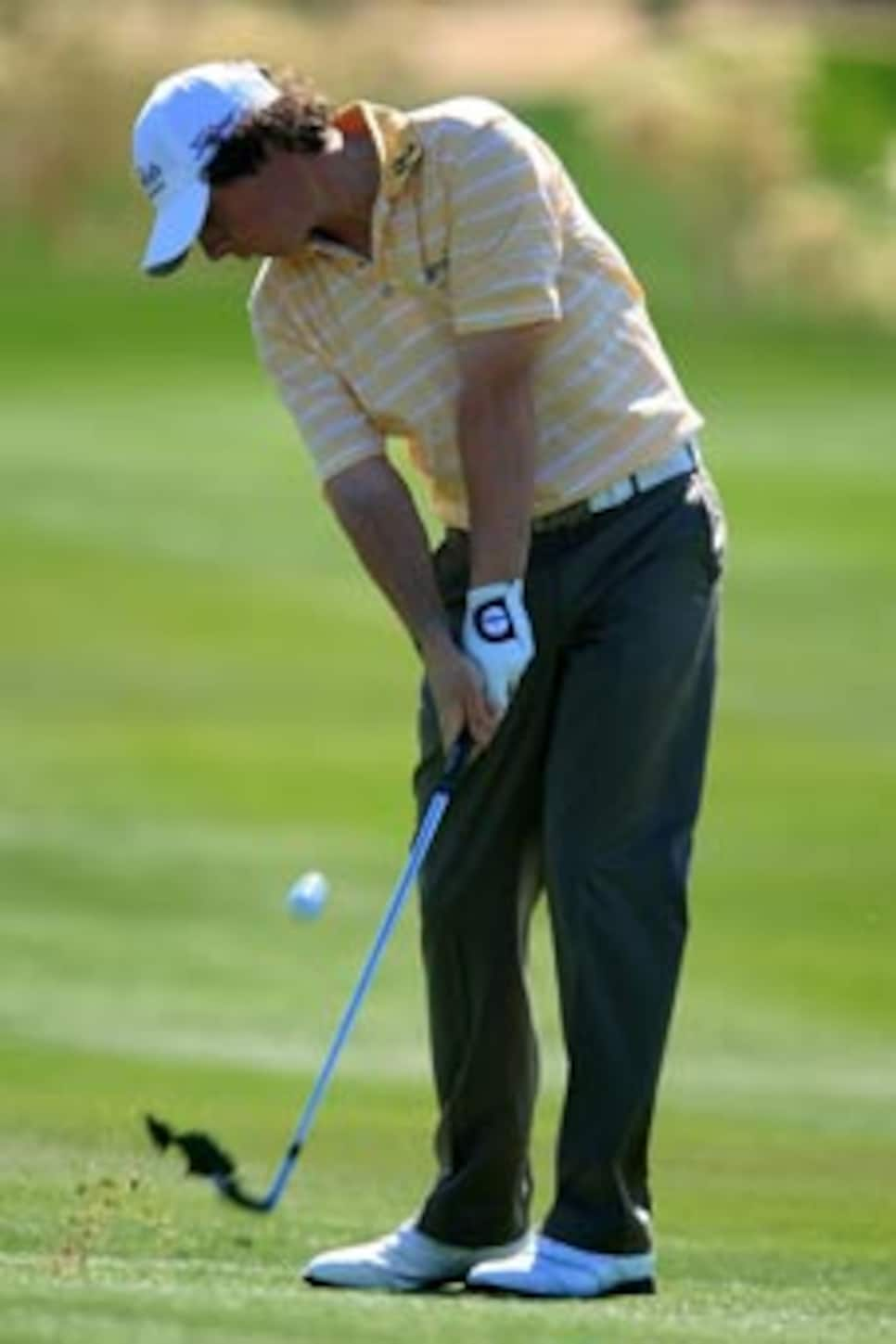 Dubai Desert Classic winner McIlroy was 4 up after 6 and never looked back.
MARANA, Ariz. (AP) -- Teenage sensation Rory McIlroy did his part to put some excitement back into the Accenture Match Play Championship, advancing to the quarterfinals by crushing the player who knocked out Tiger Woods.
The same could not be said for Phil Mickelson, who failed to reach the weekend for the fifth straight year.
McIlroy, the 19-year-old from Northern Ireland who keeps adding credentials to be the next young star, built a 4-up lead after six holes and never gave Tim Clark of South Africa a chance to catch up in a 4-and-3 victory Friday.
He is three matches away from becoming the youngest winner in the history of American professional golf.
"Tim didn't play his best golf today -- understandably," McIlroy said. "He was probably a little flat after all that happened yesterday. And I came out and got off to quite a fast start."
One day after Clark was practically flawless in sending Woods home early from Dove Mountain, hardly anything went right. It was the third straight time that a player who beat Woods in this tournament lost in the next round.
"It's a big deal coming out today, but it's tough to feel the same, and it's tough to maybe get focused," Clark said. "You go around with him and it's tough to come out the next day and get into the battle again."
The atmosphere was far more subdued than earlier in the week, when Woods made his heralded return to golf from knee surgery after an eight-month absence, only to last two rounds before Clark beat him.
The gallery spread itself among the eight matches, and there were some entertaining ones, for sure.
Mickelson had not trailed all week until Stewart Cink ran off three straight birdies to build a 3-up lead after four holes. Mickelson rallied to square the match twice, and both times let it get away.
Lefty hit his tee shot into a desert bush on the 15th hole and fell behind, then tied it on the 16th when Cink missed the green. But on the next hole, Mickelson's third shot from a desert waste area sailed over the gallery, and he missed a 4-foot bogey putt to lose the hole. His last chance was a 20-foot birdie putt on the 18th hole, which missed below the cup.
"The wheel sort of came off for both of us," Cink said. "It was a case of 'Who doesn't want to win this match, or who does?' And we took a long time to figure that out."
Ernie Els, in the quarterfinals for only the second time, had a 1-up lead on the 18th tee when Luke Donald felt a twinge in his left wrist and decided to concede the match instead of risking further injury. Donald had surgery on that wrist six months ago, and only returned to competition in December.
"For the first time since coming back, I felt a little twinge in my wrist," Donald said. "So rather than risk it, I wanted to play it safe and concede the match to Ernie. Hopefully, I've just pulled it a little bit and nothing serious."
Els has not trailed in any of this three matches and next plays Cink.
--Geoff Ogilvy took advantage of shaky putting by Camilo Villegas for a 2-and-1 victory, raising his career record to 14-2.
--Paul Casey of England built a quick lead and beat Peter Hanson of Sweden, 3 and 2. Casey joined Els as the only players remaining who have not been behind all week.
--Ross Fisher of England made seven birdies in beating Jim Furyk, 4 and 3.
--Sean O'Hair lost the first two holes, then won three straight holes on the back nine to beat Ian Poulter, 2 and 1.
--Justin Leonard chipped in for birdie on the 17th hole, then watched Oliver Wilson of England roll in a 6-foot birdie putt on the 18th. Leonard won with a par on the first extra hole, the only match to go overtime on Friday.
Cink and Leonard are the only two players to reach the quarterfinals for the second straight year at this fickle tournament. Cink reached the finals last, only to lose by a record margin (8 and 7) to Woods.
What would he give for another crack at Woods? Nothing.
"I would like to get there ... but I don't really want to play against Tiger," Cink said. "I had that experience last year."
Of all the young players starting to emerge, McIlroy is getting as much attention as anyone. When he won the Dubai Desert Classic last month for his first European Tour victory, Mark O'Meara said he was more polished than Woods at that age.
And he is a joy to watch, with his mop of hair, an engaging smile and a fundamentally sound swing.
"He smashes the ball," said Ogilvy, who will play McIlroy in the quarterfinals Saturday morning.
The younger winner in PGA Tour history was Johnny McDermott, who was 19 years, 10 months and 17 days when he captured the 1911 U.S. Open. McIlroy will be 19 years, nine months and 25 days on Sunday.
But there's still a long way to the championship match, and fortunes can turn quickly.
Clark had gone two days without making a bogey, but he drove into the desert to make his first one on the opening hole against McIlroy, and he never caught up. McIlroy birdied the next hole, and went 4-up with birdies on the fifth and sixth holes.
All the while, he played before his largest crowd of the week.
"We probably had a few more people watching us than if Tiger was playing, but I think the crowds are still great," he said. "The tournament probably has lost a little bit of its buzz because he brings so many people to the course."