News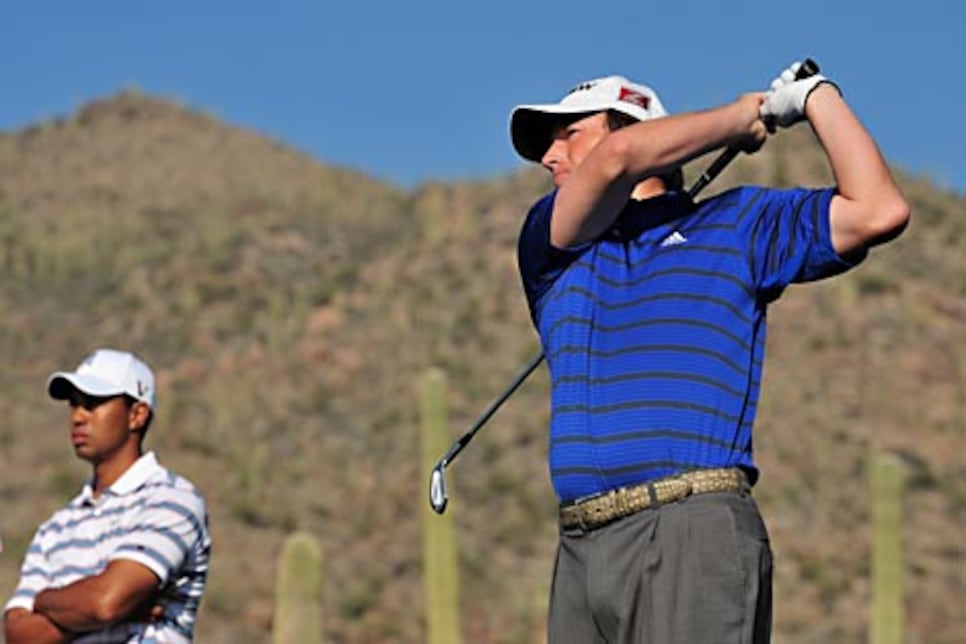 Tim Clark said he benefited from a loss to Tiger Woods two years ago.
MARANA, Arizona -- Apparently, Tim Clark didn't get the memo.
You know, the one that went like this:
World's top-ranked player returns from major knee surgery and eight-month layoff, flashes new and improved form, and rolls to victory in the WGC-Accenture Match Play Championship in the desert foothills near Tucson, injecting life and excitement into the golf world.
Just call Clark a spoiler. The 33-year-old South African, ranked 32nd in the world, a man who lost his second-round match to Tiger Woods 5 and 4 in this tournament two years ago, surged to a 4 and 2 win against the No. 1 seed Thursday at the hot and breezy Ritz-Carlton Golf Club. It was no fluke. Clark played mistake-free golf. He had six birdies and is still without a bogey in his first two matches.
"I knew I had to play out of my mind to beat him," he said afterward. "That's as good as I can play."
Clark said the loss in 2007 helped him handle nerves and pressure.
"I knew what to expect," said Clark. "I knew how I reacted to it then, and kind of knew a few things that I had to do differently, just tried to calm myself down. I knew if I came out and played good, I'd always have a chance. I felt pretty relaxed out there."
With good reason. Clark was a model of consistency, hitting fairways and greens. He avoided trouble, rallied from an early 1-down deficit, and controlled the match on the back nine.
"A lot of guys playing with Tiger probably try too hard or think about the fact that they're playing with him, and it's really just a case of realizing it's just another round of golf," Clark said. "All you can do is hit your shots and move on and not get too caught up in what he's doing. Today I felt like I did that pretty well."
When Clark took a 1-up lead at the sixth hole, it snapped Woods' 82-hole streak of not trailing in the tournament. The match was all square at the turn.
Clark forged ahead with a short birdie putt at the par-5 11th, with Woods lipping out from nine feet.
"Obviously the par-5 was big, where he didn't get it up and down and that putt hit the hole," said Clark.
Clark also birdied 12 and 13, and suddenly, Woods was on the ropes.
"I just focused on what I can do," Clark said. "I literally hit every shot where I wanted to hit it today, barring a couple tee shots coming in."
Even when Woods holed a 56-yard bunker shot to steal the 14th hole, Clark stayed cool. Woods knocked his tee shot out of bounds on the next hole and the outcome was settled.
"It's obviously a massive victory for me," said Clark, who is still searching for his first PGA Tour win. "He doesn't get beaten very often, and to go out in that sort of atmosphere, I mean, it really is a different experience going out with all the media and all the people. There's not too much support for the other guys when we're playing him, so that's big. I'm pretty proud of myself."
Mark Soltau is a contributing editor to Golf Digest and the editor of TigerWoods.com.