News
For Jones, Best Shot Not Enough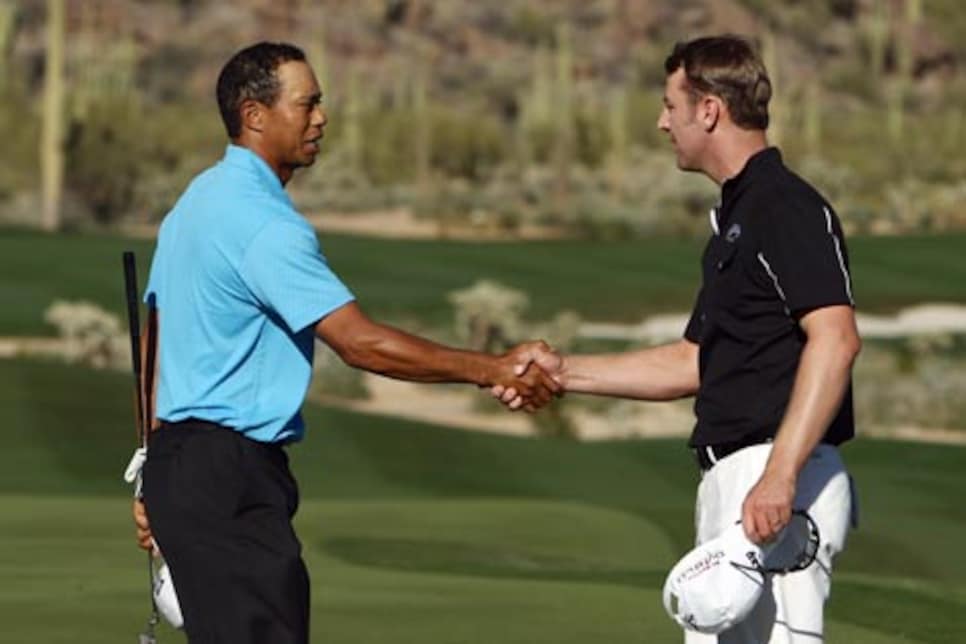 Brendan Jones sought to capitalize on Tiger Woods' rust, but was unsuccessful.
MARANA, Arizona -- Brendan Jones knew he was a long shot and so did everybody else at the Ritz-Carlton Golf Club on Wednesday in the first round of the WGC-Accenture Match Play Championship. If there were any doubts, they were erased when he walked to the first tee and a fan yelled, "Nice draw!"
He was referring to Jones' first-round opponent -- top-seeded Tiger Woods -- not his swing.
Jones had been thinking about this day for quite a while.
"You know, I've been laying in bed each night for the last week or so thinking about if I do play Tiger, how is the first tee going to be and meeting him going to be, and it's always worse when you're in bed," he said. "When the time comes to meet him and hit that shot, it's never as bad. You're always thinking the worst when you're laying in bed. But no, he was very, very pleasant when we met, and I think I hit a pretty good tee shot off the first."
Jones, seeded last in the 64-player event, had hoped for a fast start to neutralize Woods, and maybe even capitalize on rust. It didn't happen. Woods came out blazing with a birdie-eagle start and finally pulled away on the back nine for a 3 and 2 victory. The Aussie won only two holes, but savored every moment.
"As I walked off the first hole, it was just mayhem because media, everyone, was just running, and I was walking in amongst everybody," said Jones. "I heard one of the media say, 'All right, another nine holes to go for a 10 and 8,' and then I gave him a bit of a spray, and then he eagled the second, and I thought, 'Well, maybe he's right.'
"But really, I played quite well. Once he was 2-up, he was in control of the match."
Still, Jones did not go quietly. Two-down at the turn, he hung tough until the par-5 13th hole, when Woods buried a 19-foot eagle putt.
Jones could have been bounced at the par-4 14th, but made a clutch seven-foot comebacker for par. Then at the 305-yard par-4 15th, after Woods had driven the green, Jones matched him, nearly making a hole-in-one. Jones needed a 10-foot eagle putt to extend the match and delivered.
"When he got to 4-up with four to play, I told people, 'That's where I wanted him.' But it didn't work out that way," said Jones.
Jones applied more pressure by knocking his drive 21-feet from the cup at the 247-yard, par-3 16th, but faced another must-make. This time, he couldn't convert.
Even in defeat, he said, it was an unforgettable experience.
"His ball flight is different than pretty much everybody else's and it was fun to see different trajectories that he hits the ball at," Jones said. "But yeah, he's Tiger. He does freakish stuff. He made two eagles on me and he just really didn't waste any shots out there."
"There's a couple holes I let slip," said Jones, a regular on the Japan Tour. "Being away from the game for two months, I feel pretty good. I'm proud of the way I hung in there."
Next up for Woods is South African Tim Clark, who dispensed of countryman Retief Goosen 3 and 2 in his opening-round match.
Clark has played in the Match Play five times, and lost in the first round four times. The only time he made it to the second round, in 2007, he lost to Woods, 5-and-4. Woods said he's happy to be playing Clark.
"I'm looking forward to [it]," Woods said. "I'm playing a good guy, a friend of mine, so we'll go out there and compete and play hard."