News
The Circus Is Back In Town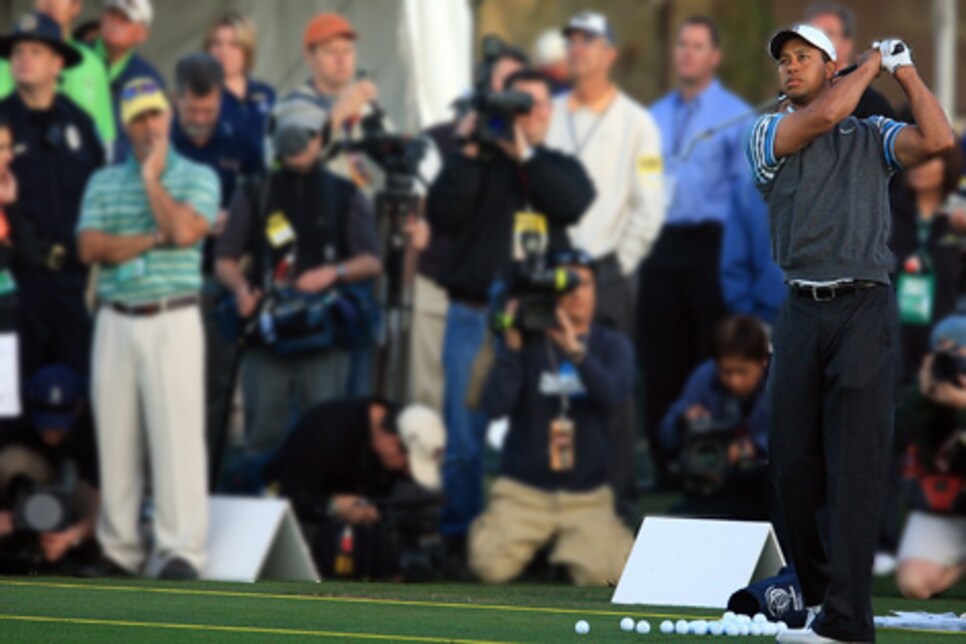 As evidenced by the hordes of photographers following Tiger's every move, Barnum and Bailey would be proud, very proud.
Who does Tiger Woods think he is, anyway? Ryo Ishikawa? On Monday, the 17-year-old prodigy from Japan was the star of the WGC-Accenture Match Play Championship, an event that doesn't even start until Wednesday, an event he's not even in. He's the third alternate into the 64-man field, but he was out at the Ritz-Carlton Golf Club, anyway, playing a practice round, just in case. He was trailed, surrounded, greeted by only a hundred or so media folks from back home, begging the question. What happens if there's a department store fire in Tokyo? Will anybody be around to photograph it?
Alas, that all changed on Fat Tuesday at dawn, when Woods showed up for spring training. His first practice round before his first tournament since that theatrical U.S. Open victory last June. Woods looks great, he's got AT&T on his bag (as reported by this website early last week), and back carrying it is Steve Williams, who just happened to run into Phil Mickelson Tuesday morning. Bad choice of words. Williams didn't run into Mickelson, but they did talk briefly -- although not for the first time since Williams knocked the lefthander in published remarks from an outing Stevie was attending back home in New Zealand. "It's over," repeated Mickelson.
Williams, for his part, appeared blissfully unaware of just about everything that has occurred in golf during his eight-month vacation. "I can tell you who won the British, PGA and Ryder Cup, but that's about it," said Williams. I asked Williams if he had heard about Nick Watney's triumph in San Diego, on the very course where Tiger prevailed over Rocco Mediate, and Williams just stared through me.
Anyway, the gathering of writers, broadcasters, and photographers around Tiger was substantial, although traffic leading to the course did not indicate the enormity of this event (NBC News is sending a crew from the "Nightly News with Brian Williams" to the desert to report on Tiger's return). All week in Tucson, travel tips have been provided on TV by Big Al. You gotta love a traffic segment hosted by someone named Big Al. Tiger's reappearance engendered questions about why he would select a cutthroat format such as match play? We have a few theories on that. For one, Tiger is very good at it. You can look it up. Also, if he's rusty -- IF -- he can still shoot 73 and win. Also, he doesn't have to beat an entire field, only a few guys.
Experts wonder about Tiger's stamina after a long layoff, but he might be stronger than ever. Certainly, more physically fit than when he limped through 91 holes in San Diego. Or to put it another way, who would be better equipped for this five-day grind? Tiger, full of adrenaline following months of working out? Or one of the other 63? You would have to like Woods' chances, and we're not even talking about that other matter of mental toughness. Wednesday, by the way, marks the start of Catcus League exhibition games, but baseball will have to take a back seat to Tiger's first match against Brendan Jones, an Aussie who's reveling in his underdog role. He appears anxious to tee it up, and does not appear to be the least bit nervous. And exactly who does he think he is? Nick O'Hern?