News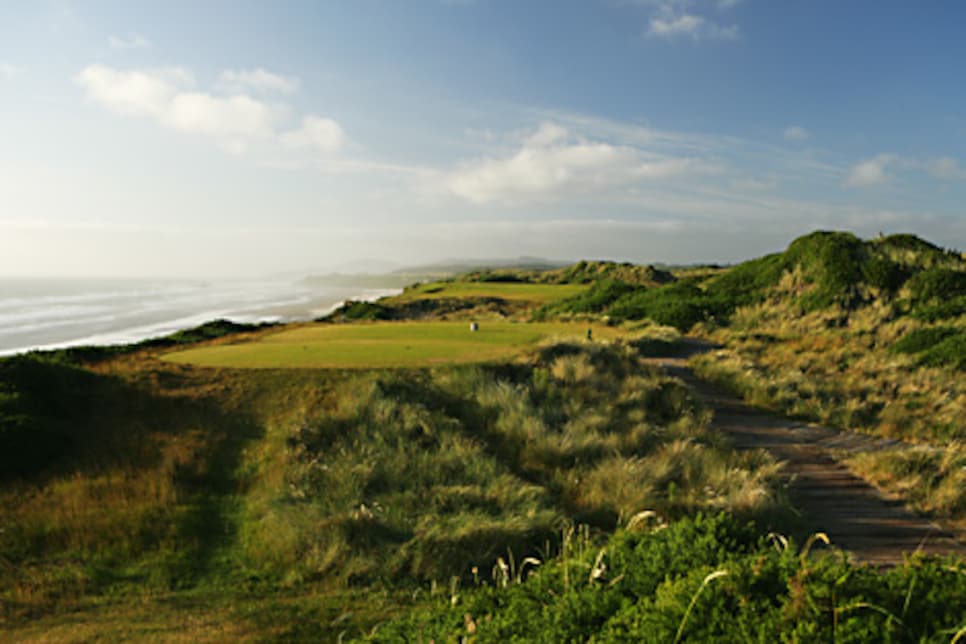 Bandon Dunes' remote location is both its selling point and its drawback.
Bandon Dunes Resort is flawless. Or, is it? They have three courses in the top 21 on Golf Digest's list of America's 100 Greatest Public Courses, all within three minutes of each other. They have relatively competitive prices with other top courses in the country and plenty of dining and lodging options.
Now, if we could just get there.
"We look a lot at how we're perceived as a destination," says Jeff Brinegar, Head Professional at Bandon Trails. "We understand that how hard it is to get here is a major concern."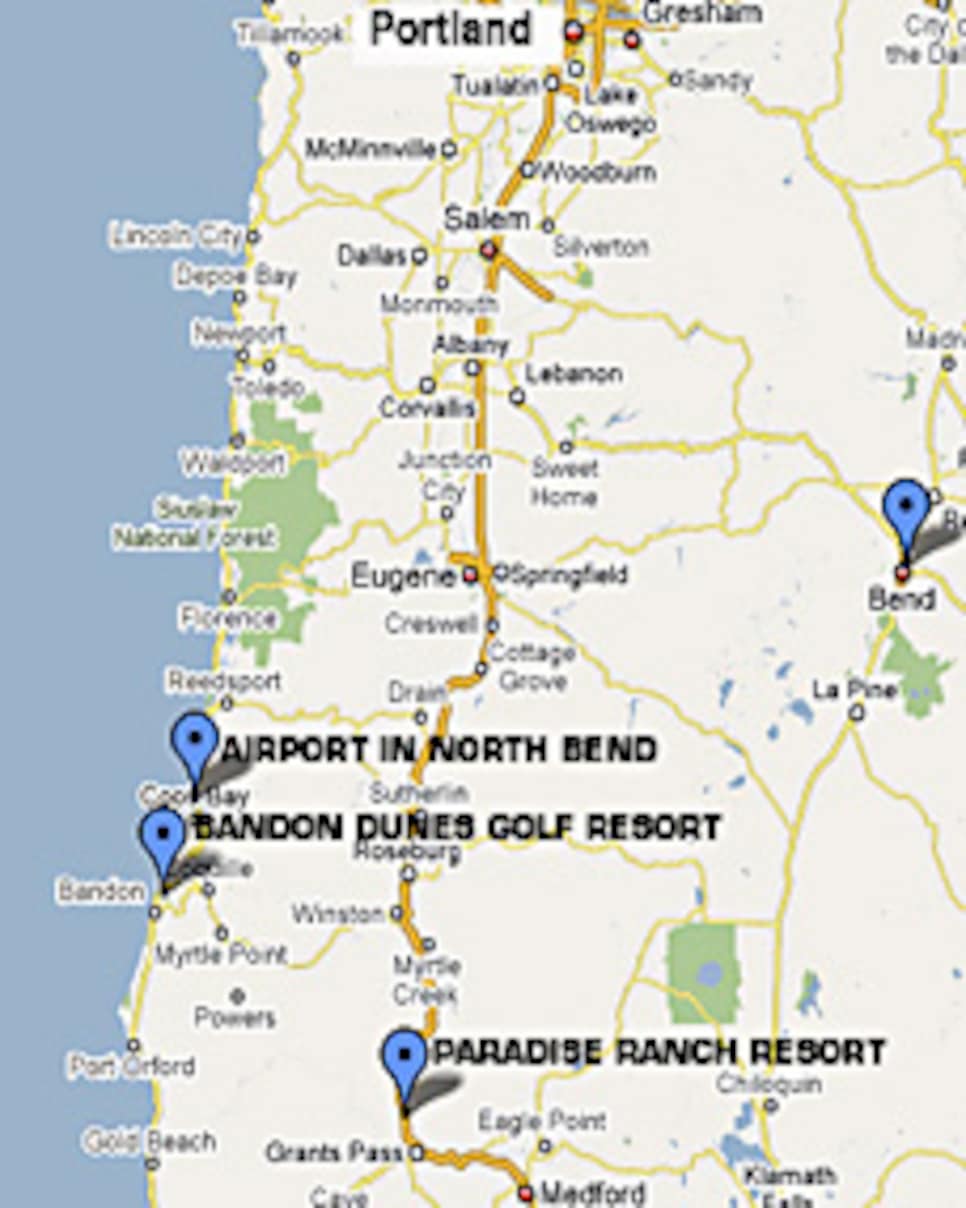 No matter how (or how far) you slice it, everyone can agree Bandon Dunes is a rough commute. Right now potential visitors are presented with the following options, none of which are ideal: You can drive (from anywhere). You can fly into Eugene or Medford, and from either of those cities you'll have a little more than a two-hour drive. You can fly into Portland and do the four-hour drive. Or you can fly to San Francisco or Portland and then transfer to a small plane to North Bend, which leaves you only a 20-minute drive to the resort.
Enough people -- roughly 120,000 rounds were played at the three courses in 2008 -- are willing to make that pilgrimage. But the resort's accessibility, or lack thereof, still tops most agendas when Bandon owner, Mike Keiser, conducts meetings with his staff. And it's something they've all been busy researching both formally and informally in recent months.
The challenge of all this was underscored when Keiser went so far to test the most reliable focus group: himself. He was coming to Bandon Dunes from Tasmania and he elected to get there by flying coach on a commercial airline, just to see how hard it is for the common golfer. "He made it," says Brinegar. "But he could see how getting here is an issue."
At the end of last year, North Bend's airport made some adjustments. It improved the control tower and Skywest Airlines, which took over for Horizon Airlines, added more flights to North Bend from Portland and San Francisco. But those changes haven't had success in solving the problem.
"There's not a lot of action on Skywest from Portland, and there are a lot of fog delays with flights out of San Francisco," says Brinegar. "If we could start getting bigger jets into North Bend, from more places, of course that would make a huge difference."
Brinegar doesn't rule out the expansion of North Bend airport down the road, but he admits the short-term focus and more realistic solution is getting other airlines and other airports to service the North Bend area. He says Salt Lake City, Utah is one obvious possibility, but they are exhausting all of them at this point.
While accessibility is always a priority of a good business plan, it's particularly important if you're adding another 18 holes in the throes of a bad economy, which is what they're doing at Bandon Dunes. You've heard about Bandon's new fourth course, Old Macdonald? It's another Tom Doak and Jim Urbina design, which is the same pair that built Pacific Dunes. Like the arrival of young amateur Danny Lee, and what will become of Michelle Wie, the opening of Old Macdonald is one of golf's great points of anticipation.
So far only VIP guests, employees and caddies have been allowed to play the first 10 holes of Old Macdonald, which has been playable since late last year. "They're out there right now shaping the other eight holes," says Brinegar. "We shut the course down in December and we'll open it back up again in the spring."
From April to October of this year, Old Macdonald will start taking four tee times in the morning and four tee times in the afternoon. You'll only be allowed to play one 10-hole loop per day and the cost will be $110 per player. After October they'll close it down again and prepare for the grand opening of all 18 holes in June of 2010.
Bandon Dunes isn't alone in trying to solve an accessibility issue. Another course in Oregon with a partial opening of nine holes this spring and a grand opening date in the summer of 2010 is the Jack Nicklaus course at Paradise Ranch Resort. Inland and roughly a three-hour drive from Bandon Dunes, Paradise Ranch has a small airport and a designated staff position in charge of developing ideas that will improve accessibility and interest in their new golf course.
"We've come up with the golden triangle of Oregon golf," says Tobin Shackelford, the Aviation Director at Paradise Ranch. Through coordinated marketing plans, Shackelford will try to link his small airport in Grant's Pass with the small airport in North Bend and the airport in Bend, Ore., which is also surrounded by a lot of good golf.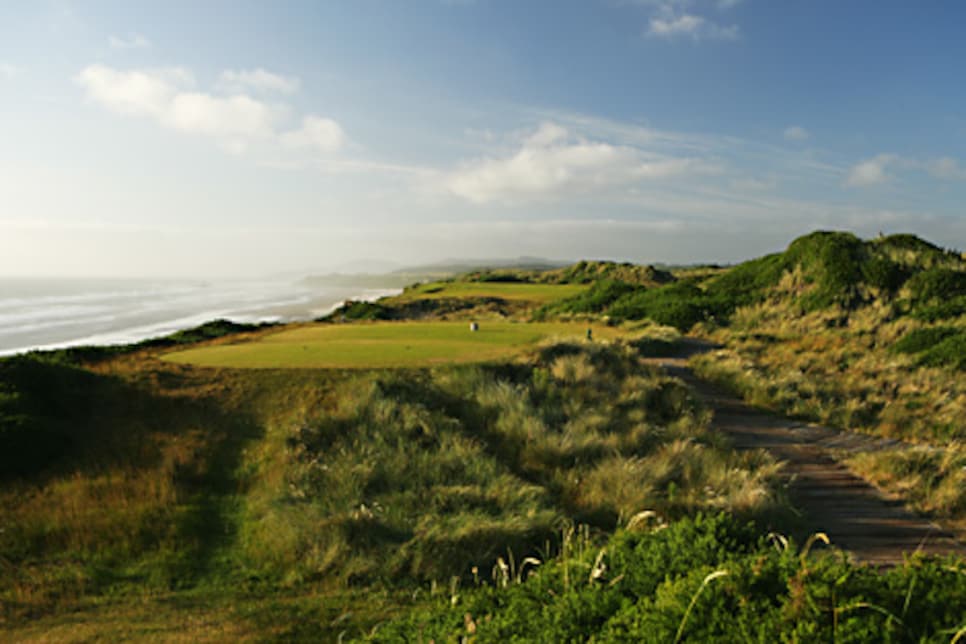 Shackelford's ideal is to have a group of golfers fly in and out of Grant's Pass from North Bend or Bend. A group coming in will be picked up in a golf cart with the potential of being on their first tee five minutes later. "It will be a unique opportunity and if you have your own plane," says Shackelford, "it will be even better."
The Top 10 Public Courses and their peak season prices • 1. Pebble Beach Golf Links, $500 pebblebeach.com • 2. Pacific Dunes, $265 bandondunesgolf.com • 3. Pinehurst Resort and C.C., No. 2, $379 pinehurst.com • 4. Whistling Straits, Straits Course, $357 whistlingstraits.com • 5. Bethpage State Park, Black Course, $120 nysparks.state.ny.us • 6. Shadow Creek, $500 shadowcreek.com • 7. Bandon Dunes, $265 bandondunesgolf.com • 8. Kiawah Island, Ocean Course, $350 kiawahgolf.com • 9. Princeville on Kauai, Prince Course, $195 princeville.com • 10. Arcadia Bluffs G.C., $180 arcadiabluffs.com
But Shackelford's idea would only have limited reach. Not only does the common golfer not have his or her own plane, but Shackelford estimates the price of flights getting around the "golden triangle" to be a few hundred dollars to a few thousand dollars, depending on the situation and the size of the plane. The common golfer isn't likely to spend that kind of money to indulge themselves in golf options.
Bandon Dunes isn't necessarily concerned about that level of clientele. Its wealthiest visitors have already been flying their small planes into and out of North Bend, and will continue to do so.
"I appreciate what (Shackelford's) trying to do," says Brinegar. "But we're looking at the bigger picture and much bigger volume."
"If you build it, they will come," was the spiritual message of the baseball movie, "Field of Dreams". What Keiser has built are golf's fields of dreams. Now he's trying to eliminate the nightmare it can be to get there.