News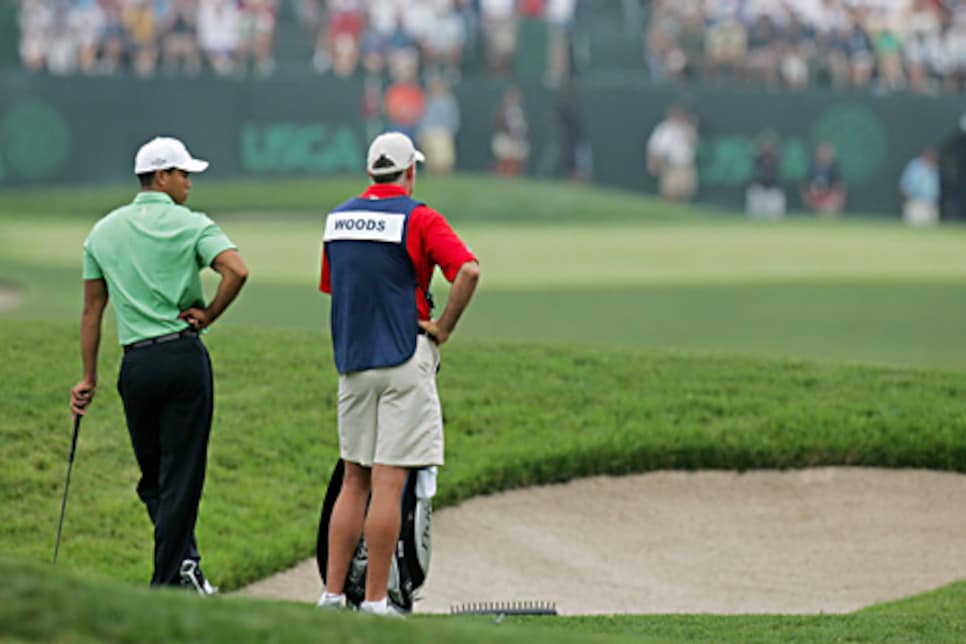 While Tiger's been on the sidelines no one has stepped up to distinguish themselves.
Is there anyone who still seriously doubts that this is the last week of Tiger Woods' vacation?
No, he hasn't made it official yet, most likely because he doesn't have to until Friday. But just as sure as you know why there is a famous Lone Cypress along 17-Mile Drive near Pebble Beach (the wind blew the other one over), Woods is all but certain to make his comeback next week at Tucson in the WGC-Accenture Match Play Championship.
Stretched from end-to-end, it will be exactly 253 days since Woods last hit a ball in a tournament, from the Monday playoff last June 16 at the U.S. Open, to his first-round match next Wednesday in Tucson. That's seven full months and parts of two others . . . not that we're counting or anything. Woods let everyone know in December at his Chevron Challenge that he was ahead of schedule, and now he's right on schedule.
The timing of Woods returning at the match play event makes sense. First, if he does it right, he won't have to play 18 holes a day until the weekend. Second, he's won it before, even though not on this course. Third, he's got the best short game in the world, and when you're in a putting contest like this, it helps a lot. Fourth, Accenture is one of his sponsors. Fifth, Tucson has some great Mexican food.
Just think about it. When Woods comes back, the world of golf will start humming merrily along again. Or at least that's the hope, because there hasn't been a whole lot of harmony or much good news -- certainly on the economic front -- since Woods put himself on the sideline for reconstructive knee surgery.
When Woods steps back on the course at Dove Mountain, he should allow himself a little extra time to look around and survey the landscape. No, not the cactus and rocks and sand everywhere. The golf landscape. It's changed, all right, but not as much as we probably should have expected.
Since he last played, the economy has been in the news a lot more than Woods, and that's not normal. Even Buick, one of Woods' primary sponsors, ended its deal with Woods, who was almost certainly relieved to end that arrangement anyway. But that's not all. Television ratings fell off the cliff without Woods. One PGA Tour tournament sponsor (U.S. Bank) already stuck it in reverse and exited the scene. At last count, 19 sponsors of tournaments this year have deals that end in 2010 -- including Accenture. But forget the money for a while, if it's even possible. There have been a few other changes made since Woods went away.
One constant is Woods himself, who is in his 535th week ranked No. 1. Only three other players who occupied the top 10 when Woods left still do -- Phil Mickelson dropped from No. 2 to No. 5, Geoff Ogilvy dropped from No. 4 to No. 8 and Vijay Singh rose from No. 10 to No. 4.
That's not even close to explaining everything that has happened, though. Padraig Harrington won the two majors that have been played without Woods -- the British Open and the PGA Championship -- and moved into No. 3 behind Woods and Sergio Garcia.
How about the U.S. winning the Ryder Cup without Woods? Next thing you'll say is that Freddie Couples was named the Presidents Cup captain. Anyone get him on the phone?
Mickelson didn't contend in either of the first two parts of Harrington's would-be Paddy Slam and is off to a slow start in 2009, spending a great deal of time tinkering with his equipment. So far this year, Mickelson has re-shafted everything in his bag except for his umbrella.
Moving up the ladder of success during Woods' absence have been such fledgling stars as Camilo Villegas and Anthony Kim, who have said they're unafraid of Woods. Soon they will be able to say it to his face. Then there is Rory McIlroy, a 19-year-old from Northern Ireland who is taking the European Tour by storm, zoomed to No. 16 in the rankings, just won at Dubai and trails only Garcia in the Race to Dubai. Now that race is something else Woods has missed, at least the start of it. It's a season-long points chase leading to a huge tournament with a $10 million purse. Does that sound like a familiar concept?
It's reasonable to assume that Woods has followed golf's goings-on, even from a distance. Down at Torrey Pines, where Woods won the Open, and the spot where he's won the Buick Invitational a mere six times, it was Nick Watney's turn to come from behind and raise the trophy, with Woods still out. At Pebble Beach, where Watney mused about whether it's ever better to have the 54-hole lead, it became clear that it's always better to have the 54-hole lead, especially since they sometimes end tournaments after 54 holes and that lead thing comes in handy on such occasions.
So get ready to welcome Tiger back, to inflate the ratings once again, to keep the sponsors from switching to safer sports, like bowling. Let's get ready for Woods to start piling up more victories and to unveil his own economic stimulus package -- the personal one.