News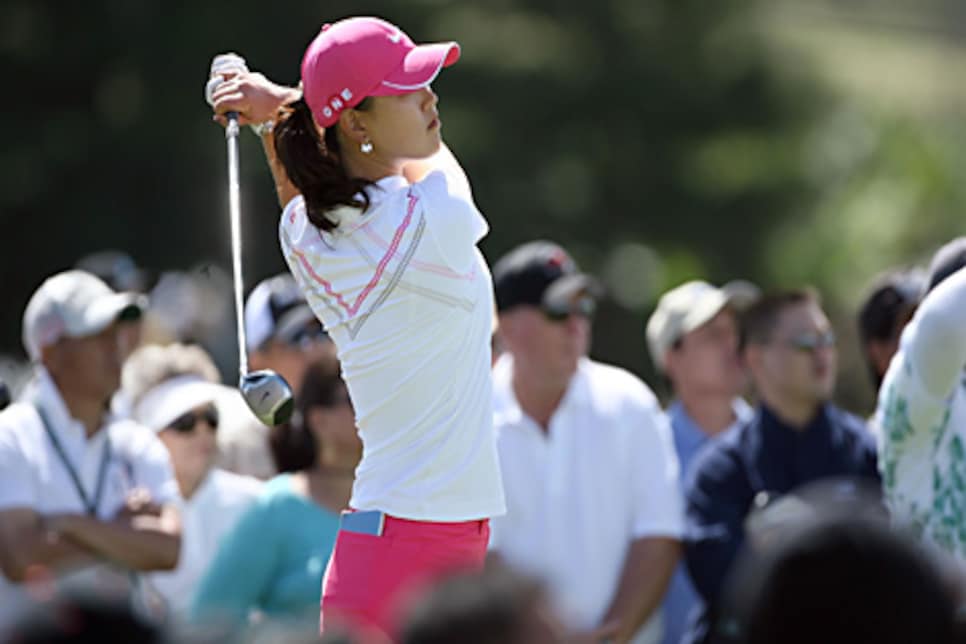 After leading by three with seven holes to go, instead of getting a win, Wie settled for her 5th runner-up finish.
KAHUKU, HAWAII -- Among the observations even those intelligence folks who said there were weapons of mass destruction in Iraq would be able to make correctly are these two: There are virtually no license plates in Hawaii not from Hawaii. And Michele Wie is really popular here.
On the license plate front, the road from California to Honolulu is not all that great, so it is not surprising that in my week on the island of Oahu, the only out-of-state plate I saw was from New Jersey. I'm thinking Tony Soprano needed someone to take a long vacation and that's how that car got here. Has anyone checked the trunk?
On the Wie front, well let's just say roughly about everyone among the several thousand people following the final group of the final round at the SBS Open on Saturday was rooting for Wie (the two guys who received tickets from Angela Stanford's caddie were exceptions). This is a proud state with a lot to be proud about.
Punahou High School in Honolulu almost completed a rather outstanding daily double at the SBS Open. Less than a month after Barack Obama was sworn in as President of the United States, another Punahou grad in the person of Wie almost won her first event as an LPGA member.
And that, my friends, with all due respect to Stephen Colbert, brings us to today's word: Almost. Wie is a golfer of enormous talent whose career, unfortunately, has been built around moral victories rather than real ones. A whole lot of almosts.
Wie almost made the cut against the men in a PGA Tour event. She almost won an LPGA major championship. And on Saturday at the Turtle Bay Resort she almost won the SBS Open in her debut as an LPGA member. Instead, a three-stroke lead with eight holes to play turned into a three-stroke deficit to Angel Stanford.
That Wie finished second -- the ninth time she has been second or third in an LPGA event, which is rather remarkable for a 19-year old -- qualifies as an almost. But, truth be told, that three strokes was a deficit that was widening. And that's been the case in a lot of Wie's almosts: she was backpedaling at the finish line.
Stanford, you see, knows all about closing out golf tournaments, having won three of her last seven LPGA starts. Wie, on the other hand, hasn't won since the 2003 Women's Amateur Public Links -- a drought coming up on six years. There have been plenty of almosts in there, but no done deals.
So what are we to make of this? Was this a good start to Wie's career as an LPGA member or a bad one? Well, the initial reaction is to say, "I've seen this act before." And that can be said with a fairly certain degree of certainty. If there is one shot in the bag Wie has yet to be able to demonstrate she can execute it is the big shot under pressure.
That was the case once again at the SBS Open. On Saturday, with a three-stroke lead, eight holes to play and an opponent reeling from two bogeys in the last three holes, Wie hit a weak high cut on No. 11 that ballooned in the wind and landed in the hazard right of the eleventh fairway.
The double bogey that ensued let Stanford back into the tournament and, being the veteran that she is -- as well as currently being the hottest player on tour -- she pounced. The three-consecutive birdies Stanford made beginning on No. 13 is exactly the kind of closing burst Wie has not yet learned how to deliver.
But here is the good news for Wie: She played great for 52 of the 54 holes. No. 11 was a poor drive with a 3-wood, as was the tee shot she struck with the same club on No. 17 that found a bunker and led to a bogey.
On No. 16, she missed a 4-foot birdie putt that would have cut the deficit to one stroke, but only after a brilliantly bold approach shot to a back left pin tucked tight against the water. Yes, there were mistakes and they were the kind of mistakes we have seen from Wie before. But here is why Wie and her fans should view this almost more positively than the others:
• She seems to have the rhythm back in her swing. That wonderful "Big Wiesy" tempo some think was lost because she was trying to hit it too hard to keep up with the men is back now that she is concentrating on the women.
• She made a ton of 5-foot par saves in three rounds at Turtle Bay. Those are the putts that have been her downfall. True, she missed the 4-footer for birdie on No. 16, but she made a 9-footer to save double bogey on No. 11 and that was huge at the time, keeping her a stroke in front.
• She has an LPGA tour card. No longer does Wie have to listen to people complain that she is in the tournament on a sponsor's exemption or special exemption. She is there now because she earned it -- by finishing sixth at LPGA Q school in December.
Yup, Michelle Wie's first tournament as an LPGA member had a lot in it that resembled her flops as a non-member. But, on balance, there was more positive than negative. She made some mistakes coming in but Wie really lost because Stanford played a great closing stretch.
Punahou High School has a lot to celebrate. They got one of their guys in the White House. Pretty soon, they could have one of their gals in the winner's circle of an LPGA event. And then almost will be a word of the past.