News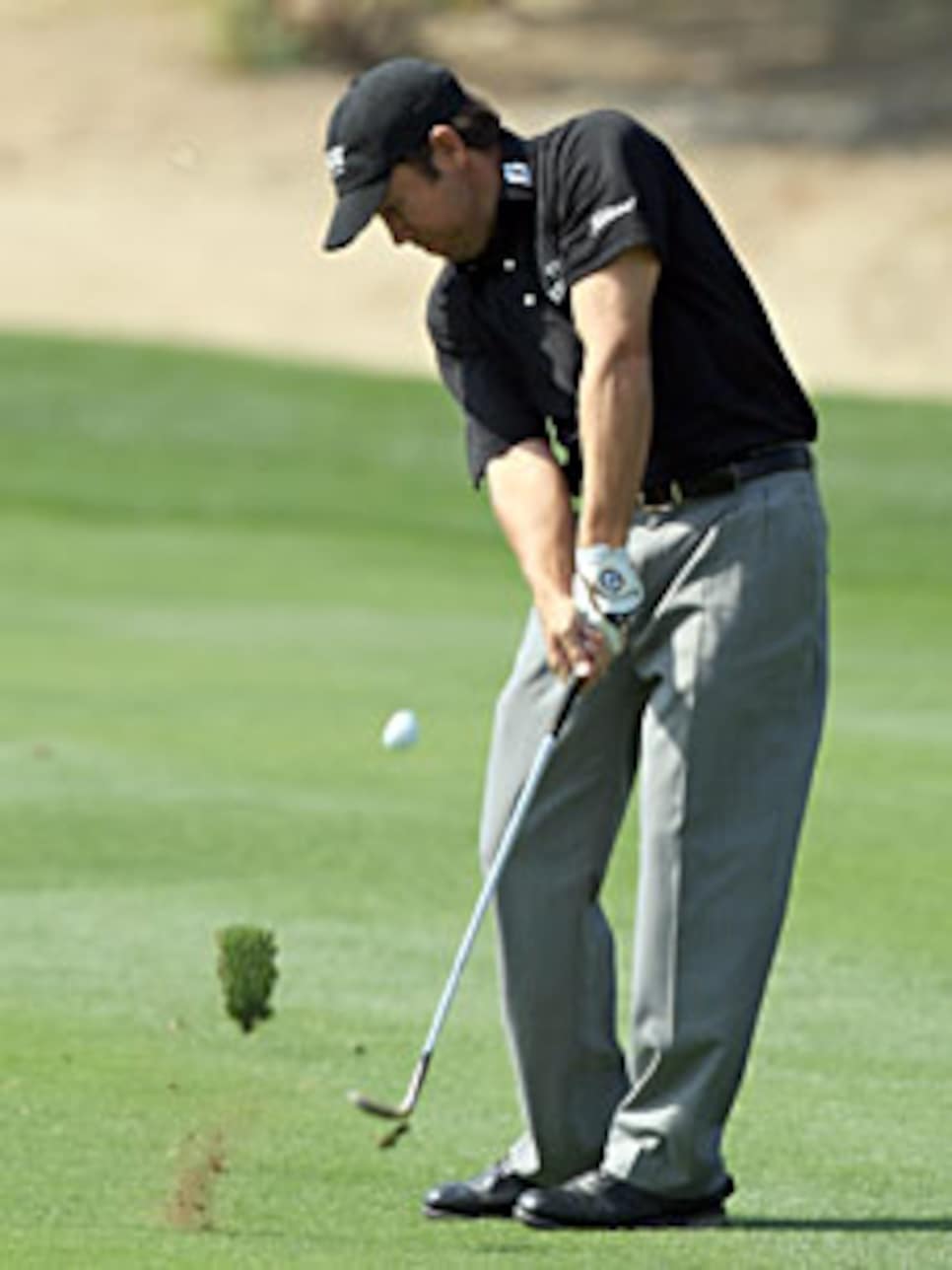 He's a ways from being in contention, but Compton looks like he's inside the cut line.
They gave him a room on the first floor of the five-star Jumeirah Beach Hotel, but Erik Compton wasn't complaining. "I'm in the building. That's all that matters," Compton said Wednesday night after a nine-hole practice round with Ernie Els prior to the Dubai Desert Classic. Since arriving Sunday, this has been somewhat of a dream world in the desert for the double heart-transplant patient. Emirates Air picked up his business-class seat in exchange for him wearing their logo. A Titleist bag was being shipped to him. He nearly aced the first hole of a par-3 shootout. And Thursday morning, he was on the 10th tee at Emirates GC for the opening round of the tournament.
Compton was more than in the building. He was in the field for one of the premier events not only on the European Tour, but in global golf. When Tiger Woods plays Dubai, as he often does, it is the biggest event on the world stage that week. From his home in Miami, Compton watched Woods beat Els a year ago on the early Golf Channel feeds, as he was awaiting his second heart.
This is not a young man who is going to be star struck or over-awed by the competition. He was an All-American at Georgia, played on the Walker Cup team, and was once this nation's No. 1 junior.
"On the driving range [I was] hitting it pretty long and turned a couple of heads, so that was fun," Compton said.
"Guys I haven't seen in a while," Compton said. "Oliver Wilson, Graeme McDowell, Paul Casey, guys I played college golf with, It's just a very relaxing atmosphere, considering how good the World Ranking points are in the tournament. It feels like another college tournament."
Thursday, with Woods back home rehabbing his ACL, Compton started out as if he was Tiger Woods. Birdie-4 at the par-5 10th; Birdie-2 at the par-3 11th: tournament golf wasn't supposed to be this easy, but there is more to tournament golf than striking shots or playing just two holes. There is the matter of walking, something Compton hasn't conditioned himself for during all the gym work he's put in the past eight months, since doctors at Miami Jackson stitched him up after heart transplant number two.
The European Tour would not permit Compton the use of a cart in competition. (His six-month window for using a cart in PGA Tour events ends March 31.) After talking to doctors and his wife, Compton made the decision to use Dubai as a test not only to his golf, but his stamina, and whether he could control his heart rate if it spiked. "I have to stay calm," he said. "There's always that point in the round where you get tired and you start making mistakes. When I get nervous. The brain and the heart don't match up, that's the problem with the same transplant. They don't synch."
Compton's nervous system was put to the test right away, when a lost ball at the first hole by one of his playing partners put their group on the clock. While he didn't keep making birdies, Compton overcame the fatigue and that nervous point in the round to play the last 16 holes in one-over for an opening-round 71. What didn't show on his scorecard was the feeling Compton had walking up 18. "I felt real tired on the front, but I sort of picked it up on the back and felt I was breathing better and stronger," he said. "Obviously it was different; if I was playing in the States and walking, there would be a lot of people following me. It was kind of quiet. It was an enjoyable thing to me, to walk up 18 having not walked a competitive round in two years."
He admitted to not being caught up in many moments when they occur. The impact didn't hit him until he made the call to his home in Miami, where his pregnant wife, Barbara, scheduled to give birth in mid-February, was following the scores on the Internet. "At home, my wife was pretty emotional about it," Compton said. "And she's not one to be emotional at all. She's so proud that I decided to come out here to give it a shot, knowing it's going to be tough."
The 71 put Compton inside the cut line, but well outside the realm of contention. But pardon Compton for dreaming; he didn't make the 7,800-mile journey just to make the cut. He did that at Walt Disney World in last year's Children's Miracle Network Classic. Scheduled to be at this year's Masters to receive the Ben Hogan Award, Compton wanted to know if a victory in Dubai would exempt him for Augusta. The answer was no, but the World Ranking points count, and so does the level of confidence he could gain with a hot round Friday. "The scores are bunched," he said. "I'm definitely not out of it."