News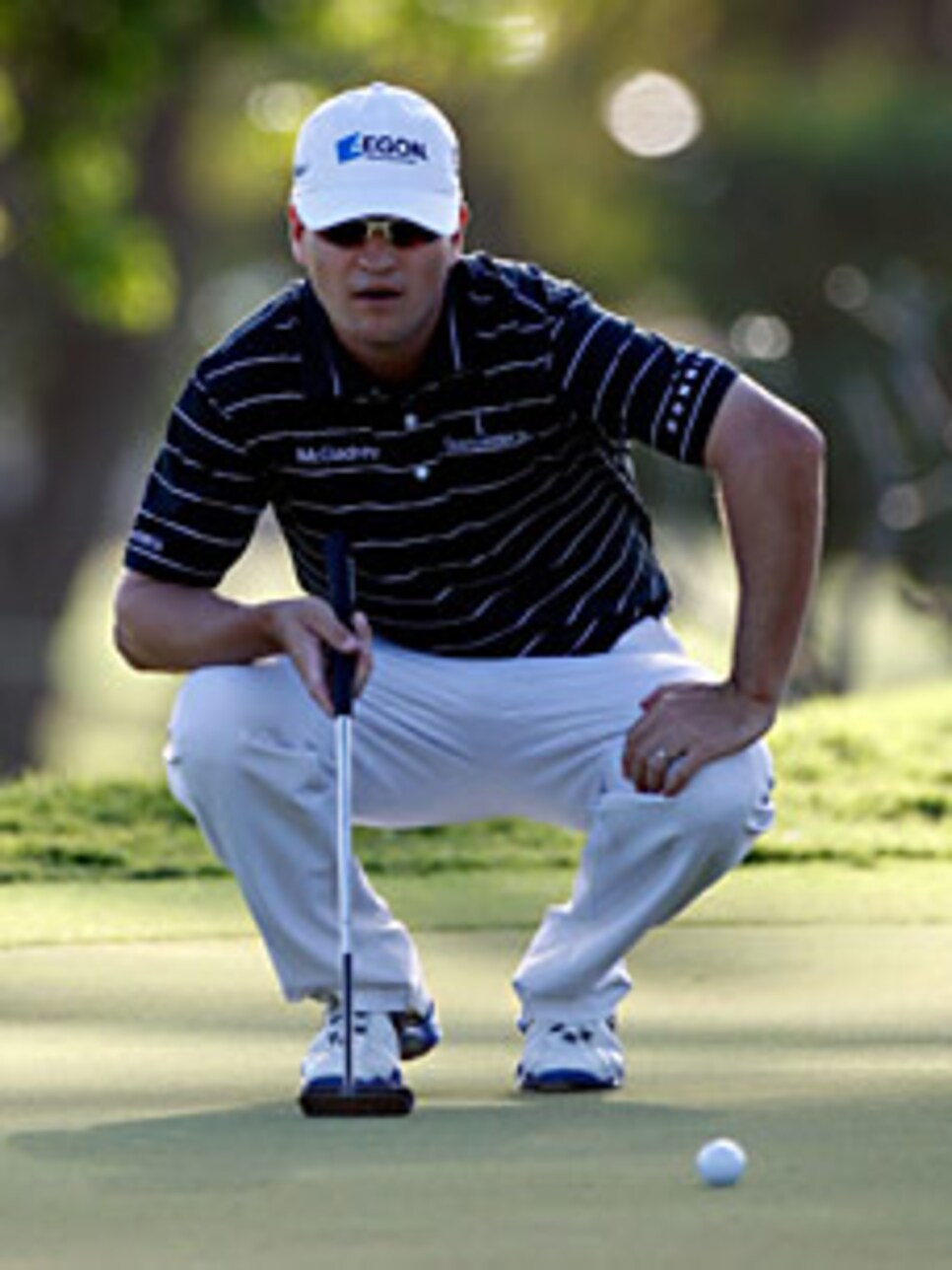 After seeing Fujikawa play, Johnson expressed little surprise at his success.
HONOLULU (AP) -- Tadd Fujikawa returned to the putting green late Saturday afternoon, hours after his 8-under 62 put his name atop the leaderboard at the Sony Open and showed everyone he was serious about becoming the PGA Tour's youngest winner ever.
With the sun setting behind him, Fujikawa's shadow stretched across the green.
At 5-foot-1, he never felt bigger.
Fujikawa made birdies on half of his holes for the best round of his life, pulling him within two shots of former Masters champion Zach Johnson and giving golf its biggest buzz since the Ryder Cup.
Johnson had a bogey-free 66 for the lead, but it's so crowded at the top that a dozen players were separated by three shots, giving just about everyone a chance to win -- even an 18-year-old senior in high school.
"Two years ago, I just went out there to have fun," said Fujikawa, who tied for 20th as a 16-year-old amateur. "This year, I'm out there to win, and I know I can do it."
Maybe the kid isn't kidding.
He sure made believers out of the hometown fans who stood four-deep around the greens to watch him put on a show. He opened with three straight birdies, made three straight birdies around the turn, then closed with back-to-back birdies and a salute to a gallery that carried him along with cheers and Hawaii's famous "Hang Loose" sign.
Even larger crowds are expected on Sunday when Fujikawa, who turned 18 last week and will graduate high school in May, will try to make history no one saw coming. He had never made the cut on the PGA Tour since turning pro after his sophomore year in high school.
Johnny McDermott was 19 years and 10 months when he captured the U.S. Open in 1911.
"I think he's got a bright future," said David Toms, who eagled the last hole for a 65 to join the group one shot behind. "Obviously, a guy that can shoot 62 on this golf course on Saturday of a PGA Tour event has got a lot of talent."
Johnson was at 10-under 200, one shot ahead of Toms, Shigeki Maruyama (68), Brian Gay (68) and Nathan Green (69). Fujikawa, who on Friday made the cut on the PGA Tour for the first time as a pro, was tied for sixth, two shots behind.
"Awesome," said Charles Howell III, who had a 67 and also was two shots behind. "I can't even imagine shooting 62 when I was 18."
Geoff Ogilvy, who won the Mercedes-Benz Championship last week at Kapalua and is trying to join Ernie Els (2003) as the only players to sweep the Hawaii stops, had a 68 and was in the group at 7-under 203 that included Adam Scott (66).
Fujikawa changed to his green-and-white Sea Island golf bag as a subtle reminder. He used it when he spent two days qualifying for the Sony Open last week, earning a spot in the field and respect from the other players.
Relieved to have finally made a PGA Tour cut as a pro -- he had missed in his six previous tries over the last two seasons -- Fujikawa backed up his claim that his goal was to win. He birdied the first three holes, and when he birdied the par-5 ninth to make the turn in 31, the large crowd created such a bottleneck that it couldn't catch up to him until he was on the 10th green.
He birdied the 10th from 8 feet, then chipped in for birdie on the 11th, running toward the cup with his fist extended.
Fujikawa played with PGA Tour rookie Matthew Borchert, who shot 73 and enjoyed the show.
"What a player," said Borchert, who had never played golf in front of 100 people, let alone 3,000. "I figured that's what I would get when I saw the pairing -- a lot of birdies and a lot of upbeat people."
Not even Michelle Wie created this much energy when she was 14 and shooting 68, the lowest ever by a female competing against men. Fujikawa is revered on this island for his hard-scrabble upbringing.
He was born 3½ months premature, so small he fit into his grandfather's palm. He was given only a 50 percent chance to live and has been overcoming long odds ever since. Fujikawa qualified for the U.S. Open at Winged Foot as a 15-year-old amateur, and as he tried to rebuild his confidence last year, his father was indicted on drug trafficking charges.
Through it all, he has kept a bright outlook and charming smile.
And as he showed Saturday, he can play.
From a buried lie in Bermuda grass, the wind in his face, he powered his approach over a bunker and onto the green. And he finished in style, hitting 4-iron to 6 feet for birdie on the 17th, then lashing a 3-wood out of the bunker and onto the par-5 18th green for a two-putt birdie and the best round of his life.
The leaders were still on the practice range, but Fujikawa kept a share of the lead for 2½ hours until Johnson got to 9 under with a wedge-and-a-putt birdie on the par-5 ninth. Johnson added another birdie on the 12th, then came in with pars.
Johnson, who won the Texas Open during the Fall Series, didn't feel like he had a big advantage with the 54-hole lead.
"Not out here," he said. "One errant shot can be a matter of a two- or three-shot swing. That's the beauty of this course. It doesn't surprise me that it's congested."
But was he surprised that an 18-year-old is so close behind?
"Yeah, I heard," Johnson said, shaking his head. "That's very impressive. Eight under anywhere is really good. I've seen him swing it and seen him putt it, and he's very, very solid."