News
Vokey Meets The Challenges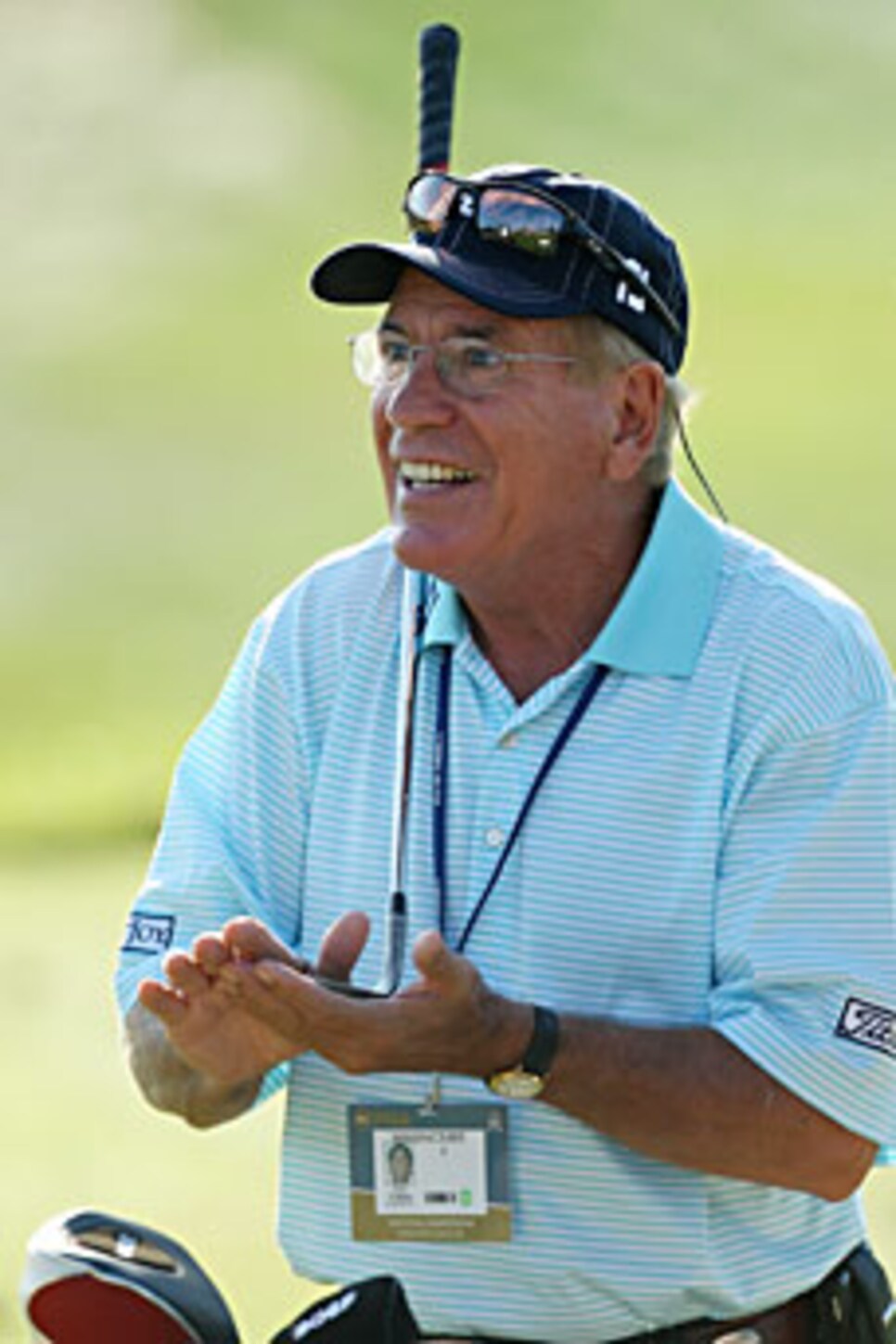 The new grooves rule is a big challenge, but not as big as facing down kidney cancer.
HONOLULU -- Bob Vokey was casing the driving range Tuesday morning at Waialae CC, shaking players' hands, looking in their golf bags, asking questions and listening to suggestions from the men who trust him to assist in their million-dollar livelihoods.
There was a spring in his step. Vokey, whose wedge designs for Titleist are the most utilized in the game, calls the PGA Tour the best R&D lab in the world, and he had missed it. Until he visited Kapalua Resort last week during the Mercedes-Benz Championship, Vokey had not attended a golf tournament since August. But Kapalua invites a limited field. At Waialae, Vokey, to his delight, found the practice area bustling with activity as 132 players prepared for the first full-field event of the season, the Sony Open in Hawaii.
"It's exciting times, but challenging times," Vokey, 69, said in his gravelly high-energy voice. "Here, I'm just checking on my guys ... what they need, what they're thinking. I have to sort of catch up. At my age, I figured I was just about done working, but there is still much to do. I was ready to ride off into the sunset, but all of a sudden it's a different ball game."
Indeed, Vokey and his design team at Titleist have been supremely challenged since the USGA announced Aug. 5 it was revising specifications on golf club grooves. Vokey won't give you his opinion on the rule change -- at least, not on the record -- but he'll gladly explain how he has reacted to it as a club designer.
"The USGA and the R&A agreed on the type of grooves they're going to allow, so we are in the process of making those changes to meet the rules," he said, grinning.
What he hasn't much talked about is that he's done most of the work from his home in Carlsbad, Calif., while recovering from cancer surgery. On Sept. 30 Vokey had his right kidney removed at the Cleveland Clinic after a CT scan revealed a four-inch tumor.
He had been complaining of a sore back, and he figured it was merely a recurrence of an old injury. But a friend suffering from pancreatic cancer urged him to get checked out. An X-ray and an ultrasound turned up nothing, but the CT scan was conclusive.
"I just thank God I listened to my friend and that it all worked out," Vokey said, looking to the clear blue skies above Oahu. "I feel great. It's like a miracle to me that they were able to fix me up, and here I am."
Vokey chose the Cleveland Clinic, in Ohio, at the behest of Wally Uihlein, chairman and CEO of Achushnet, Titleist's parent company. "Wally said, 'I want to send you to the Bob Vokey of Renal Cancer Cell Surgery,' " Vokey said. "And I'd have to say that the doctor [Stephen Campbell] was every bit of that."
The Bob Vokey of golf club wedges was happy to be busy as he recovered at home. There has been much to do. The rule change, which applies to clubs manufactured after January 2010, has forced Vokey and his design team to rethink grooves on wedges. His fertile mind has been working overtime.
"We have 25-30 different patterns we have already mocked up -- different patterns, different angles, different spacing, different radiuses, different face treatments, different punch marks ... every different treatment we could think of," Vokey said. "Even some of my old dreams from years ago. We want to see what we can come up with that gives us the proper feel and trajectory and level of reliability and performance.
"We've taken all of that, and now we're in the process of narrowing down to about three, and after that we'll submit them to the USGA. They will fall within the specifications; they will conform. We're going to try to get that done before the summer to get them in the players' hands to work with in their off-time. This way, they will be ready to go in 2010."
Vokey hasn't played golf since the operation, but he got clearance just before Christmas to travel and to start hitting balls. He joked that the removal of his right kidney might help his game. "Maybe I'll stop spinning out of shots," he said, chuckling.
As for ideas spinning in his head, well, those he can't put a halt to.
"These challenges ... it makes me young again, and it gets me thinking again," he said. "You know, I'm on the 18th hole of my career, and my friends tell me that not only that, but I'm hitting my third shot. But now with everything else going on in the game, I might have to get in an emergency nine. There is just too much work to do, and for an old golf club guy like me, I just love it."