News
The Big Easy Is More Than Golf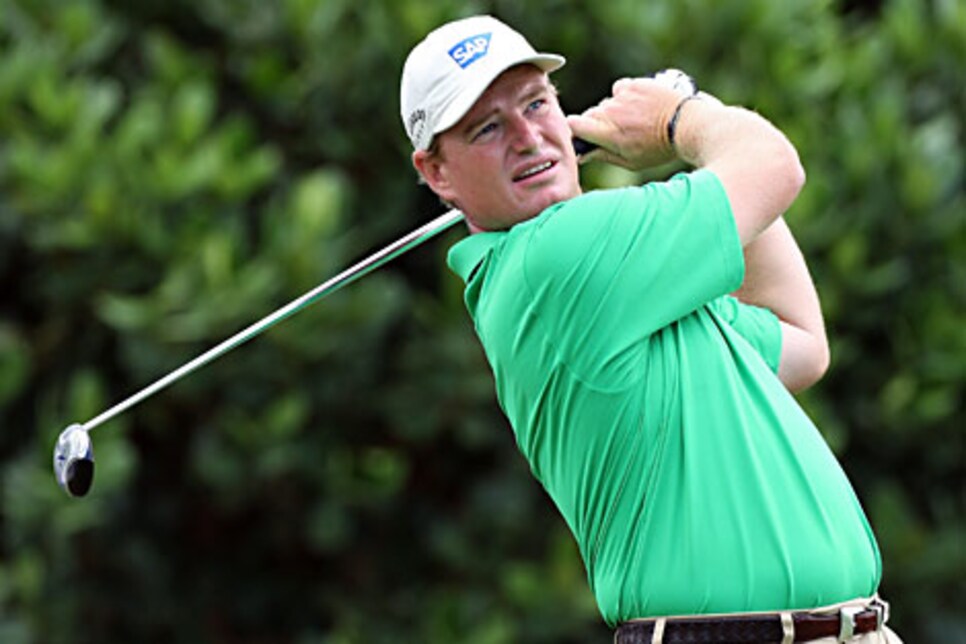 Four years ago Ernie Els was one missed putt from a playoff at the Mercedes. He wouldn't get that close again for 3 1/2 years.
KAPALUA, Hawaii (AP) -- Ernie Els holds a scoring record on the Plantation Course at Kapalua that will be tough to break, winning the Mercedes-Benz Championship five years ago at 31-under par for an eight-shot victory.
What he tries to forget was his last trip to Maui.
Needing only a birdie on the par-5 closing hole to force a playoff in 2005, he hit his tee shot so far to the right that it vanished into the native grasses and cost him the tournament. Even more painful is that he has not been back to Kapalua since then.
"We don't want to talk about that," he said with easy laughter.
Els did not win another PGA Tour event until the Honda Classic last March, a stunning drought for someone of his caliber, a player who was No. 1 in the world, has won three majors and had won somewhere around the globe every year but one since 1991.
Everyone knows about the blow to his psyche in 2004 when he had a chance to win all four majors and came away empty, followed by the knee injury while boating in the Mediterranean in the summer of 2005, and returning too early from surgery to repair torn ligaments.
But it goes beyond the golf.
"I've had a lot of things that I've had to kind of put in place away from golf," Els said. "There's been a lot of things happen in our family. That's been more important than anything else. You guys report on golf all the time. You don't report on the whole picture. So being ... I wouldn't say distracted, but taking care of more important things has taken my focus away a little bit."
Els didn't go into many details, but the biggest adjustment was going public last year with news that his son, Ben, has been diagnosed with autism. The South African has become a voice to find a cure for autism, and last year he moved his family from London to south Florida for the schooling.
At age 39, he is starting to feel at peace, in control and refreshed about the new year.
The 2009 season began on Thursday when Marc Turnesa, among the 33 tour winners who have gathered at Kapalua, hit the opening tee shot on a mountainous course that is unlike any they will see the rest of the year.
Els skipped some of the South African tournaments he typically plays in December, except for the South African Open, and he will package his global travels slightly to ease the wear-and-tear.
Even with a focus on so many young players -- Anthony Kim, Sergio Garcia, Camilo Villegas, Adam Scott -- and the return of Tiger Woods sometime in the spring, Els wants to return to getting the most out of his talent.
"I want to inch myself along, play each round, each tournament," he said. "I've got a lot of talent, and if I get all of this stuff together, things can start falling into place again."
His mood is helped by the company he keeps.
The only way to play at Kapalua is to win the previous year on the PGA Tour, which was not easy even when Woods skipped the final three months of the regular season with reconstructive knee surgery after winning the U.S. Open.
Only six players in the field were at the Mercedes-Benz Championship last year -- defending champion Daniel Chopra, Vijay Singh, Justin Leonard, K.J. Choi, Boo Weekley and Zach Johnson.
Then again, four winners decided not to make the trip. Woods is still recovering from his knee surgery; Phil Mickelson stopped coming in 2002; Garcia (a past champion at Kapalua) had to skip because he lives in Spain and is playing next week in Abu Dhabi; and double major winner Padraig Harrington of Ireland is in the middle of his winter break.
Those are the top four players in the world, which doesn't look good for a tour trying to put on its best face in a weakened economy. Even so, there is plenty of star power on the rugged coast of Maui.
Kenny Perry, who will play the first round with Els, is coming off a three-victory season while turning 48 and believes he has the talent to win eight more times in the next few years, which would take him to 20 wins for his career.
Singh is coming off his FedEx Cup title, a year in which his earnings topped $18 million. It will be a short-lived appearance in Hawaii for the big Fijian, who revealed that he tore the meniscus in his right knee and will have surgery next week that will keep him out for a month.
And while Woods was away, the focus shifted to youth -- especially Kim and Villegas.
Kim broke Woods' scoring record at the Wachovia Championship with a five-shot victory, then won Woods' tournament with a 65 at Congressional in the AT&T National. He was sixth on the PGA Tour money list and moved up 63 spots to No. 12 in the world ranking.
Villegas took baby steps until bursting through with victories in the BMW Championship and Tour Championship -- both won by Woods the previous year -- to finish second in the FedEx Cup and move up 49 spots to No. 7 in the world.
The 23-year-old Kim faces the highest expectations, which is fine with him.
"I've always thought that I was able to achieve some pretty high, lofty goals," Kim said. "I never thought it would be any other way. I thought one day it was going to happen, and it happens to be now. Hopefully, if I just stay on the right path, I'll have a pretty bright future."
Els remembers when he was part of the younger generation. He won the U.S. Open at 24, an era that included the arrival of Mickelson, Leonard and Darren Clarke.
"Fifteen years ago, I was that age, and you come through and you want to run through walls," Els said.
Maybe he has enough energy left to run through them again.