News
AK Wishes They All Were Tiger Tournaments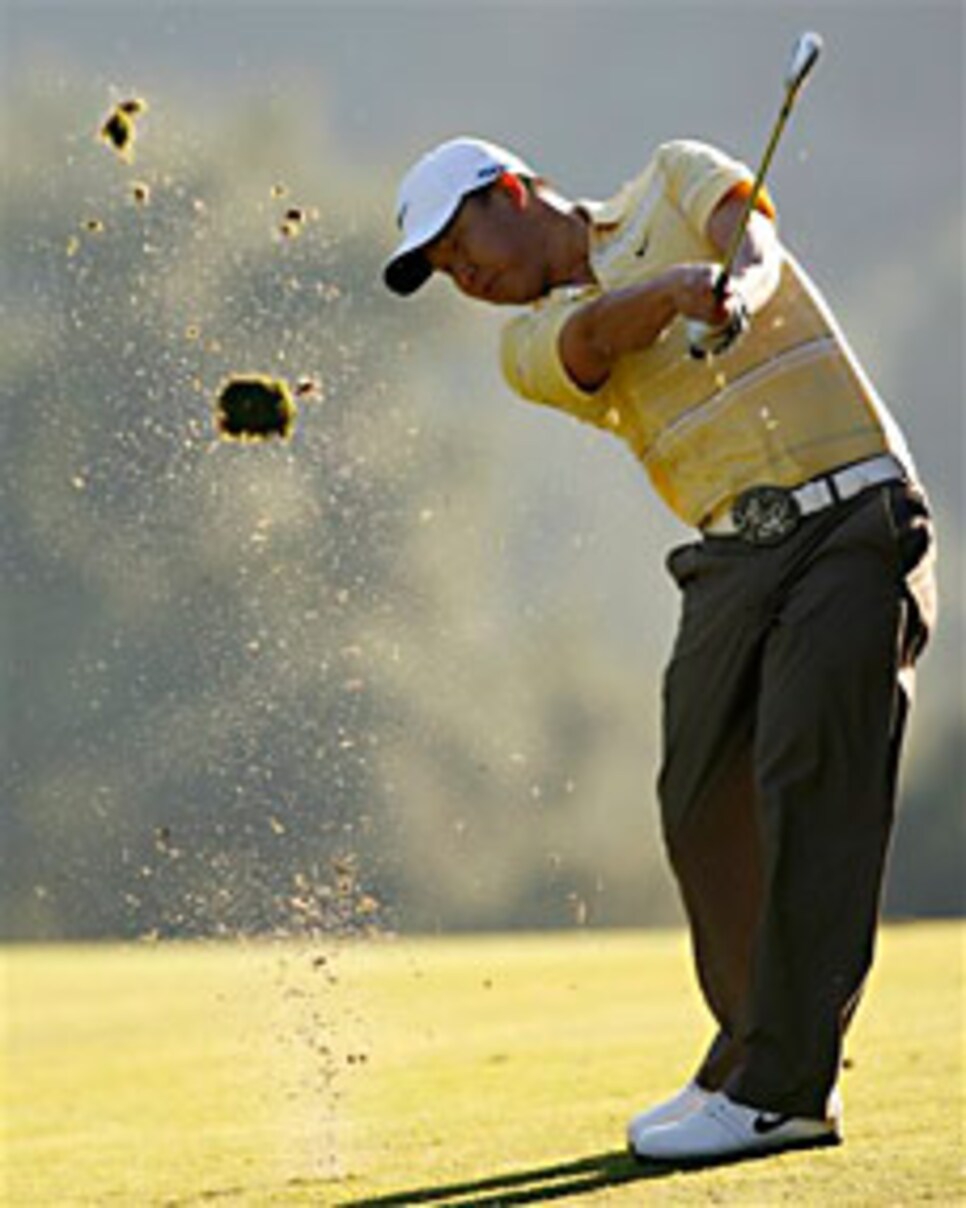 With a hot putter and an even hotter sand wedge Kim had the round of the day.
THOUSAND OAKS, Calif. (AP) -- Anthony Kim put himself into position Saturday for the Tiger two-step.
Kim finally figured out some flaws in his putting, hit an exquisite shot with a wedge from a buried lie in the side of a hill, and wound up with a 5-under 67 on Saturday to build a one-shot lead over Jim Furyk in the Chevron World Challenge.
If Kim can hang on to win, maybe this time Tiger Woods can congratulate him in person.
Woods is the tournament host at Sherwood Country Club, an end-of-the-year exhibition for charity. He also is host of the AT&T National at Congressional, a regular PGA Tour event that Kim won to stamp his arrival as an emerging star. He had to settle for a phone call from Woods that day because he was still on crutches from season-ending knee surgery.
"I'm excited to be here," Kim said. "And obviously, when Tiger's name is attached to anything, you're willing to play."
The trophy comes attached with a $1.35 million check, which wouldn't be bad, either.
Kim had some help in building the 54-hole lead, primarily from Furyk. After consecutive birdies to regain the lead, Furyk hit a poor tee shot on the 18th and dumped his approach into the pond in front of the green, leading to double bogey and a 70.
Kim was at 8-under 208, but the lead was tenuous.
Five players were separated by two shots, the others being Vijay Singh (67), Steve Stricker (68) and Camilo Villegas (69). Hunter Mahan had an outside shot after his bogey on the 18th hole gave him a 70 and left him five shots behind.
Kim's big year includes a five-shot victory at the Wachovia Championship, followed by a closing 65 at Congressional to win Woods' regular PGA Tour event by two strokes. He also starred in the Ryder Cup, and sees this exhibition as the perfect way to end the year.
The only surprise is that he hasn't played in five weeks and is still sore from ankle and jaw injuries.
"I am very pleasantly surprised," Kim said. "My body is not 100 percent healthy right now, and to be able to shoot under par on a tough golf course, especially when there's some tricky pins out there and the rough is penal sometimes, it's given me quite a bit of confidence going into next year -- and especially tomorrow."
Even more amazing in the rust department is Furyk.
He hasn't played since winning the PGA Grand Slam of Golf in Bermuda on Oct. 15 and figured the layoff would catch up with him at some point during the week. But he had been steady all week at Sherwood, until the final hole.
Furyk holed birdie putts of 6 feet and 8 feet going to the final hole when he blocked his tee shot toward the trees, but caught a good break when the ball was sitting up in the thick grass on the side of a hill.
It might have been too good.
Needing to sweep the ball instead of attacking it because of how it was sitting up in the grass, Furyk was too aggressive and went down on the ball. Contact came high on the club face, and Furyk didn't have to see a splash to know what happened.
"I knew when I hit it I had no chance of getting there," Furyk said.
He took his drop, spun his fourth shot by the cup but missed a 7-foot bogey putt. He figured everyone else among the 16-man field has made a double bogey or worse this week -- only Stricker, Mahan and Fred Couples have avoided that -- and his came on the 18th.
But he was still in good shape, among five players separated by two shots going into the final round of the year.
"If you had told me three days ago that I'd be one shot back going into the last round, I would have taken it," Furyk said.
Then again, Furyk had to take two months off because of a freak wrist injury at the end of the 2000 season, and he won his first tournament back at the Mercedes Championship in Kapalua.
Kim felt as though his putting suffered the most this week, but he found something with his birdie on the fifth hole and was solid the rest of the way. His most impressive birdie might have come at the short par-4 10th, when his drive landed well left in thick rough on the side of a hill. The ball was in a divot, with rocks in the dirt.
"Because it was deep, I didn't know exactly how far down I had to throw that lob wedge," Kim said. "I just got lucky there. I made a good swing, but you need a little bit of luck when you get lies like that."