News
Furyk Keeps Lead, Couples Three Back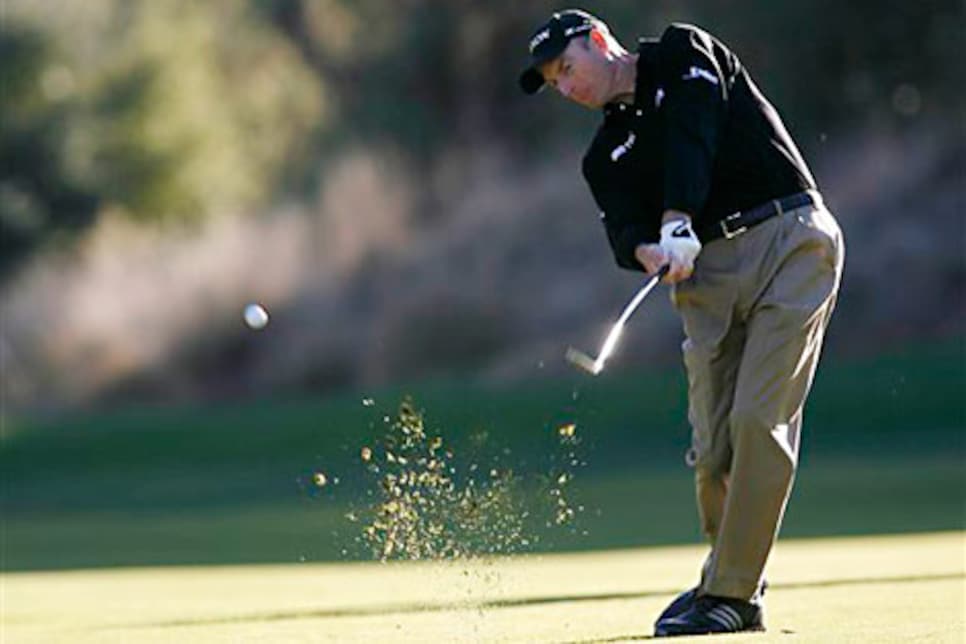 Furyk's only bogey came when he pulled his 5-iron into a bunker and didn't get up and down.
THOUSAND OAKS, Calif. (AP) -- In an elite field at the Chevron World Challenge, which is loaded with players from the top 50 in the world ranking, Fred Couples can claim he belongs because of his age.
The oldest player at Sherwood Country Club, whose world ranking has fallen to No. 175, the ageless Couples continues to hang around some guys half his age. Even with a mud-ball bogey on the final hole Friday, he had a 3-under 69 to finish three shots behind Jim Furyk and keep in the mix going into the weekend of Tiger Woods' event.
"I can hang around anybody," Couples said. "Playing well is a shock."
Some might consider Furyk's play to be surprising, given his lack of competition. Taking a break from his four-month vacation, Furyk wasn't nearly as crisp but didn't make any mistakes until the final hole on his way to a 71.
Furyk was at 5-under 139, two shots clear of Anthony Kim (70), Camilo Villegas (67) and K.J. Choi (71). Couples and Steve Stricker (71) were another shot behind.
"I hung in there today," Furyk said. "That's the best I can say."
Couples has been doing that longer than most. He was a PGA Tour rookie the year before Villegas was born, and he won the first of his 15 tour titles two years before Kim showed up on earth.
Couples was No. 1 in the world until his career was slowed dramatically by back problems, and it got so bad last year that he managed to play only three times. Through it all, his raw talent has kept him in the picture.
Even playing only 18 times this year, he nearly made $1 million and easily kept his card.
"I wouldn't consider myself to be a threat too much anymore," Couples said. "But I know I can go around this course because of old habit, and I've played here and I like the course. So that certainly helps me."
If there is such a thing as pressure in the silly season, this is it.
Woods lobbied to get official world ranking points for his Chevron World Challenge, but he had to make concessions. Starting next year, the sponsor exemptions must be ranked inside the top 50.
"I've played so many times on a sponsor's exemption, and Tiger came up the other day and he said, 'I've got to tell you something,'" Couples said. "I go, 'Oh my God, what did I do wrong?' He said, 'You cannot play my tournament next year unless you're in the top 50.'
"What am I, 400th right now?"
With Couples, it's never as bad as it seems it should be.
He zipped along still soggy Sherwood with an approach to a foot on the fourth, a two-putt birdie on the fifth, a 5-foot birdie on the difficult ninth hole and was climbing the leaderboard until he found a splotch of mud on his ball at the 18th. It squirted to the right, losing velocity along the way, and he was lucky to escape with bogey.
For all the free money being handed out this week from the $5.75 million purse, there was still some grumbling.
Villegas got into an animated discussion with a rules official Thursday after getting mud on his ball, and he still coped with it Friday even as he fired off three straight birdies, lost his momentum, then put it back in gear with an approach to 8 feet for an eagle on the par-5 11th. He wound up with the lowest score this week, but was still perplexed by the decision to play the ball down.
"I don't really get what we're trying to prove here," Villegas said. "I mean, it's 16 guys, the end of the year. It's a fun tournament. You're trying to show them some good shots, some birdies, and sometimes they don't understand when we hit it 50, 60 yards off target. And it's just because of the mud."
So what was the difference between a 74 and a 67?
"I was able to judge a little bit better," he said.
The good news for Furyk is that he finally made a birdie on a par 5 -- Sherwood has five of them. It came on the 16th hole, which he reached in two and lagged nicely to tap-in range to reach 6 under.
"It only took me 10 tries," he said.
His lone bogey came with a pulled 5-iron into a bunker, leaving him a lot of green but a long distance away. He blasted out to a ridge that fed the ball 10 feet by the hole, but he missed the par putt.
The only complaint Couples has had this week was getting tested for drugs for the first time this year. He was notified after his round Thursday, and having relieved himself on the 14th hole, it took him two hours to complete the test.
"I told him I thought at that age it wasn't an issue," Furyk said. "But I guess it was."