A Message From Jack For Tiger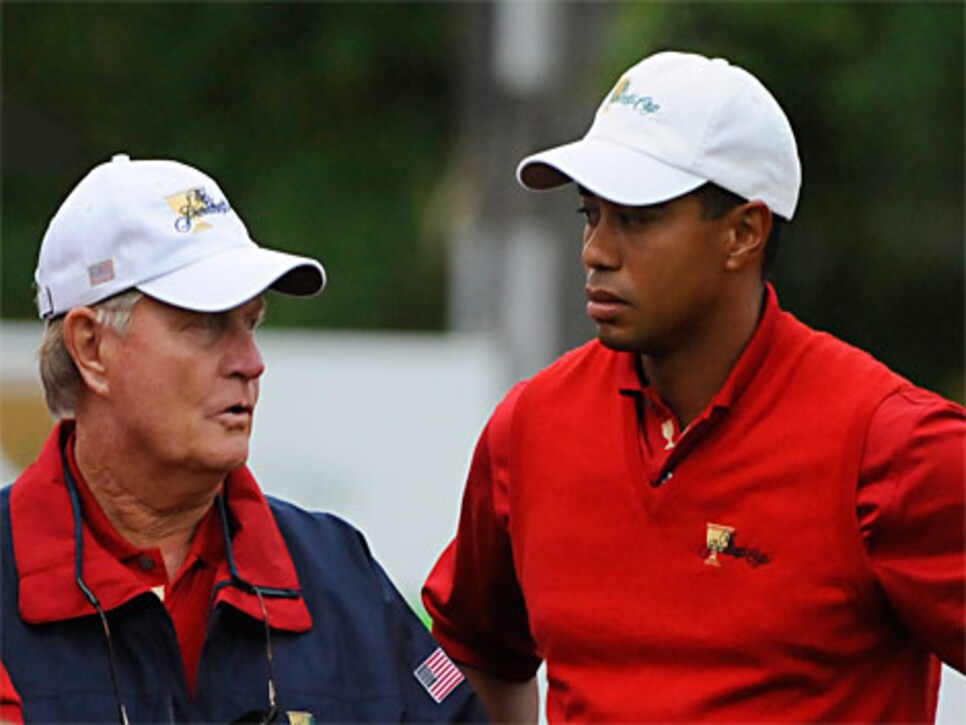 Despite the change in golf's landscape since Tiger's injury, it's doubtful anyone or anything will keep him from Jack's record.
THOUSAND OAKS, Calif. -- Jack Nicklaus loves Tiger Woods. But while Nicklaus wants Woods to return to golf healthy he has delivered a message to him:
Woods remains four major titles short of Nicklaus' record of 18, having won the latest in June with the U.S. Open at Torrey Pines. He then ended his season because of knee surgery, stalling his march toward Nicklaus' mark.
That was among the topics when Nicklaus spoke with Woods.
"Tiger, I want you to come back and be full strength," Nicklaus said as he recalled their conversation. "I obviously don't want you to break my records - nobody wants their records to be broken - but I don't want you not to break them because you're not healthy."
Nicklaus said he didn't think such a scenario was in the best interests of golf.
"He's such a great athlete and he's such a hard working guy and he's such a credit to the game of golf that I'd like to see him play for a long time because he can only do good for the game."
Woods said he isn't taking Nicklaus' comments seriously.
"I think he's just talking, just being Jack," said Woods, who is hosting the Chevron World Challenge this week at Sherwood Country Club outside Los Angeles. "I've really never had a conversation with Jack about breaking his records."
Nicklaus made his comments when discussing the two Nicklaus Signature Courses and Nicklaus Golf Academy planned for the Quivira project in Los Cabos, Mexico. Coincidentally, Woods is also overseeing a golf course project of his design on the Baja Peninsula called Punta Brava, about 65 miles south of San Diego.
If Nicklaus really is possessive about his records, he made it clear that he is a huge fan of Woods and remains solidly in Woods' corner coming back from reconstructive knee surgery, which Nicklaus said is not a simple matter.
"I'd like to see him come back at full strength, but I think a lot of that depends on whether you fully can come back from that at full strength," he said. "It takes awhile.
"His work ethic is awfully good. He's got a pretty tough road ahead of him. I talked to Tiger for quite a while after his win at Torrey Pines and we talked about his leg and his problem and what he needs to do."
That's a conversation Woods recalls easily.
"Maybe nobody wants their records broken, but he was basically talking about my knee and not coming back too fast, what his experiences were," Woods said. "The rest was just Jack."
Woods said he has started hitting full shots during the past week or two. He began chipping and putting more than a month ago. He said his legs are stronger than they've ever been, but that his left knee ligament that was replaced in surgery is taking its own time to mend.
"It's only going to heal so fast," he said. "For me, I've just been training and trying to get back. Everything has been right on schedule. You couldn't ask for anything more."
It's all part of a process.
"My game is not ready for public consumption," Woods added. "It's just not ready yet."
While Woods has been away, pro golf's landscape looks different, with emerging young stars like Anthony Kim and Camilo Villegas moving into the top 10 in the ranking, and Sergio Garcia climbing all the way to No. 2, directly behind Woods.
Nicklaus said it really is going to look a lot different to Woods when he comes back.
"Maybe for a week or two."
And after that? It's 14 majors and counting, and whether anything - words included - can keep Woods from getting four more and catching Nicklaus, chances are the answers won't be secret for very long.
Thomas Bonk is a regular contributor to GolfDigest.com