News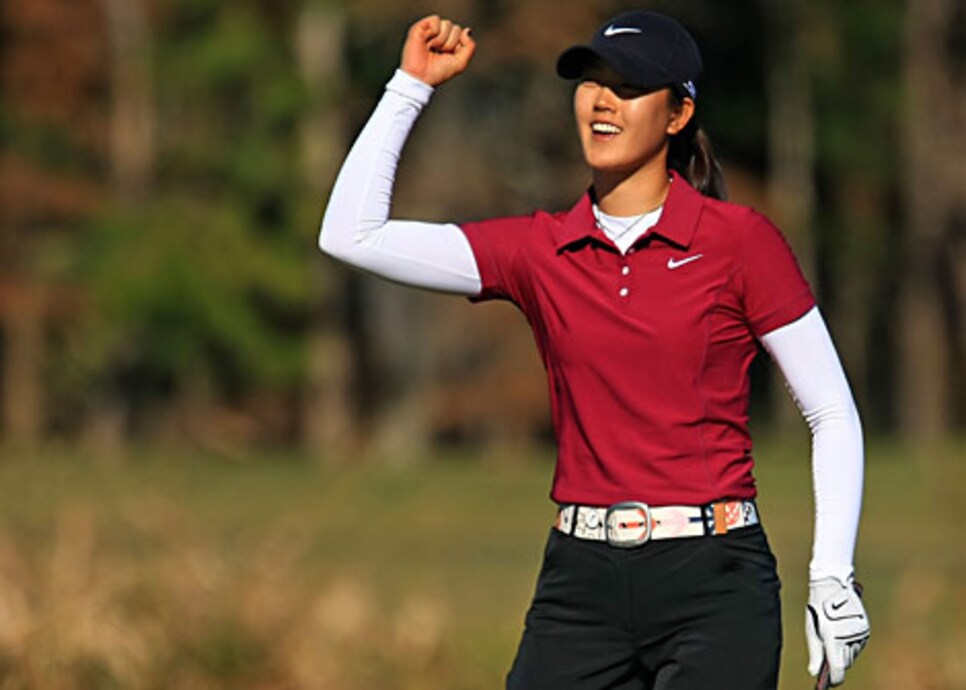 Now that Wie is joining the LPGA Tour, Golf World's Ron Sirak wonders if she or Stacy Lewis can eventually emerge as the first American since 1994 to become the world's No. 1.
DAYTONA BEACH, Fla. -- And so what ended here on a blustery Sunday is perhaps the end of the beginning. While history will be the only judge of where we are right now in the Michelle Wie saga, this much seems to be true: Sometime next spring, the curtain will rise on Act III of this unpredictable melodrama when the one-time pre-teen prodigy, who for years shunned the LPGA in favor of playing against the men, returns card-in-hand as a member of the tour.
The plot unfolded this way: First, during that period from 2002, when she Monday qualified for an LPGA event as a 12-year-old, through 2006 the Wie camp held the LPGA at arm's length, declining to apply for an exemption to the age limit rule in part because tour membership would have limited her lucrative overseas appearance fees by requiring her to play at least 10 LPGA events a year. She had the headlines on her side as the myth overshadowed the accomplishments.
Then, as an injured Wie's game went south for two years, the tour's spine finally stiffened and, under pressure from players who felt Wie was getting preferential treatment, it became less willing to make concessions to her camp. As other teens won major championships -- Morgan Pressel, Yani Tseng and Inbee Park -- Wie's initial marketing hook, youth, was no longer unique. The tide had turned.
Quietly, and without ever saying so or admitting any strategic mistakes in the route they followed to the pro tour, the Wie camp took a step toward the LPGA by entering this year's Qualifying Tournament. That move was rewarded Sunday when Wie closed with a 74 and finished 90 holes at 12 under par 348, T-7 and in possession of one of the 20 playing cards awarded for 2009.
"It's a weird feeling right now," Wie said after she finished six strokes behind one of her final-round playing partners, Stacey Lewis, who won Q school with an 18-under-par 342 by three strokes over Amy Yang, the third member of the threesome.
"It's a good feeling," a smiling, relaxed, almost playful Wie said after her round, breaking her weeklong boycott of the media. "I really earned it. I took my medicine and really gutted it out. I went to local qualifying and finals. It's like high school graduation."
Thankfully, for a tour losing Annika Sorenstam to retirement and battling a difficult economy, not only did Wie earn her card at LPGA International but in Lewis the tour has, along with Wie, another candidate to emerge as the first American to be the best female player in the world since Beth Daniel in 1994.
"I played well all week," said Lewis, who rolled in a 25-foot birdie on the final hole for a closing 69. "I came out today to win the golf tournament. I hit some shots close and then that last one was icing on the cake."
While not as extensive as Wie's run-ins with the LPGA, Lewis, a scrappy 23-year-old who endured a nearly decade-long battle with scoliosis, has had a couple odd brushes of her own. In 2006, she led an LPGA tournament in Arkansas that was washed out after one round and was erased from the record books. A victory that wasn't.
Then this year she earned enough money by finishing third in the U.S. Women's Open to have secured her card for next year off the money list, but the tour has a rule saying U.S. Open money does not count because the purse is so much larger than normal LPGA tournaments. Thus she had to come to Q school.
"I've kind of had the door shut on me a couple of time," Lewis said. "But they can't do it anymore."
That's the kind of feisty attitude that will serve her well in what promises to be an interesting fight for 2009 LPGA Rookie of the Year. In addition to Lewis and Wie, there will be Yang, Vicky Hurst, another American who won four times on the Duramed Future's Tour and didn't have to go to Q School, and Ji-Yai Sin, who earned her card by winning the Ricoh Women's British Open and two other LPGA events this year.
What comes next will be fascinating. Wie says she wants to play a lot in 2009, although she will finish the winter quarter at Stanford, which ends in late March. She also says her days of playing against the men are not over. "I want to do it," she said. "I always have. It's as simple as that." And there are still smoldering questions about her ability to finish off tournaments that Sunday's 74 didn't douse.
And while the hatchet may not be buried between Wie and the LPGA, at least it has been placed on the shelf for now. Still, it's a shelf both sides can still reach. Asked if she is looking forward to LPGA rookie orientation, which is Monday and Tuesday of this week, Wie gave a whimsical answer, especially from a 19-year-old.
"The politically correct answer is yes I am very excited with a smile on my face," she said with a smile on her face. "Don't ask me the politically incorrect answer," she added, still smiling, but a little more mischievously.
It could very well be that the first time Wie appears as an LPGA member will be at the SBS Open in Hawaii, not far from her home, in mid-February. Beginning with the tour stop in Phoenix in late March, followed by the Kraft Nabisco Championship, the first major of the year the next week, school will be over and Wie will be a full-time professional golfer for the first time in her young life.
This is the beginning of Act III of this story for both Michelle Wie and the LPGA. Simply put, they need each other and both seem to have come to that undeniable realization. And simply put, everyone who cares about golf is extremely curious to see if, now that she has made a commitment to a tour, Wie begins to fulfill her massive potential