News
Logjam near top at Q school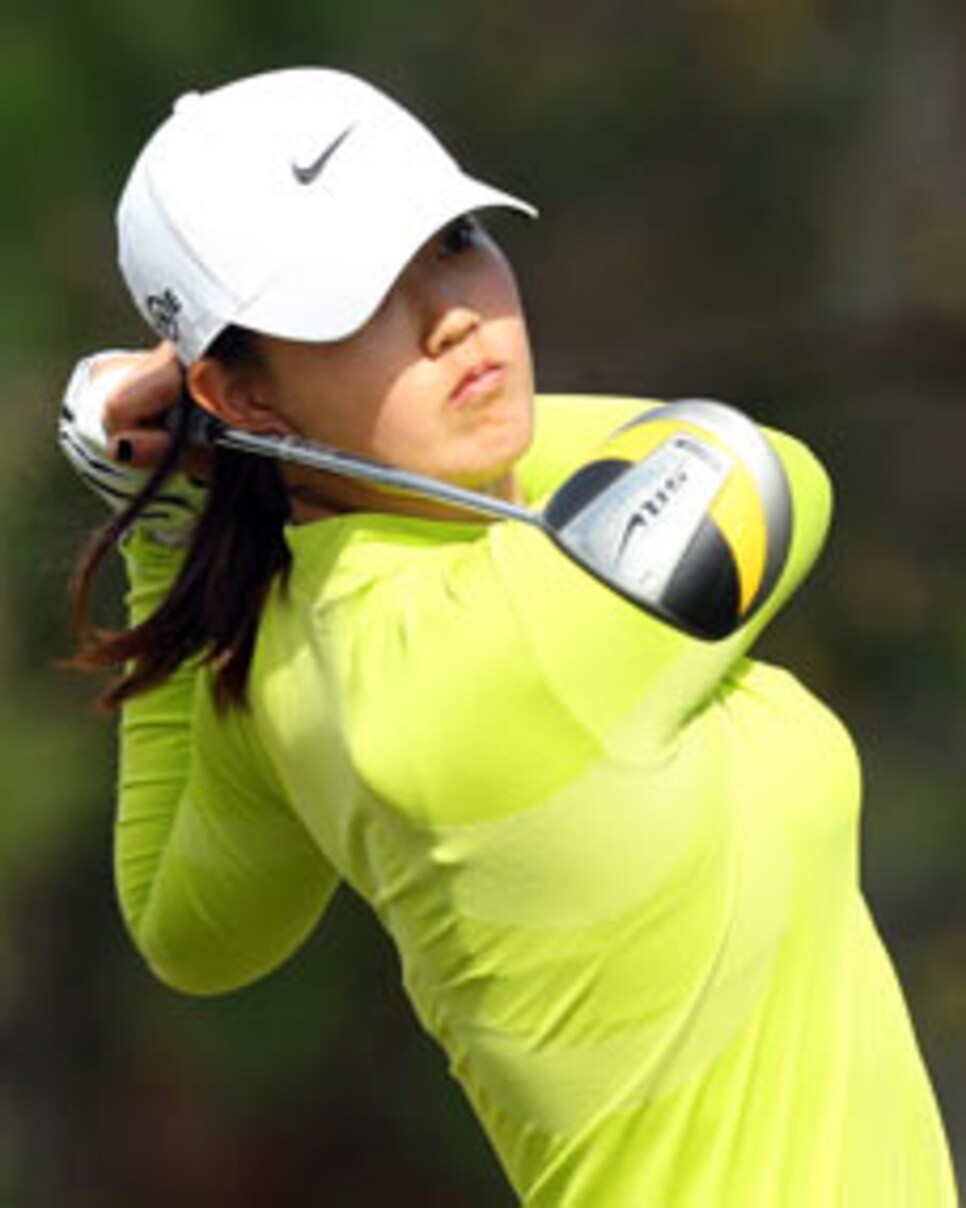 DAYTONA BEACH, Fla. -- The question left unanswered after Michelle Wie breezed through the first two days of LPGA Q school with rounds of 69 and 65 was how would she handle adversity when it came her way? Truly, she played so well through the first 36 holes that her mettle was never tested. That examination came early in Friday's third round at LPGA International.
Playing on the Legends Course, the more demanding of the two layouts, Wie jerked her drive into the left hazard on the par-5 second hole, took a penalty drop and then compounded the problem with a careless three-putt for a double bogey -- ramming her 35-foot par putt seven feet past. When she squandered a seven-foot birdie try on the very next hole it appeared as if things could go very much awry. After all, we've seen it before.
But the 19-year-old Stanford student rebounded admirably and made three consecutive birdies beginning on No. 4 and finished the day with an even-par 72. What made her resolve even more impressive was that the re-pairing after the second round put Wie with Shiho Oyama and Stacey Lewis, a talented duo at the top of the leader board.
What resulted was a fascinating round in which it was clear all three players were wisely competing with the long-term goal in sight -- earning one of the 20 LPGA tour cards that will be awarded Sunday evening -- rather than be seduced by the instant gratification of beating each other.
Wie's 72 was impressive but Oyama and Lewis were even better, both shooting a 71. After 54 holes, Oyama was at 11 under par with Wie and Lewis at 10 under. They trailed leader Mollie Fankhauser, who posted an impressive 66 on the Legends course, and was at 12 under.
Fankhauser earned a card for the 2008 LPGA season by finishing third on the 2007 Duramed Future's Tour money list, but finished 98th on the LPGA money list and only the top 80 get fully exempt cards for 2009. Though she already has non-exempt status for next season, her rounds of 67-71-66 have her well positioned to improve her standing.
The strategy of Oyama, Lewis and Wie became more apparent as the round progressed. It was a chess match rather than a boxing match. There were no birdies in the threesome on the back nine until Oyama rolled in a 30-footer on No. 16, and was quickly matched by Wie with a 12-footer.
Lewis ran off 12 consecutive pars before finishing with a 20-foot birdie putt on the final hole that knocked Wie out of the last group for Saturday's fourth round. Wie had marked a 16-inch putt because several Navy fighter jets were buzzing the course or she would have gotten in at 10 under par first and been in the final threesome. The field will be cut to low 70 and ties after 72 holes.
In addition to the 20 fully exempt cards awarded Sunday, players finishing 21 through 40 get non-exempt status, which will get them into some tournaments.
Wie, who once again shunned interviews after the round, had one other brush with catastrophe when she snap-hooked a driver on No. 13 into the hazard and pitched out to 185 yards. But this time she was able to contain the damage to a bogey. She made another bogey on No. 17 when she thinned a short iron into the right front bunker, blasted to 20 feet and failed to make the putt.
As for the race for the 20 cards, three under was tied for 20th. If the tournament had ended after Friday's round, six players would be in a playoff for one spot. That's clearly the kind of drama Wie, Oyama and Lewis are looking to avoid come Sunday evening.
Truly, Q school is the oddest of tournaments. It's not so much important to win as it is to just finish in the top 20. Wie, whose swing is absent of the urgency that seemed to characterize it for the past two years, needs two more days of that sense of calm and she will have what she came here for -- LPGA playing privileges for 2009. That's the only victory that matters this week.