News
Daly's Got A Lot To Be Thankful For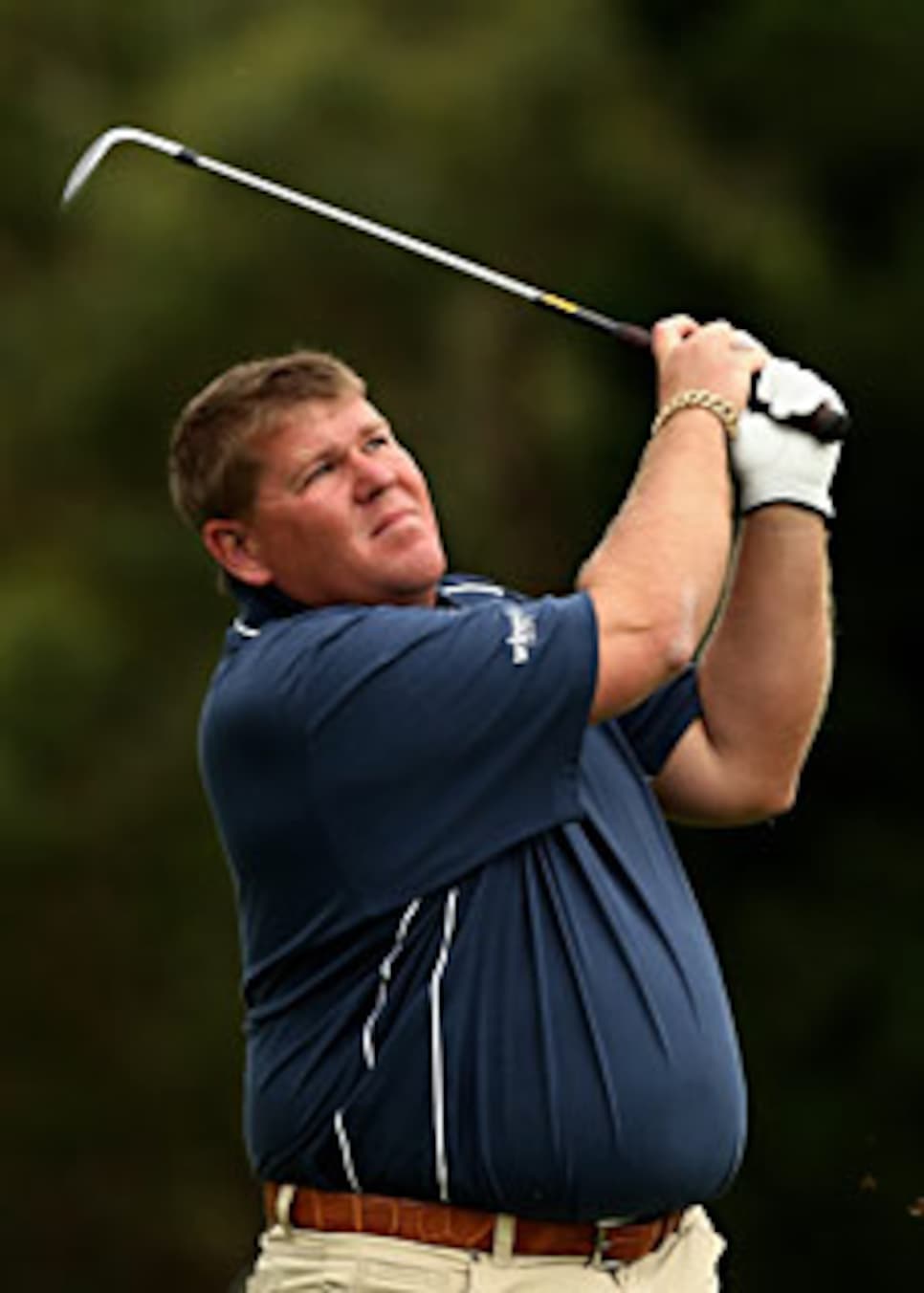 Daly is currently making the global tour in an effort to resurrect his career.
With the world's economies crashing and pro golf as we know it in never more desperate times, what is an American capitalist like John Daly thankful for this week?
Besides nine lives and a lifetime of second chances, the big turkey has to be thankful for the desperate need golf has for him as a drawing card. Australia is the latest nation to open their doors to this two-time major winner who has become a two-ton golfing refugee in his own country.
Out of mulligans in the United States, Daly has gone global in a last-ditch effort to bail out a career on life support. Last week it was Hong Kong; this week Melbourne, where a humble J.D. appeared before writers on Tuesday to address his weight, his smoking, his troubles, and how people relate to those fluctuations worldwide.
"Perception in our world today seems to be more reality than it really is" Daly said. "My life is fine. It's not as bad as people think it is. Hell, if I'm a train wreck, I'm doing pretty good."
The "train wreck" reference was Daly's way of deflecting what has become golf's quote of the week, and a subject that got some ESPN play back in the United States was a hot topic for the European press for a couple of news cycles. Stuart Appleby said it, as part of a bigger-picture interview focused on golf's insatiable need for Daly at the gate.
Contrite and going high road, Daly said he had nothing against Appleby, acknowledging the hell he has been through, losing his wife a decade ago.
Ely Callaway and Butch Harmon have seen that big heart side of Daly, opening their wallets and date books the same way Peter Senior and Rick Smith are today. They have also seen the side we witnessed last month, when Daly's mug shot appeared online, dressed in an orange jump suit, face sunken, on a night when the Daly Express went off the tracks at a Hooters in Winston-Salem, N.C. If Daly wasn't persona non grata in Ponte Vedra before that photo from Forsythe County Jail, then he never will be.
Appleby's take on John Daly is nothing but what a lot of players are thinking: Sponsors and tournament organizers like those at the Australian Masters aren't doing the game a service by granting Daly exemptions, yet they keep giving Daly exemptions.
Globally, Daly remains a hot item. If conduct becoming a professional should matter in handing out sponsor's exemptions -- then think again. Sportsbet, a gambling house, made a wager that Daly would draw interest to Huntingdale GC -- and he did but to Appleby's point, not for his golf, missing the cut by four strokes. Next week, Daly will play the Australian PGA in Coolum. Back home in Arkansas, they might start calling him "Crocodile."
Senior, the former player turned tour chairman of the Australasian PGA, spoke to the dual edge tournament organizers face, hoping for Daly shows up like he did last week at the UBS Hong Kong Open, shoot 62 on Sunday, and finish T-17. "Unfortunately he gets into trouble now and then," Senior said, "but you can't help but like the guy."
Like the guy? We love the guy, as Appleby does -- the same way Callaway and Harmon did. But he hasn't won since the 2004 Buick Invitational, and other than that 62 in Singpore, hasn't made any news for his golf this year. He's 42 years old. The PGA at Crooked Stick was 17 years ago. The British Open at St. Andrews was 13 years ago.
"It's symptomatic of world golf because he still runs around the world," Appleby said in his interview. "He's in Europe, he's in Asia, he's in Australia. It's not like we're desperate. Everybody's doing the same thing. John Daly is unique. We only wish that as players, we wish he'd put a little more time into his game instead of ruining his personal life. He would be a draw card, not just a freak show."
Freak show. If you've seen the You Tube Videos with the shirtless and shoeless Daly hitting golf balls at a course he designed, you know what Appleby means. It's why he's no longer a fixture at the Skins Game or any of the Silly Season events; why organizers of the Canadian Skins decided to "change up the talent mix" and not invited Daly back this summer -- even though he was the two-time defending champion.
Yet those in his camp predict that Daly has not won his last tournament, that he will climb back from the six hundreds in the world rankings to a respectable standing, and once he gets through this latest divorce and a child custody battle, he'll be the John Daly of the early nineties again.
Smith started working with Daly at the PGA Championship -- after failing to live up to his agreement with Harmon -- and made a trip to the Viking Classic in September, where Daly had his best finish of the year, a T-40. Smith has encouraged Daly to take as many exemptions as possible, with the theory that good play will turn his life around.
This is opposite of the approach Harmon took earlier in the year. Harmon issued Daly an ultimatum to clean of his act or find a new instructor. When Daly drank his way though a rain delay in a corporate tent during the PODS Championship that pretty much ended their relationship.
"I've told him, I'm not here to be your dad. I'm here for your golf swing." Smith said in an interview with GolfWorld On-Air. "He needs to be busy playing and I told him, 'You've got to get out of here. The rest of your world will correct itself if you get exemptions, get on a plane, and play good golf.' He's going through a tough time with his son, and another very difficult divorce. You can't believe some of the stories."
That was Appleby's point: There's always a story. There's always a sponsor's exemption. When will it end? An old blues singer like Daly has sung the lyric before: When the train runs out of tracks.