News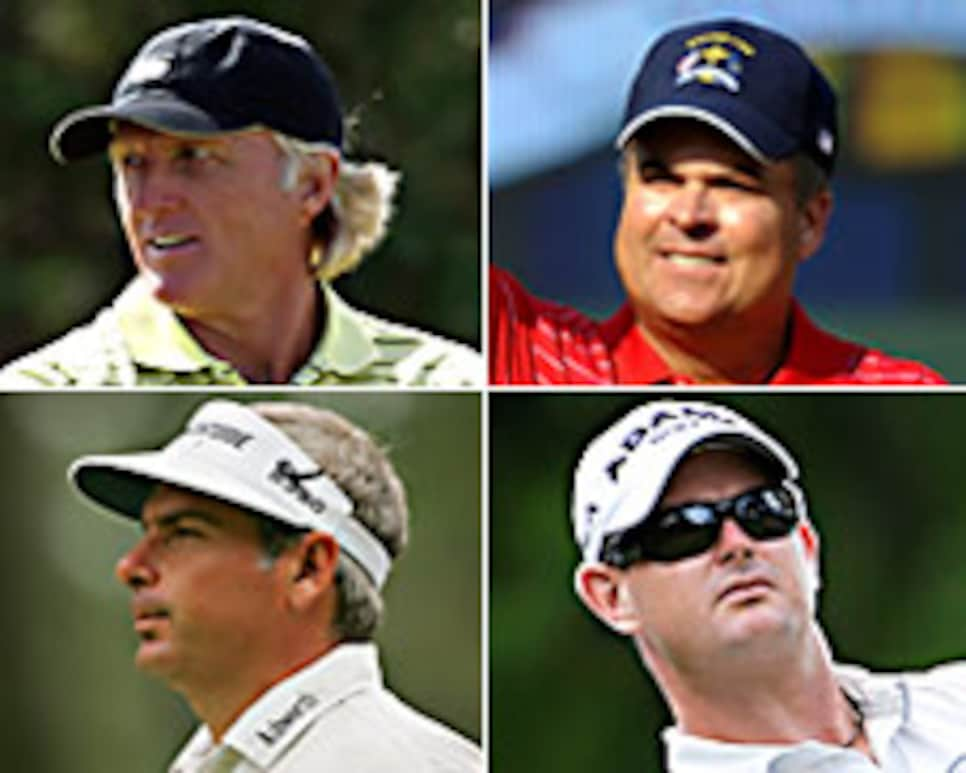 Greg Norman, Rory Sabbatini, Fred Couples and Kenny Perry provided Hawk with some powerful 2008 memories.
Time for my fifth annual compilation of the year's most indelible memories, a personal collection gone public, which isn't to suggest that anyone remembers a thing from the first four. When you spend 60 to 80 hours a year talking to the world's best golfers, usually on practice ranges and putting greens, your handicap may not go down, but you will put together a nice mental scrapbook.
Tracking down Kenny Perry at the Barclays
I had been critical of him for skipping the U.S. Open, which wasn't all his fault, and the British Open, which was, leaving me to wonder about the state of our relationship as I drove to New Jersey on a Tuesday in late August. When I tried to reach Perry in early July, he told me through a third party that he didn't want to talk. Not surprising, but I felt a need to resolve the matter because we'd always gotten along so well.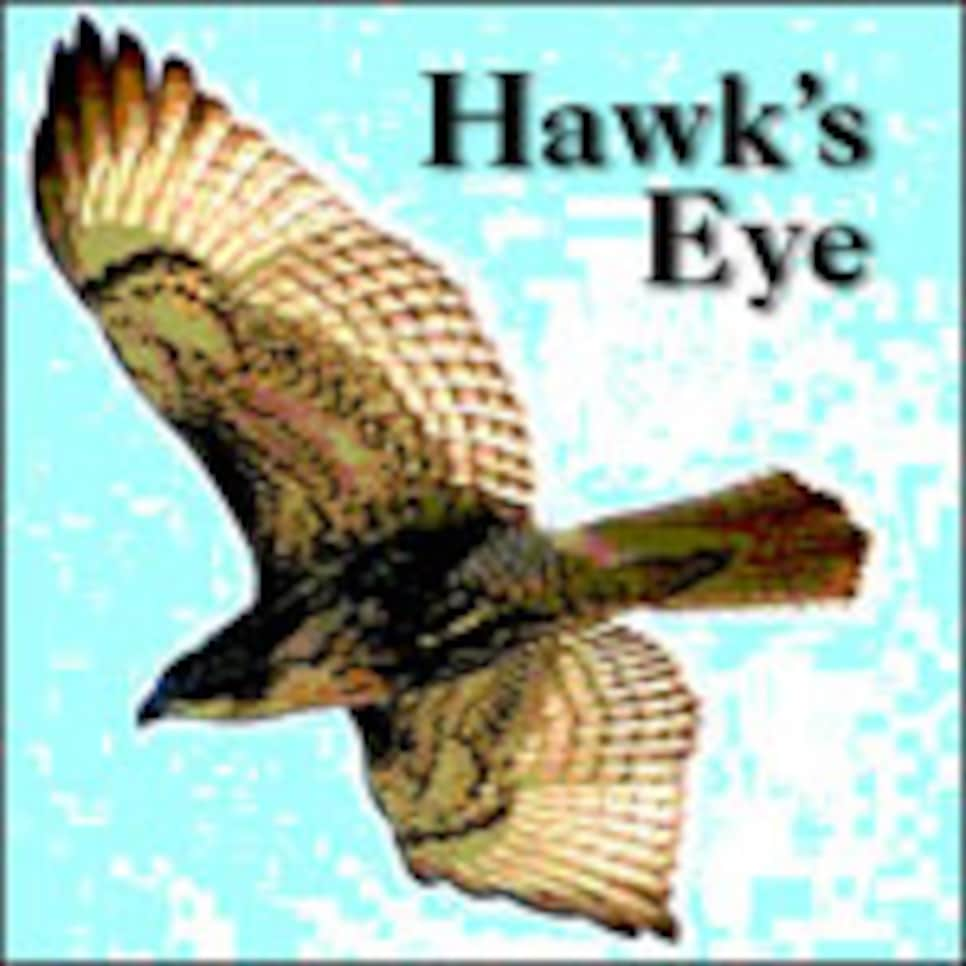 I found him hitting balls late that afternoon, one of maybe a half-dozen guys on the range, and approached him not knowing what to expect. Perry greeted me as if I were his long-lost brother. We hung out for about 20 minutes, and when I tried to explain my position regarding his absence at the majors, that the game's top players should feel obligated to play in the biggest tournaments, Perry smiled. "No big deal," he said. "Hey, you made me famous."
It was an amusing assessment from a guy who revived his career in 2008, winning three times and making the U.S. Ryder Cup team, then playing well against the Europeans in his home state. Kenny Perry is a true Kentucky gentleman, as humble and courteous as they get, a guy who makes it hard to remain objective when journalism enters the room. He should have played in both national championships, but business is business. Personally, he's a favorite of anyone who knows him.
An hour with Freddie at the Deutsche Bank
We've gotten to be pretty good friends over the years, at least close enough for me to know that Couples is a fascinating, complex, ultra-intuitive man with a short attention span and a very long memory. He was all over the map on the range that day in Boston, his moods changing faster than the Scottish weather, although he still came up with a couple of good ideas on how to make pro golf more exciting and interesting.
It wasn't the first time I walked away wondering whether Freddie thinks of this stuff himself or borrows it from the millions of people who enjoy being around him.
Couples was having trouble settling on a driver that day, although he hit no more than 15 balls in that hour while chatting with a group that included tour reps from three different manufacturers. He would smash one 300 yards with 10 feet of fade, turn to the rep and say, "nah, this won't work," then restart the conversation about everything wrong with the FedEx Cup playoffs. Fifteen career victories, one major title, zero dull moments. That's Fred Couples for you.
Any chat with the best in-the-know source on the PGA Tour
At Riviera CC to tape a segment of the Golf Channel's "Grey Goose 19th Hole," we were on our way to tape the show when I bumped into Joe Ogilvie, who told me the players had just voted to amend the new cut rule that had caused such an early-season uproar. Most tour pros know very little about the administrative side of their business. Those who do won't tell you much. Ogilvie is plugged in and candid -- a bright, articulate guy who is very aware of the value of the media. The tour is full of good people who aren't.
Woods and Sabbatini had both shot 67 in the first round of the Buick Invitational, low score of the day, which meant both would be coming to the media center. Since they had finished at about the same time, there was a decent chance they would cross paths. Sure enough, Woods arrived to do his press conference about halfway into Sabbatini's session, then ducked into a nearby room, where he would wait until the other guy was done.
This was six or seven weeks after Sabbatini withdrew from Tiger's year-end tournament with 18 holes to play, claiming a sore wrist but also in last place, seven strokes behind the next closest competitor. Woods is a 36 handicap in the game of Forgive & Forget, but in case anyone had forgotten, he served up a pretty foul reminder when laying into Sabbatini during the three or four minutes he sat in that little room.
Soon enough, Tiger was summoned. As he walked down a narrow corridor toward the interview area, Sabbatini was being led out. Space was so tight that they almost brushed shoulders, but there wasn't even the slightest hint of acknowledgement between the two, much less a nod or an exchange of hellos. Like ships in the night, but in broad daylight.
Greg Norman at the British Open
It would have been one of the greatest victories in golf history, certainly in the top 10, if Norman hadn't faded Sunday and cleared the way for Padraig Harrington to retain the claret jug. Upon taking the 54-hole lead Saturday evening, the Shark had generated a buzz not unlike the atmosphere scene at Torrey Pines a month earlier, when Woods forced an 18-hole playoff with a dramatic birdie on the 72nd hole.
Tiger's mere presence ignites a five-alarm inferno of commotion, but Norman, now the ex-superstar, is accessible and affable, a man who gushes charisma when he's in the mood. This was one of those times, and with new bride Chris Evert there to take questions and offer pearls of hope, it was quite a night to be a golf writer. Win or lose, Norman had made it a memorable week.
The scene around the 17th green on Ryder Cup Sunday
This was the gathering point for the victorious U.S. team after clinching the winning point vs. Europe. With a few thousand spectators providing a backdrop of pure delirium, the 12 American players might have set an all-time record for hugs and high-fives. No warm-blooded creature could not have felt happy for this bunch, many of whom had been on the wrong end of the nine-point losses in 2004 and 2006.
A few years back, a rule was made stipulating that all singles matches would be played to their conclusion regardless of when the overall outcome was determined. It ranks as one of the great decisions in Ryder Cup history, as far as I'm concerned -- you can talk to players in an unstructured setting, which is ideal because you get your own material.
That period lasted about 45 minutes at Valhalla, more than enough time to fill a notebook with good stuff. I wrote a 2,200-word article in Golf World and I don't think I used a single quote from the team press conferences.
All week at the U.S. Open
If I've covered 200 golf tournaments in my years at Golf World, this was the best from head to toe. The 2004 Masters had a more spectacular finish. The 2000 PGA Championship also produced an overdose of late-Sunday drama, and in terms of sheer historical punch, Woods' performance at the 1997 Masters will forever be hard to top. The 1999 Ryder Cup didn't exactly disappoint, either.
That said, the 108th edition of our national championship was as close to perfect as the whims of competition will allow. Every day had a terrific storyline, from the Woods-Phil Mickelson-Adam Scott pairing in the first two rounds to the weekend fireworks and the outrageous Monday playoff. Tiger's string of logic-defying heroics really began when he willed himself into playing in the event, but it wasn't until he birdied the first hole (his 10th of the day) from the cart path Friday afternoon that the Miracle on One Leg began to take shape.
His back nine Saturday was over-the-top good, the energy level throughout the grounds higher than description will allow as herds of happy fans dispersed in the evening twilight. As the buses filled and headed toward the spectator parking lots, I saw Steve Williams, Woods' caddie, making his usual inconspicuous getaway. I ran him down and we talked for a few minutes, a conversation that ended with him saying, "Mate, when this is all over, you're not going to believe how amazing this is."
We were only getting started at that point, and now that it is long over, I concur with my colleague Jaime Diaz, the best golf writer in the business, who wrote that Tiger's performance at Torrey Pines was the greatest in the history of golf. Unfortunately, that bumps the person who makes the desserts at the Players Championship into second place.