News
Shin Captures The Biggest Prize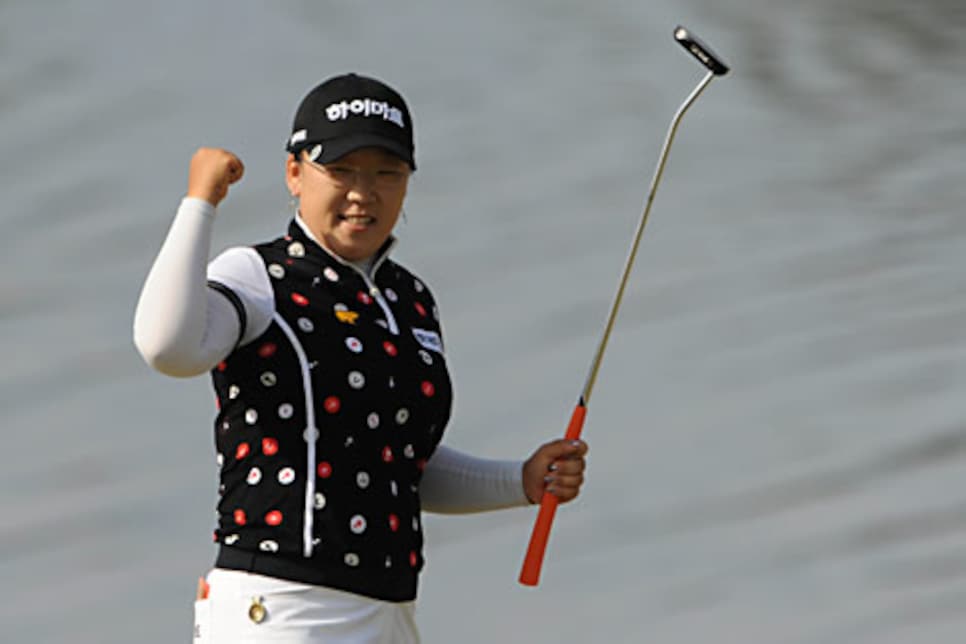 Shin, who is not yet an official LPGA member, won for the third time this year.
WEST PALM BEACH, Fla. (AP) -- As she walked down the 18th fairway Sunday, Ji-Yai Shin kept her thoughts away from becoming an instant millionaire. Or, in her nation's currency, an instant billionaire.
"Just save the par," she said.
She did that with ease, holding off Karrie Webb and an ailing Paula Creamer to win the ADT Championship with a final round 2-under par 70. Shin captured the $1 million winner's prize, by far the biggest on tour, with a four-birdie, two-bogey day.
In her native currency, Shin collected 1.493 billion -- yes, billion -- South Korean won.
That's a lot of won for one win.
"A really special year for me," said Shin, who isn't even a full-fledged member of the LPGA yet but won three times on that tour this year, has 21 wins worldwide since 2007 and will likely be an instant LPGA front-runner in 2009.
Webb finished one shot back and Creamer, who spent Saturday night in the hospital because of an inflamed abdominal wall, finished tied for third with Seon Hwa Lee after both shot 74s.
Creamer needed to win Sunday to finish atop the money list, something no American player has done since Betsy King in 1993. Instead, Lorena Ochoa, who didn't make the ADT weekend, prevailed with $2,762,660. Creamer finished with $1,823,992, good for second place.
"I gave it all I had," said Creamer, who fell ill Wednesday night and could barely eat since the tournament began, plus had to down some medicine on the 13th hole just to finish Sunday's round. "I tried as hard as I possibly could. I wasn't going to quit."
Creamer made two birdies in a three-hole span on the back side, but took a three-putt bogey at the par-5 15th, essentially ending her chances at her fifth win of the year and taking the money crown.
"Really?" she yelled at herself in disbelief after the 15th, when she spent a few extra seconds on the green and slapped her left leg in disgust.
So clearly, Creamer had some fight -- just not enough.
For many, the ADT week was filled with drama, starting with Annika Sorenstam's final tournament on the LPGA Tour -- a farewell that ended Friday when she didn't make the weekend field -- and continuing with Creamer's illness.
She considered withdrawing Friday morning, almost unable to get out of bed, and wound up getting three CT scans and fluids through an intravenous tube in a South Florida hospital on Saturday night.
"They got to know me really well," said Creamer, who insisted that doctors released her by 7:15 a.m. Sunday so she could make her tee time, even though she was only able to eat toast, some bagel and about three bites of banana in the previous 48 hours.
Meanwhile, Shin stayed steady, never too far up, never too far down. And her approach worked best.
Of the eight players who remained in Sunday's shootout for $1 million, Shin was the only one to never have her total score rise above par. She started with two birdies in her first three holes, saved a par after hitting into the water on the par-4 6th and vaulted to the front when Webb strung together three straight bogeys on holes 11-13.
Webb rolled in a long birdie on the 18th to get within one, but Shin merely needed a cool two-putt for the win.
"I gave myself a chance," Webb said. "Making it to Sunday was the minimum goal for the week, and today I played very solidly. I just probably needed a couple more putts to go in. I'm just glad I made Ji-Yai think about it on the last hole."
Eun-Hee Ji was alone in fifth with a 75, Angela Stanford was sixth after a 78, while Suzann Pettersen -- who shot Saturday's round of the day but struggled mightily Sunday -- and Jeong Jang both finished with 79s.
They'll all be footnotes.
This week could be remembered as the farewell for one star and the arrival of a budding one.
Shin says she'll take the money and look for a new home, perhaps in the Orlando area, where some Korean players already live. Her goal for 2009 is to be the LPGA's rookie of the year. Given the way she played at times this year, player of the year wouldn't be an unrealistic target either.
The double-cut format of the ADT, which erases the scores after the second and third rounds and starts everyone at even on each day of the weekend, gives some players headaches.
Shin, though, never got rattled.
"Many times won. This very special," said Shin, who speaks English very well for someone who began learning the language eight months ago. "Can't believe, last year, only watching the TV."
Indeed, a year ago, Shin watched this tournament from afar, thinking she'd play in the LPGA's qualifying school this year. But after winning three times as a nonmember -- including the British Open -- just about everyone's convinced Shin is set to be an instant star.
Her name is pronounced G.A., as in LPGA.
"I think out of all the Koreans that have come up, she's got the most potential," Webb said.