News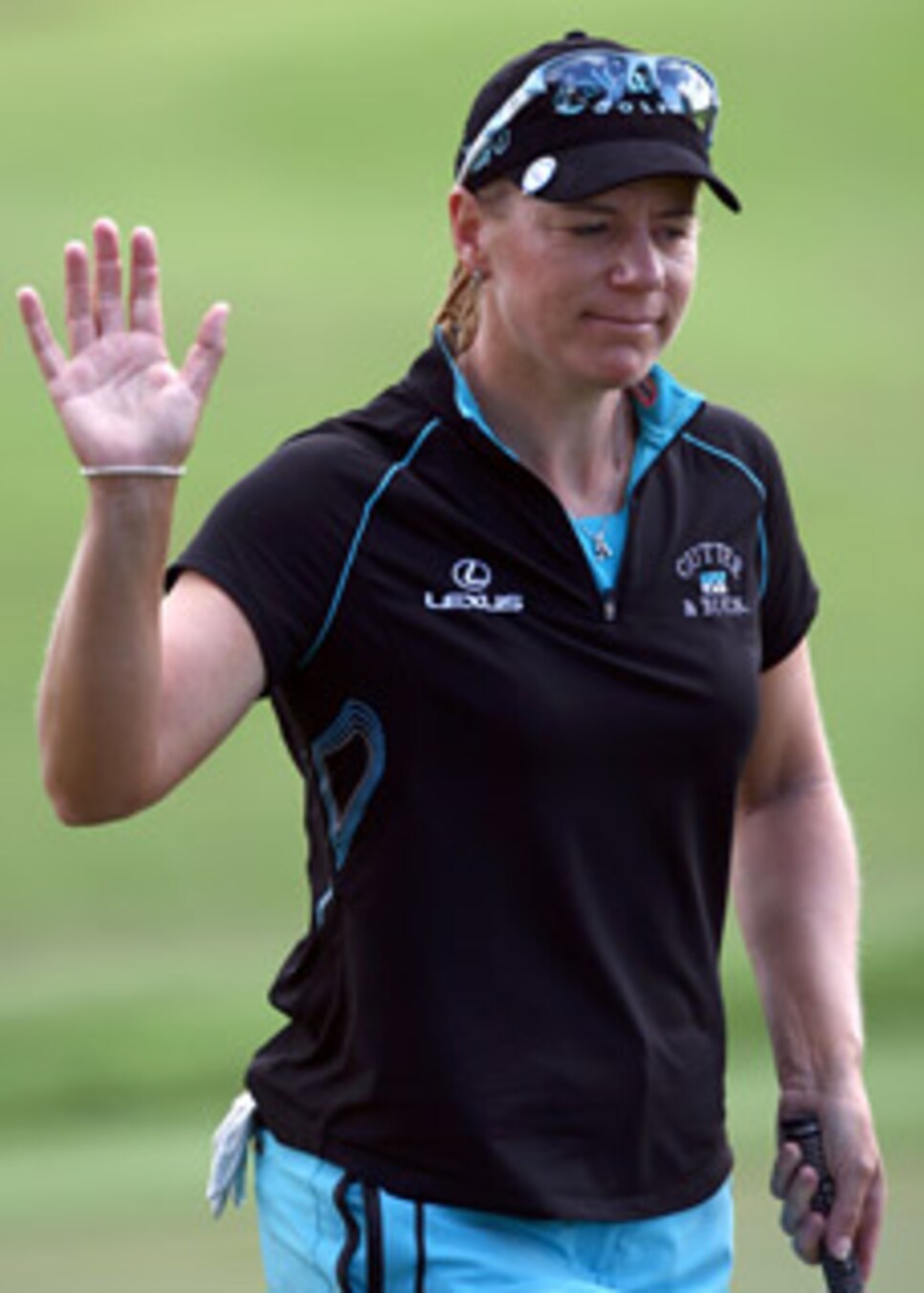 WEST PALM BEACH, FLA. -- Golfers, boxers and politicians never really retire. A return to the competitive spotlight always lingers somewhere in the shadows, the urges of a champion needing only the slightest nudge to roil to the surface. So it is with more than a wee bit of hope that Annika Sorenstam's legion of fans will watch the ADT Championship this week hoping it is not really the final time they see her in an LPGA event.
Even Sorenstam has backed off using the "R" word, changing the phrasing from "retiring from competitive golf" to a more qualified and significantly more open-ended "stepping away from competition." What is likely is that after the ADT Championship this week and the Dubai Ladies Masters next month, a Ladies European Tour event, we will not see Sorenstam in a full-field tournament for at least a year.
But is this really the end? All I know is that I covered Arnold Palmer's last British Open and last Masters twice each. Muhammad Ali retired at least three times. And six years after Richard Nixon told the media "you won't have Dick Nixon to kick around anymore," he was elected President of the United States -- and six years after that kicked out of office. But I digress.
The point is that in individual pursuits like golf, boxing and politics -- where you don't need a team to give you a job -- a strong-willed, talented individual can always work their way back onto the stage. But the reality, at least right now, is that Annika does not have the desire she needs to play golf at the level she requires to experience self-satisfaction.
That desire has waned for two reasons. First, 15 years is a very long time to work as hard as Sorenstam has worked at golf. Remember, there was not just tournament play and the corresponding travel, but also hours every day practicing and engaging in the rigorous workout programs for which she is famous.
Also, after her appearance at the 2003 Bank of America Invitational at Colonial CC, where she became the first woman to play a PGA Tour event in nearly 50 years, Sorenstam's time demands from corporate obligations grew significantly.
More often than not, what her fans saw as a week off was really just a week away from tournament golf. She attended meetings, shot commercials and conducted other corporate responsibilities.
And Annika (being the perfectionist she is) became fascinated with the process of business. Eventually, her focus and her passion turned more and more to building her own brand. She is now the businesswoman who heads ANNIKA, a company involved in course design, event management, instruction, clothing, wine, a fragrance and other ventures. She will work as hard at that as she did at golf.
What Sorenstam leaves behind is a legacy as a competitive golfer matched by few. She has won 72 LPGA events, including 10 major championships, and another 17 tournaments around the world. That gives her a combined 89 victories, more than Kathy Whitworth's record 88 LPGA wins back when there was no Ladies European Tour, and well beyond the 82 triumphs by Sam Snead that stands as the PGA Tour record.
The five-year run Sorenstam had from 2001 through 2005 was a stretch of domination that compares favorably with that of any athlete in any sport. She played 104 LPGA tournaments and won 43, with a total of 86 finishes in the top 10 and 67 in the top three.
That means two-thirds of the time she played she could have won and 85 percent of the time she was a factor. In 2002, she won 11 times on the LPGA and twice more on the LET, matching the record 13 victories in a season by Mickey Wright in 1963 -- again, a mark set before the LET existed.
I was fortunate enough to witness many of those wins by Sorenstam during that remarkable five-year run. It was a time in which I felt as though I wrote one of three stories: Sorenstam wins, Sorenstam should have won or Sorenstam didn't play.
It was during that stretch that a frustrated representative from an equipment company that was not Callaway -- Sorenstam's sponsor -- hung on me the nickname "Ronnika" because I argued so strenuously that she was one of the most dominating athletes ever in any sport and the most underappreciated athlete of her time.
My response to that equipment rep was that when someone wins 43 percent of the time playing their clubs they would get the same ink. Hey, there are still people who think Tiger Woods gets too much coverage. Are you kidding me?
What we should be celebrating here is the good fortune we have to be alive when one of the greatest male golfers and one of the greatest female golfers are playing at the same time. What Woods and Sorenstam have achieved since the mid-1990s will have people generations from now looking at the history books and shaking their heads in disbelief and wishing they had seen them play.
Annika Sorenstam is only 38 years old. In January she will marry Mike McGee, the son of former PGA Tour pro Jerry McGee. If, in four years say, after successfully building a business and perhaps with a couple of children in tow, she gets the fire back in her belly for competitive golf she will be only 42 -- and, I'm guessing, a very fit 42.
Are we seeing the last of Sorenstam as a competitor? Long-term, we don't know. Short-term, yes. The advice from where I sit: Watch her play, and enjoy. And be thankful you got to see one of the best ever.