News
Stanford Takes Control Halfway Home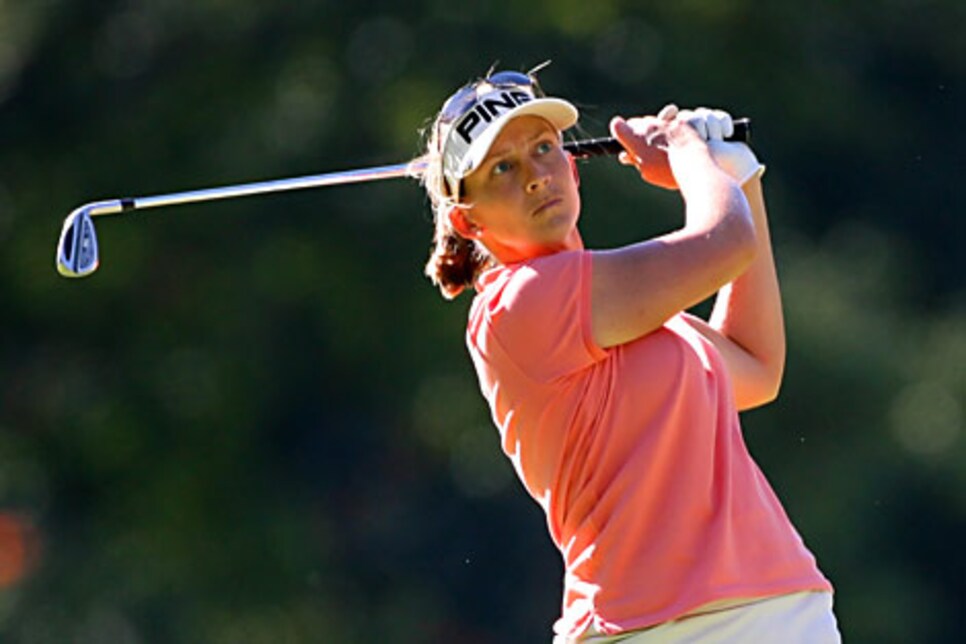 Seven birdies were enough for Stanford to distance herself from the field.
GUADALAJARA, Mexico (AP) -- Angela Stanford shot a 6-under 66 on Friday in the second round of the Lorena Ochoa Invitational to take a two-stroke lead over LPGA Championship winner Yani Tseng.
Stanford had a 10-under 134 total on the Guadalajara Country Club course. Tseng, No. 2 in the world behind Ochoa, shot her second straight 68. Ochoa followed her opening 73 with a 71 on her home course, leaving her 10 strokes back.
Meena Lee (69) was 6 under, and Karen Stupples (71) was 5 under. Annika Sorenstam (72), leaving the tour at the end of the season, was 4 under in group that included Juli Inkster (69) and Seon Hwa Lee (72).
Stanford won the Bell Micro LPGA Classic in September and has finished in the top five in each of her last four tournaments. The Texan had seven birdies for the second straight day at the Guadalajara Country Club.
"I felt really comfortable all day," Stanford said. "I feel really good about my swing thoughts and I feel comfortable on the golf course. I feel like I'm rolling my putts really well, so I'm having a lot of fun."
Tseng got off to a fast start with a 25-foot birdie on No. 1 and a wedge to 7 feet on No. 7 to gain another stroke. She missed a 6-foot par putt on the par-5 ninth, but added three birdies on the back nine.
"I think I really played smart today," Tseng said. "Just pick some holes I have to make birdie and some holes I just need to save par. Some holes I play aggressive and some holes I play safe."
Ochoa bogeyed the final two holes.
"It was a tough finish," she said. "Hopefully tomorrow is a better day."
Ochoa has two victories - the 2006 and 2008 Corona Championship - in nine LPGA Tour starts in Mexico. She has seven victories in 20 tour starts this year and leads the money list with $2,738,888.
"I'm a little bit out of rhythm," Ochoa said. "I'm a little bit quick with my hands. I think that's why I'm losing the control of the ball, and I'm not having any easy birdie chances."
Sorenstam bogeyed three of her last four holes.
"The good part is that I'm still near the top, and we still have two rounds left to play. This is a great course, and you can have big days, so I'm not worried," said Sorenstam, who has three LPGA Tour victories this season.