News
Westwood Trails Leaders By One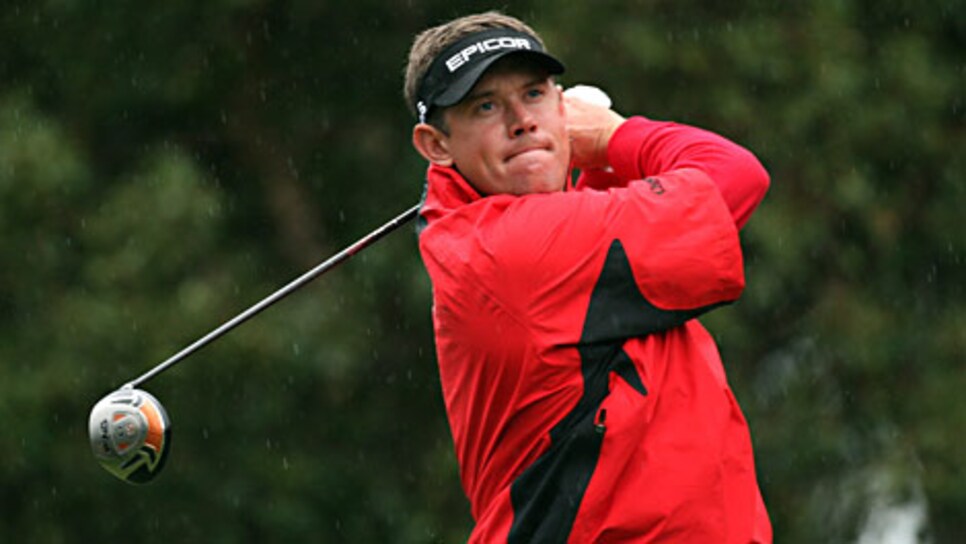 A win will give Westwood the Order of Merit title regardless of Karlsson's finish.
SOTOGRANDE, Spain (AP) -- Order of Merit contender Lee Westwood trailed co-leaders Soren Kjeldsen and Sergio Garcia by one stroke Saturday when heavy rain stopped play for the second straight day at the Volvo Masters.
Westwood was at par through six holes during the third round, leaving him at 4 under before showers hit Valderrama. The Englishman won the European money title eight years ago and can overtake Order of Merit leader Robert Karlsson by capturing the tournament. Karlsson was in 28th place at 6 over.
"You just have to keep plugging away and grinding and be patient and good things happen if you play well," said Westwood, who won this tournament 11 years ago. "My golf has completely narrowed down to one thing and that's to win this tournament."
Organizers had said Friday they would not schedule a full round for Monday. More rain is expected Sunday.
Padraig Harrington, another Order of Merit contender, was 2 over after 11 holes. He was seven shots behind after starting the round 11 back. Harrington, who rallied at Valderrama to claim the Order of Merit title in 2006, needs a top-two finish to win it again.
"I left a lot out on the golf course today, which is never a good sign," Harrington said. "Probably the worst score I could have had."
Karlsson leads Harrington by nearly $380,000 on the money list and Westwood by more than $594,000. Both Harrington and Westwood could clinch the Order of Merit with a victory, as long as Karlsson doesn't finish second. A second-place finish could also be enough for Harrington if Karlsson doesn't improve from 28th place.
Miguel Angel Jimenez, who needs to win to have any shot at the money title, was 14 shots back after eight holes.
Anthony Wall of England was two shots behind the leaders. Thomas Levet of France was at 2 under while Martin Kaymer of Germany and Darren Clarke of Northern Ireland were at 1 under.
Leading players had complained about the European tour's decision to redraw groups for the third round instead of sending the pairings straight out after completing the second round earlier on Saturday. Their fears were realized when play was halted in the late afternoon without one player in the 56-man field able to complete the third round.
Harrington had to wait more than four hours to tee off after finishing his second round at about 10 a.m.
"I don't know why we didn't play for the four hours this morning. I could have been at the safari with my kids this afternoon, I would have been finished by 3 o'clock," he said. "Now they are faced with the situation where they have both nines in play and everybody is out on the golf course."