News
Andy Bean Is Swinging In The Rain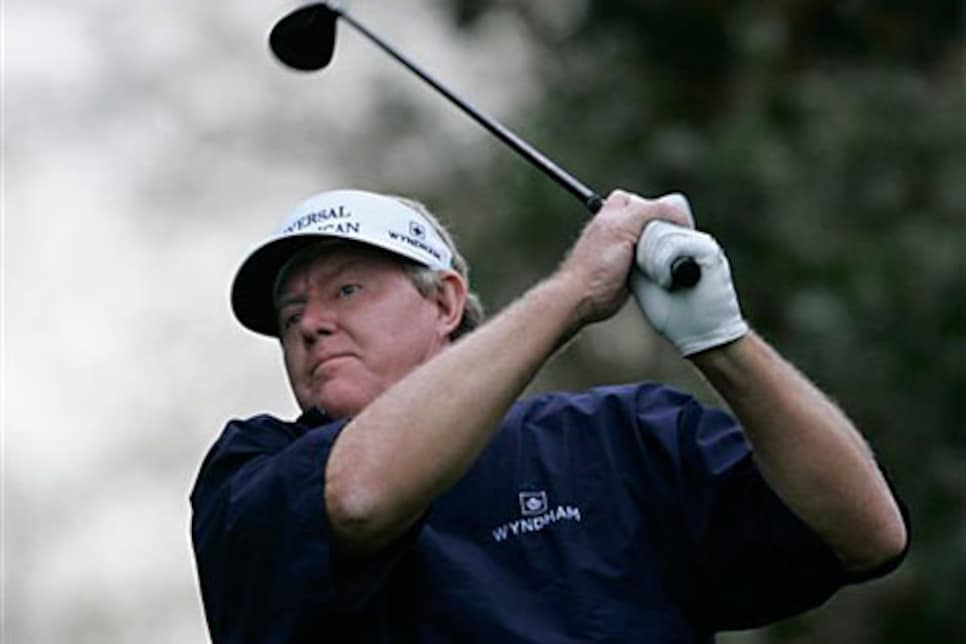 Bean is T-1 in sand saves, T-2 in greens in regulation and leads the field in birdies.
SONOMA, Calif. (AP) -- Andy Bean made five birdies in six holes through intermittent rain showers Friday, finishing at 10-under 134 to take a one-shot lead over Nick Price after two rounds in the Charles Schwab Cup Championship.
Bean rolled to a 6-under 66 at Sonoma Golf Club despite regular lashings from a storm that's expected to blast Northern California's wine country on Saturday. At the halfway point of the Champions Tour's season-ending event, he nearly made six consecutive birdies to start the back nine, barely missing a putt on the 12th.
"I never mind playing in the weather, as long as it doesn't get too cold," said Bean, an 11-time PGA Tour winner who's 13th on the Champions Tour's money list. "The wet is never too much of a problem for me. ... The course is holding up real well. It's going to yield some birdies, and hopefully I'm going to get my share.
Price, the first-round co-leader, shot a bogey-free 69 for a 9-under 135. Tom Jenkins, Scott Hoch and Gene Jones are just two strokes behind Bean at 136, and half of the 29-man field is within five shots of the leader.
While Bean attacked the course despite the downpour, Price said he settled for a "scruffy day" in the rain. He saved par three times with clutch putts that probably wouldn't have fallen for him earlier this year, when he was struggling with the simplest shots.
Price feels his game is back on track after a recent 2½-year period when the three-time major winner on the PGA Tour was struggling to keep up with the younger players. Price's confidence has been gradually rising ever since he turned 50 in January 2007, and he feels primed for his first Champions Tour victory after two second-place finishes this season.
"There's still gremlins there, (but) they're getting fewer and fewer," Price said. "I try to discard them, but they creep in there. ... I feel if I can get a win under my belt, I'm going to get going again. The competitive nature in me wants to win tournaments."
Price and Bean might win the tournament, but they won't win the Schwab Cup, which also is awarded Sunday to the winner of the tour's season-long points competition. Jay Haas, who entered the week leading Fred Funk by 12 points for the Cup and its $1 million annuity, is tied for ninth at 6-under 138, while Funk had another tough round that left him in 28th place at 145.
Bernhard Langer, the other main competitor for the Schwab Cup, is in 22nd place at 1 under.
Jenkins, who had the lead Friday before Bean's back-nine charge, finished one shot off the tournament's single-round record with his 64. Jenkins hasn't won on the Champions Tour since 2006, but the 60-year-old is in contention after finishing the round with a 30-footer for birdie on the 18th.
"It's a pain to have to play in that kind of stuff," Jenkins said. "It's not my favorite conditions. I'm from Texas. It's cold. At my age, the more stuff (like rain gear) I've got on, the shorter my backswing gets, and I don't like that."
In anticipation of the worst part of the storm on Saturday afternoon, the tournament moved up its third-round tee times nearly two hours — not a huge inconvenience in an event with just 29 players. In fact, Bean was thrilled about the change, which will get him in front of the television more quickly for his beloved Florida Gators' game against Georgia.
"It's probably going to be sloppy (Saturday), but you've got to play in what's there," Bean said. "We don't play in a dome."