News
Stupples Takes Lead In China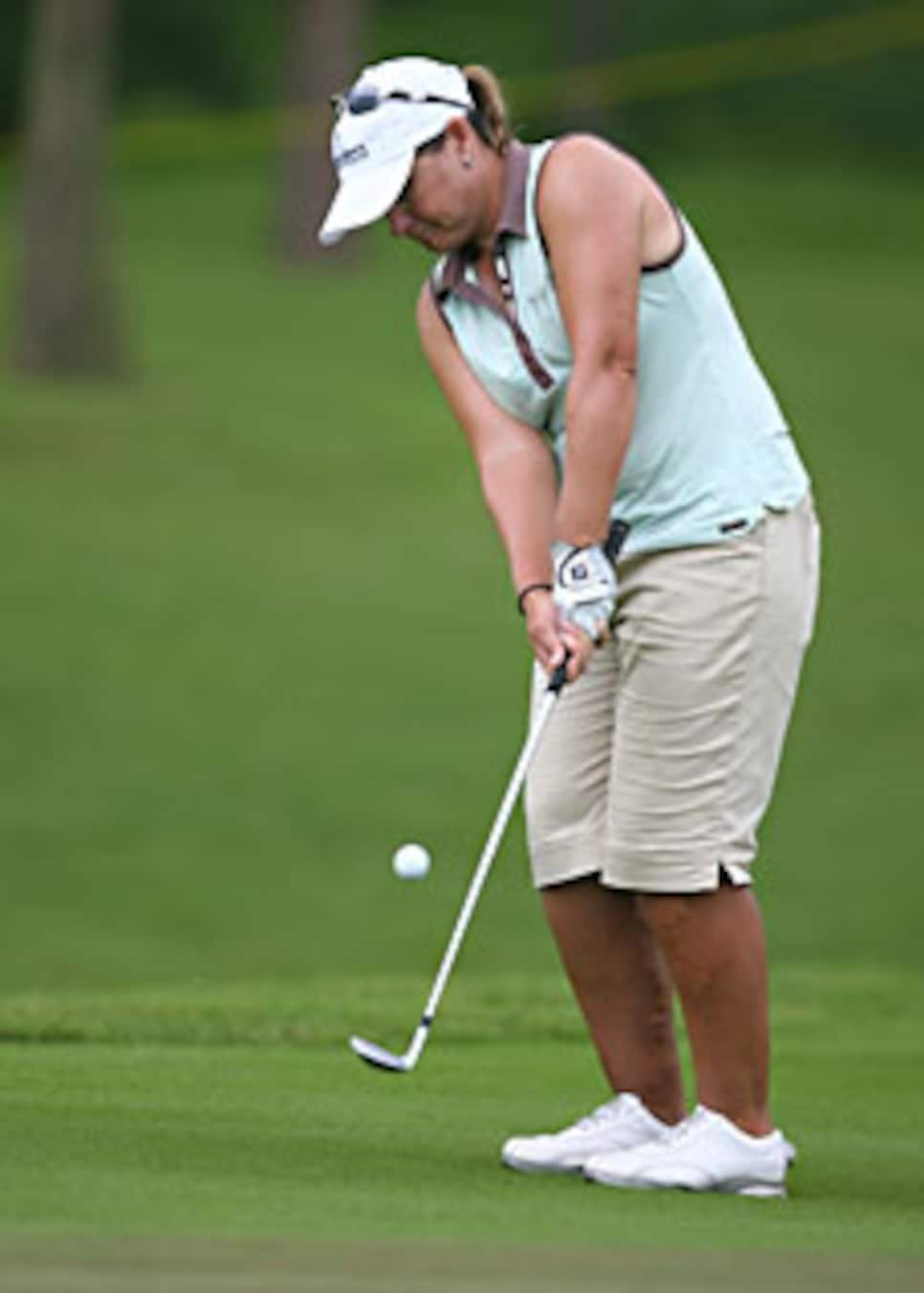 Stupples last win on the LPGA Tour was in 2004.
HAIKOU, China (AP) -- Karen Stupples pumped her fist once, then again and followed it up by wagging her right index finger in the air -- a bit like she'd just won a 100-meter race and was doing a celebratory lap around the track.
The Englishwoman, however, was merely celebrating a remarkable 35-foot chip-in on 18, which gave her a 5-under 67 Saturday and a two-shot lead over American Laura Diaz going into the final round of the 54-hole Grand China Air, the LPGA Tour's first tournament in China.
Stupples and Diaz, who have become mothers in the last few years, will be looking for their first victories in a long time Sunday. Stupples last won in 2004 and Diaz in 2002. So there'll be no holding back.
"I knew coming into the tournament that whoever was going to win it would have to bring it every day," Stupples said. "It's only a three-day tournament -- it's more of a sprint. You have to make as many birdies and be as aggressive as you can all the time."
Diaz, who led after a first-round 63, stumbled to a 73 -- 8-under for the tournament -- with four bogeys on the last five holes.
Stupples' chip-in came after bogeys on 15 and 17.
Louise Friberg of Sweden shot a 69 to move to 7-under, three off the lead. Three other players were four shots back: Shi Hyun Ahn of South Korea (68), American Christina Kim (68) and Candice Kung of Taiwan (69).
Rookie Yani Tseng of Taiwan, who won the LPGA Championship this season as a 19-year-old, carded a 67 and was in a group of eight players five strokes off the lead.
Shanshan Feng, the only Chinese playing on the LPGA tour, shot a 73 and was nine strokes behind.
Both players struggled after a 45-minute rain delay, which stopped play shortly after they made the turn at the West Coast Golf Club on China's southern island of Hainan.
"I'd been close to chipping in all day and finally got rewarded for a good chip," Stupples said. "I was very happy with that -- excited."
As best as Stupples can remember, this is the first time since 2004 that she leads going into the final round. Four years ago she won the British Open and another LPGA Tour event.
Stupples gave birth to a son, Logan in 2007, and Diaz had her son, Cooper, in 2005. Both have seen motherhood balance their life, but also change their priorities.
"I can't really put my finger on it," Stupples said about failing to win recently. "Maybe because I had such a successful year in 2004 my expectations were very high. I was really trying hard and pushing too much.
"I think since having him (Logan) I've managed to refocus and enjoy my golf a little bit more than as I was before," she said.
An early 15-minute rain delay did not affect play, but the 45-minute suspension a few hours later sent many of the scores soaring.
"I felt that really took me out of my rhythm," Stupples said. "It was a struggle to hit good quality golf shots from that point on."
Minutes after play resumed following the second deluge, Stupples made a 10-foot putt on No. 13 to go 11-under. Still leading, Diaz missed a chance to go 13-under on No. 13, missing a 6-foot putt for birdie.
That miss seemed to rattle Diaz.
She slipped to 11-under with a bogey at 14 and had bogeys on the next two holes. She saved par at the 17th, but bogeyed again on the final hole with a poor approach on her second shot.
"Obviously, the weather played a little bit of a factor," Diaz said. "I had it going, then we went in and out, and I struggled a bit."
Things have changed rapidly in this condensed golf tournament. Stupples trailed Diaz by four after Friday and now leads her by two.
"That just goes to show how quickly in one round it can change," Stupples said. "I'm sure that Laura is going to come out and try to attack the course, as will everybody else. I don't think I can sit back and enjoy that two-shot lead."