News
Tiger Returns To Torrey Pines As A Caddie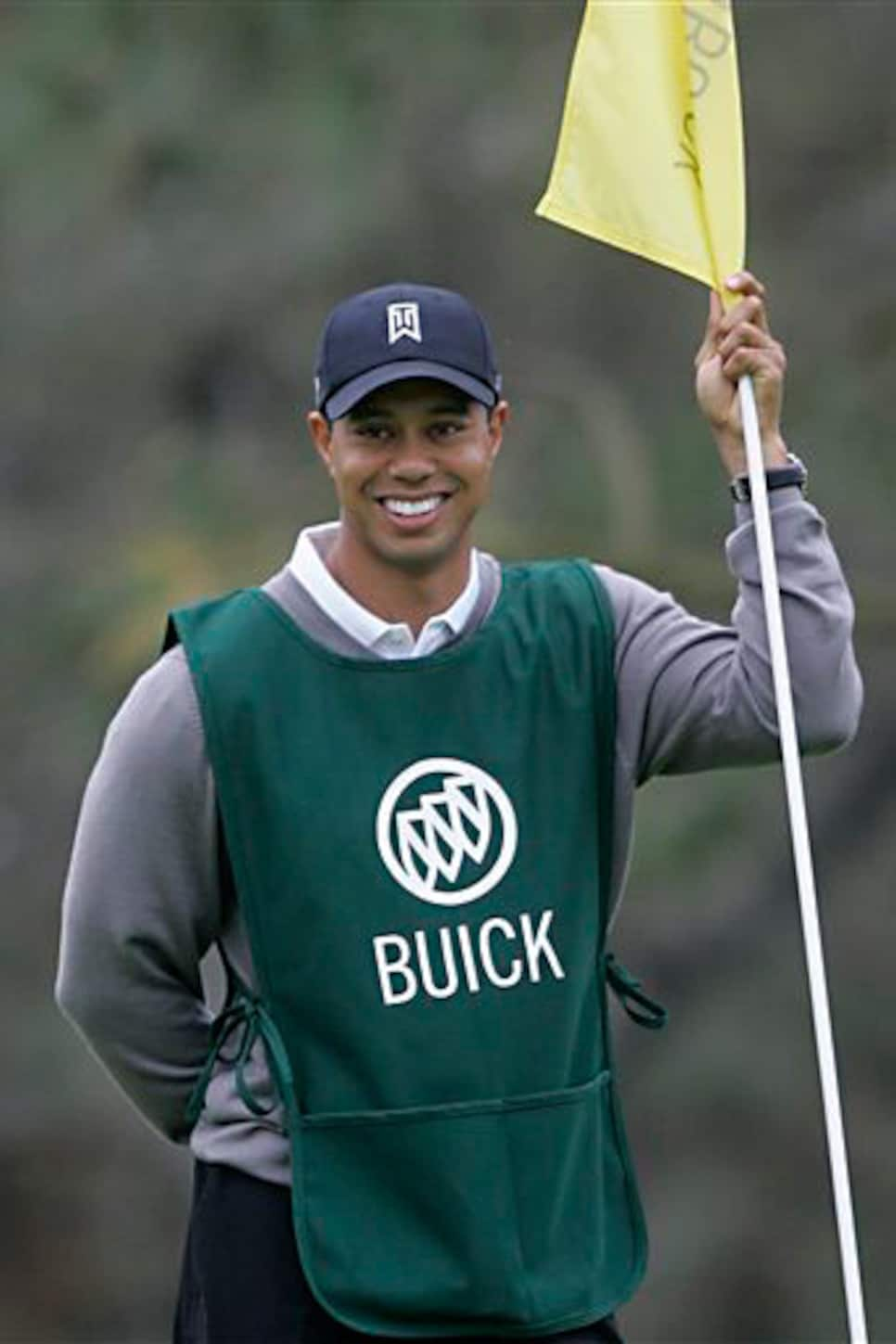 The test of Tiger's healing will come early in 2009 as his rehab enters a new phase.
SAN DIEGO (AP) -- Four months after his epic U.S. Open victory, Tiger Woods returned to Torrey Pines on Monday without a limp.
He didn't have golf clubs, either.
Hopping from a cart, Woods walked up to 59-year-old John Abel, doffed his cap and extended his right hand. "Hey, I hear you're looking for a caddie. I'm Tiger Woods -- pleased to meet you."
Out of action since beating Rocco Mediate in a 19-hole playoff for his 14th career major, Woods came back to Torrey Pines to deliver on his end of the "Tee Off with Tiger" online sweepstakes sponsored by Buick.
Showing no signs of his season-ending knee surgery a week after the U.S. Open, Woods wore a green caddie's bib inscribed with Abel's name as he guided him around the back nine of the South Course, where he has won six times in the Buick Invitational and once in a U.S. Open he called his best ever.
Playing with torn ligaments in his left knee and a double stress fracture in his leg, Woods made a 12-foot birdie on the final hole to force an 18-hole playoff, made a 4-foot birdie on the 18th in the playoff to stay alive and finally won with a par.
Woods checked into the Lodge at Torrey Pines on Sunday night and noticed the pin in the same spot it was during the Monday playoff.
"I opened the curtains and saw the 18th green," Woods said. "I was like, 'You know what? That is pretty cool.' A different atmosphere. You can actually see. They don't have the grandstands in the way. I saw where the pin was and was thinking, 'You know what? I remember that putt.'"
Woods was in character from the minute he drove up to the 10th tee, on cue from a video crew that recorded every one of Abel's shots. Reporters and photographers from two media outlets -- The Associated Press and the San Diego Union-Tribune -- were allowed to watch on the 10th and 18th holes.
Woods drove the cart. He handed clubs to Abel, then wiped them off with a towel and put them back in the bag. He squatted to line up putts and tended the pin. He warned how fast the greens were, then chuckled as Abel five-putted the 10th for a quadruple-bogey 8.
"It was fun," said Woods, who once caddied for former Stanford teammate Jerry Chang. "This was totally cool. I've caddied before many times. For me to be out here and to be able to do it again, it's always fun. John's a good guy. It was a fun day for me."
Abel, from West Berlin, N.J., said his round went better than expected.
"I wasn't as nervous after maybe the third or fourth hole," he said. "Nerves come into it, I don't care who you are, and these greens are unbelievable. Tiger was telling me that they're actually 3 feet slower than what they played for the Open.
"It was just such a hoot to play with him," said Abel, who regularly shoots in the 90s. "He showed me things I never even thought about. Like when he walks into a sand trap, he feels with his feet. It was just so neat. it really was."
Seriously, imagine handing your fairway wood to Tiger Woods after a shot.
"That's the funny thing," Abel said. "I'm just so used to taking my club and putting it in the bag, and he keeps holding his hand out. It's like, 'OK.' You don't want to. What else can you say? You just don't think about things like that."
The pin on 18 was moved Monday to where it was during the final round of regulation at the U.S. Open -- front right -- when Woods rapped that 12-foot birdie putt that bumped along toward the hole and swirled into the back corner of the cup without an inch to spare.
After Abel finished his round, Woods gave him a final treat by dropping the ball at the same spot of his Sunday putt.
"When they asked me, do you know what you're doing?' I said, 'No,'" Abel said. "When I was stepping up to it, they mentioned it. They said, 'This is his putt.'"
"His putt probably broke another two inches more than what mine did," Woods said. "Mine was more down in the valley. Slightly different putt."
Abel sensed that Woods enjoyed being back at Torrey Pines.
"This might just be me watching, but he would look at certain spots and I was thinking, 'I wonder if that's where he hit the ball.' A couple of times I was going to ask him, but then to be honest, I wasn't sure what I should ask him."
Abel said the one thing he took away about Woods was "how much of a down-to-earth guy he really is."
Abel said they talked about fatherhood, Woods' knee and "a couple jokes about how a couple more trophies would be nice, and how he feels he needs another green jacket. It was a little chilly and he said, 'Yeah, another green jacket would be nice and warm.'"
As for his caddie skills, "It was all good, man," joked Woods, who enjoyed seeing Abel make a 20-foot uphill par putt on 17.
Abel played with a new set of Nike clubs. Woods wrote on the bib: "Thank you for letting me caddie for you. Your friend, Tiger Woods."
Woods said his rehab is on schedule but that his return will be dictated by his doctors.
"I'm able to chip and putt now. I can start doing some more fuller rotational things toward the beginning of next year," he said. "I can walk and do all this stuff. This is easy. But rotational stuff is going to be a little different."
Woods would love to be back at Torrey Pines in early February to defend his title at the Buick Invitational, where he has won four straight and six overall. But he's not sure if it's realistic.
"That's the most frustrating thing for me, because I don't know," Woods said. "I like having things planned out. I like understanding what I need to shoot for, but I don't know. And the surgeons don't know, either, because they've never dealt with an injury like this for a person who plays golf at an elite level. For an amateur, it's no big deal, just come back nine months from now or 10 months from now. But for me, I don't know what the schedule's going to be."