News
Clear Skies And A Lead For Overton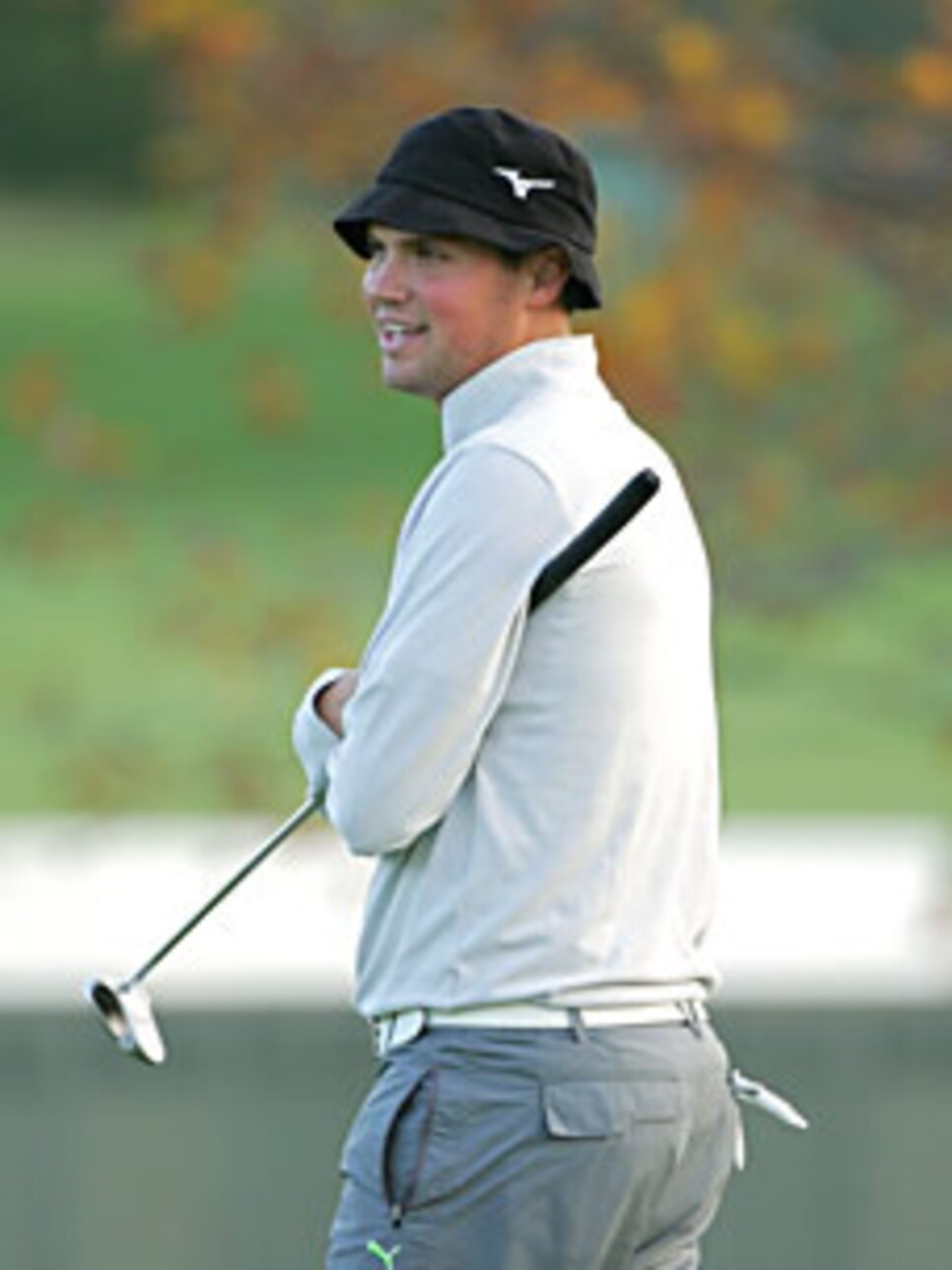 With soggy, cold conditions for all but the late starters, only 27 players broke par.
VERONA, N.Y. (AP) -- The sky cleared just in time for Jeff Overton.
Teeing off on what became a bright late afternoon after a cold, soggy morning, Overton shot a 5-under 67 on Thursday to take the first-round lead at the Turning Stone Resort Championship, the second stop on the PGA Tour's Fall Series.
Overton, who started at the 10th hole, made three birdies on the front side to take a one-shot lead over Michael Allen and Steve Allan.
Tag Ridings, Carlos Franco, and Jason Day were tied for fourth at 69. Another shot back were Briny Baird, Bo Van Pelt, Kent Jones, Mark Hensby, Tommy Gainey, Sterling Scott, Paul Claxton and Troy Matteson, who had a bogey-free round.
Defending Turning Stone champ Steve Flesch, a black knit cap pulled tightly over his ears in brisk conditions that never rose much above 50 degrees, shot a 74.
The inaugural Turning Stone Championship last September was played under near ideal conditions with little wind and temperatures in the 80s. At the start of play Thursday, it was 48 degrees with intermittent rain and a steady 20 mph wind, a day to watch Canada geese fly south, not little white balls soaring where they weren't meant to go. Only 27 players broke par.
"It can tire you out, and it'll get you towards the end of the round," said Ridings, who teed off in early morning. "I think it helps more than anything starting the round. You get rid of jitters and you get rid of wayward thoughts because you have to concentrate on that stuff."
When the sun broke through, it made playing more bearable.
"My last six holes, it definitely played a little bit easier," said the 25-year-old Overton. "The morning was so nasty. The wind was just howling."
Allen, who finished second to Flesch last year, finished his round wearing a golf shirt and was smiling despite having left 100-degree weather at his Arizona home to come to upstate New York.
The conditions made the 7,482-yard Atunyote Golf Club course play much longer and promised to make it difficult to match Flesch's winning total of 18 under in 2007. "It's totally different," Allen said. "It's playing a lot more difficult."
The adverse conditions didn't prevent some great shots, though. Day holed out from 117 yards for eagle at the par-4 14th hole, Franco chipped in from 20 feet for eagle at the par-5 fifth hole and also drained a 70-foot birdie putt at the par-3 sixth hole, and Van Pelt hit a hybrid from 235 yards to 15 feet and also made eagle at No. 5.
"Wow, this is tough talking because I can't believe I shot 3 under," said the 43-year-old Franco, who birdied three of the four par 3s. "The day's conditions are really, really difficult. Every shot is difficult. It's cold and your hands, you lose the feeling, and the wind, it didn't stop, then it rain and stop and rain and stop. That's very difficult to focus."
Despite the inclement weather, the greens remained firm, perfectly smooth and lightning quick.
"I mean, I was pretty lucky," said Allan, who had five birdies to go with one bogey. "One of my birdies I was actually in the trees. I had a go at getting it through the tree, which got it on the green, and then holed a really long, like probably a 70-footer, which was the first birdie of day. That kind of got me going."
Of the leaders, Van Pelt might have been wearing the biggest smile. A former star in college at Oklahoma State, he was well-versed in playing in difficult conditions.
"I like it when it's windy. The tougher the better," Van Pelt said. "We had plenty of days like this in Stillwater. You knew it was going to be bad for everybody, so you just try to have a good attitude.
"But it wasn't easy. It was pretty darn cold and nasty this morning. I don't think anybody's got an advantage. I think the best advantage you have is if you've got a good attitude. You get a bad attitude in weather like this, and you might as well just go home."
Home is where Brad Faxon has been for more than a year, and he could have picked a different tournament to start his comeback from surgery on his right knee last December. But Turning Stone is within driving distance of his Rhode Island home, and he was glad he made the trip, even after shooting a 76.
"It's hard to stay focused," said Faxon, who still has trouble squatting to line up putts. "I'm still a little bit timid, don't think I'm swinging as hard as I can. But I thought today was OK. It's a good story just getting back and playing 18 holes."
The top 125 players on the money list at the end of the season will retain fully exempt status to play on the PGA Tour in 2009.
That makes this event, the richest in the Fall Series with a $6 million purse, oh-so-meaningful. Day is ranked 129th in money with just under $600,000, three spots ahead of Allen, Overton is 142nd, Ridings 152nd, Franco 163rd, Hensby 164th, Allan 167th, and Jones 185th. First place pays $1.08 million, which would vault the 20-year-old Day near the top 50 and the others inside the top 100.
"You get to this point in the season, you've got to play well," Allen said. "Your job's on the line.
Divots:@ Davis Love III, 155th on the money list and in danger of losing fully exempt status for 2009, shot a 3-over 75 and was tied with 18-year-old U.S. Amateur champion Danny Lee. ... Mark Calcavecchia withdrew because of knee problems.