News
A Different Vijay: The Big Fijian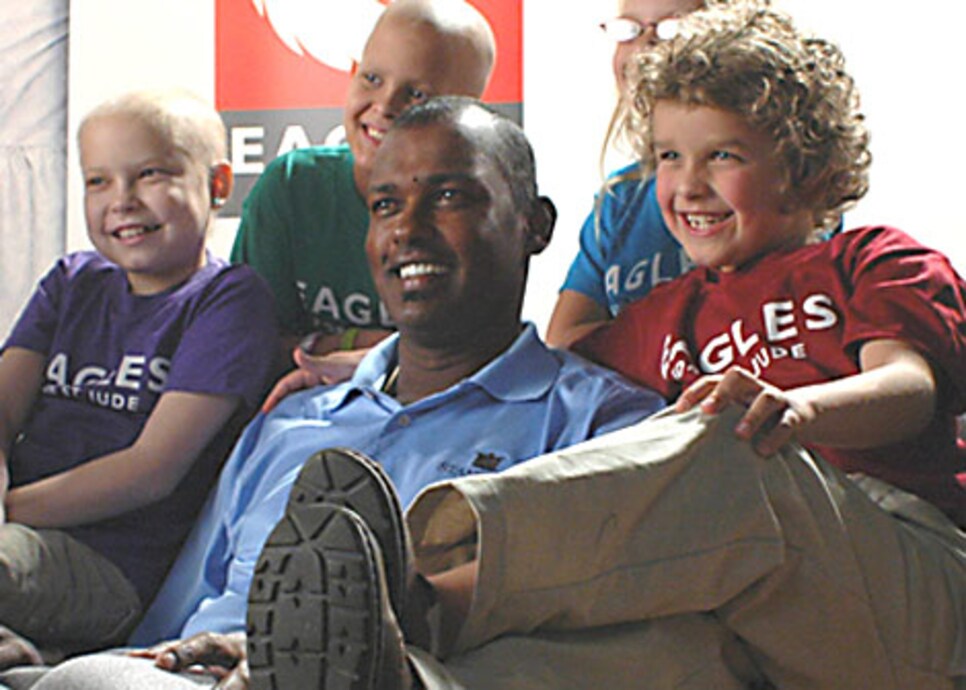 The shot may have been scripted, but Vijay's emotion and caring wasn't.
This is a story that's more about a moment than a commercial.
This is about a man who seems cold on the outside and the heart that's burning a new sense of compassion from within.
This is about that scene when the children from the St. Jude Children's Research Hospital in Memphis surround a "solemn golfer" who later said, after seeing the smiles of that many sick children, "I never knew."
This is about that instant where a cancer patient named Roman Ziegler puts his hand over Vijay Singh's heart, and the unscripted reaction Singh had, covering it with his own.
"The laugh especially, it was the most humanizing thing I've ever seen out of [Vijay]," Hamm says almost a year later, driving through Memphis on the first day of October. "He just doesn't laugh on camera. He's a funny guy. He makes fun of a lot of people, but the public never sees that. It cut together just beautifully, it was just one of those perfect storm things, I knew it was going to be good but I didn't know it was going to be that good and get that kind of reaction."
The spot, of course, stars Singh, who has pledged his support to the Eagles For St. Jude program that will complete its second year with a check presentation on Dec. 1 in Memphis. Vijay will be there, along with Camilo Villegas, who shared starring roles with Singh in the FedEx Cup, and Morgan Pressel, who is leading the LPGA's arm of this cause. Between them, Singh and Villegas contributed toward the 919 eagles made on the men's tour this year, with Singh pledging $5,000 per eagle of his own toward the program sponsored by Stanford Financial.
From the outside looking in, it looks like a press release and photo op for yet another charitable extension that is part of the PGA Tour, but from the inside out, it is far more personal to a man who has a reputation for being impersonal. This is the story about the winner in the biggest money grab in PGA Tour history, "The $10 Million Man," and how he was touched to throw himself behind a program that will give back over $1.3 million to the St. Jude Hospital this year. That's the total right now, with the Fall Series still to go -- but it only covers one day of the operating costs at the care center.
Last November 15, Singh made his first visit to the inner confines of the St. Jude. "It was an interesting day," Hamm said earlier this week. "I know Vijay well enough to know he's an impatient guy. He'd rather play another 18 holes than wait around East Lake for 2 1/2 hours for the presentation of the FedEx Cup. But this really was a full day."
The day in Memphis started with the standard 50-minute tour of the hospital, but it turned into a life-altering experience for Singh. There are several layers to this tour, which PGA Tour players have been taking since 1970, when Danny Thomas connected pro golf with this landmark of last-chance hope. First Singh was given the scientific, where it is explained to him that in 1964, 10 percent of the children in the hospital would have been expected to survive their illness. Today, that number is closer to 70 percent.
Singh took note as he was led to what Hamm referred to as "the medicine room," where young cancer patients are given their chemo treatments. These are also game rooms, and in one shaped like a boat a young boy was playing "Connect Four" with his father. The boy was tiny, with no hair. Hamm, who had been through the hospital before, watched Singh play the kid, losing the first game, winning the second, while talking to him about Christmas presents.
The next phase was where Hamm gave blood platelets, which is an entry point to the room to only where the most severe cases rest. Singh was given the OK, but said he would only go if Hamm went with him.
Hamm looks exactly what a creative guy is supposed to look like. He's got the dark spiky hair, the square glasses, the goatee and a pair of Donald Pliner shoes that Singh simply refers to as "the cow shoes." They met at the Mercedes Benz Championship in January 2007, and have since developed a close friendship, through shared experiences like their walk into Tyler's Whaley's room.
"Vijay made an early faux pas," says Hamm. "You have kind of a list of things not to say, nor do, like touching … and [that includes] never asking, 'How are you doing?' and, 'I'll see you next time.' They've learned, these are promises that may or may not come true. As innocuous as it may seem, for these kids, it's more straightforward. Vijay comes in the room and says, 'How are you doing?' "
Whaley, 20, had just undergone a bone marrow transplant that his body rejected. He played high school golf and was admittedly a little intimidated about the presence of Singh, "a solemn golfer who we never saw smile," Whaley's mother told the New York Times.
Says Hamm, "This kid, Tyler, was sick, he was really, really sick, and wasn't talking, he was just saying 'yes, yes, yes,' in a low whisper when he kind of just chimed in and said, 'I saw you on TV one time."
This got Singh's attention.
"Where did you see me?" he said.
"I don't know, 6-7 months ago."
With that, Tyler's mom started crying. Tyler had been in a coma for nearly two months, and had no meaning of time. Singh told the young man to watch the Mercedes Benz Championship. He told him the first eagle he made would be for him.
Walking down the hallway, Singh grabbed Hamm's shoulder.
"It doesn't matter," Hamm told Singh. "Now you do. It's all that matters."
They still had the commercial to shoot. The scene was scripted to a point. On the set, the children were all prompted to say, "The Big Fijian! The Big Fijian!" while surrounding Singh, who is seated in a chair. This is when Ziegler's hand covers his heart and Singh puts his own hand over the child's.
"Vijay always tells me, 'I'm a one-take guy,' but he could not get his [own] name right," says Hamm. "So he messes up another take and says, 'S---.' That's when this little boy sitting on his knee says, 'No, you can't say that in here!' and it was that laugh [that went in the commercial]."
The spot started airing at the beginning of the year. The then president of Aloha Airlines wrote Singh a note to pledge $1,000 for every one of Vijay's eagles; others jumped in. Three months later, at the Masters, a congregation gathered at the IMG House in Augusta that included Singh and Hamm. It was then that Hamm realized Singh bought in. "So, ah, what are we going to do for Eagles next year?" he said, adding, "You know, I've never had so many people ask me about something that wasn't controversial or negative.'"
In other words, it wasn't the missed putts or the ire he may have stirred up by being unapproachable or controversial, it was about something good for a change. Like that eagle he made on the 11th hole at Spyglass Hill in the AT&T Pebble Beach National Pro-Am in February, the first one of the year, the one for Tyler, who had died three weeks earlier. In March, Singh had told the Times, "Every time I had an eagle chance, I found myself thinking about him."
And so it was at the end of the year, after he won the tour's pot of gold, as he sat in his favorite Thai restaurant in Atlanta surrounded by his closest circle of friends, that Singh and Hamm thought about Tyler and talked briefly about Dec. 1, and what that day is all about.
He never knew. Now he does.