News
Options Few, Daly Considers Euro Tour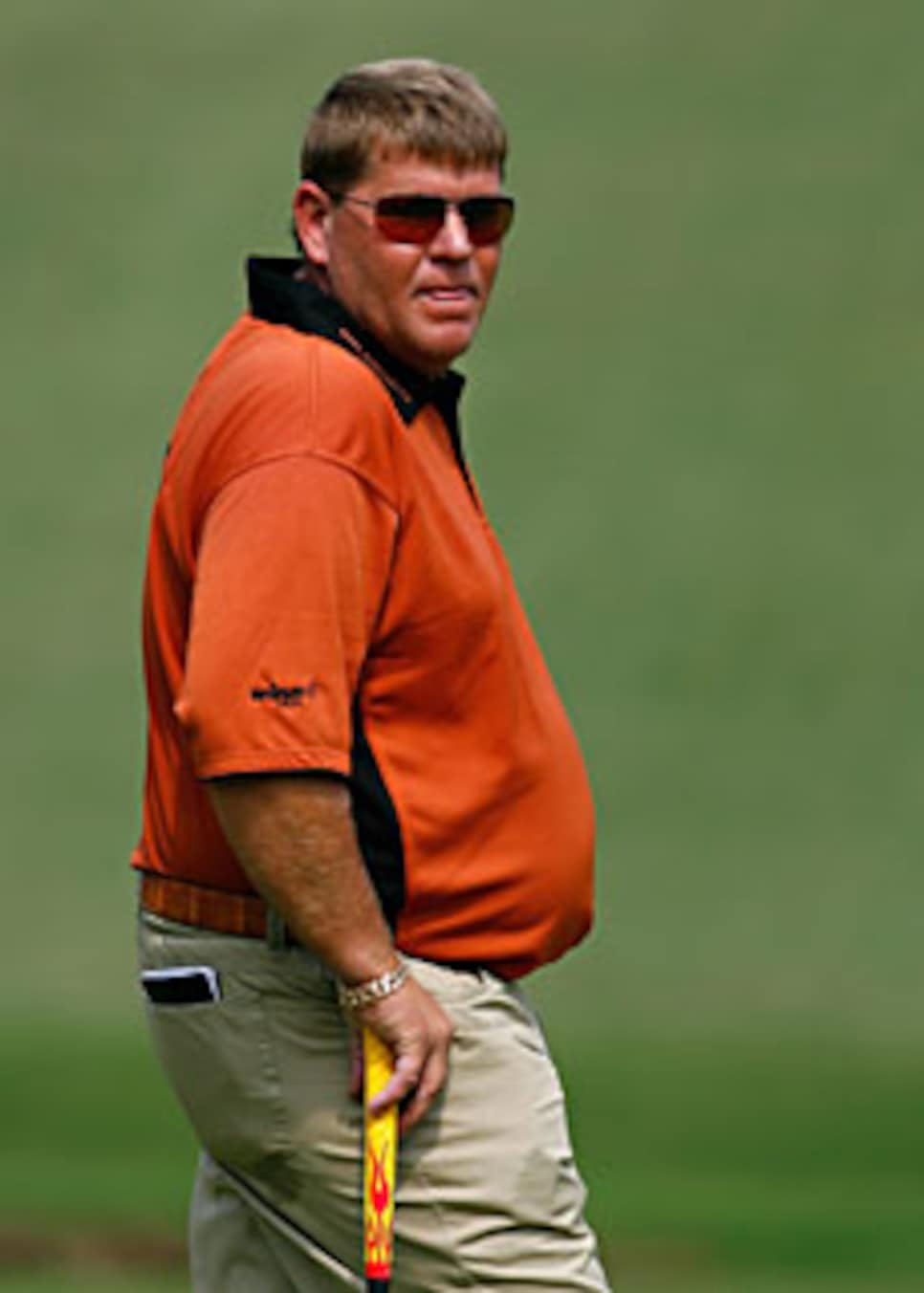 Daly hopes this summer's sugery will restore the strength that made him one of the game's longest hitters.
(AP) -- John Daly, PGA European Tour star?
The two-time major champion told The Associated Press on Thursday that he's considering all of his options for 2009, including playing regularly on the European tour.
"I know in Europe there are still a million opportunities to play," Daly said. "It's a great tour. Guys on that tour have shown themselves and proved themselves to be great players."
Daly's play, however, has been far from great.
The 42-year-old Daly has made just five cuts in 16 events this year, bringing in just $56,017. His best finish was a tie for 40th at the Viking Classic and he plummeted to No. 737 in the world ranking. He hasn't had a top 10 in three years and his erratic behavior has cost him some of the support that made him one of the sport's most popular players.
Daly blames some of his struggles on a mysterious rib injury that forced him to shorten his iconic swing and rendered one of the tour's biggest hitters punchless.
"I saw guys hitting it by me that never hit it by me before," said Daly, 16th in driving distance this year. "I was like, 'there's definitely something wrong here.'"
Daly had surgery over the summer to deal with a cyst the size of a golf ball in his ribs. He says doctors found two small fractures deep in the rib that prevented him from gripping it and ripping it.
He's feeling better, but the recovery process has been slow. Yet he says he still has the itch to play.
"It was so long when I was hurt, shooting 71s to 75s and it was a matter of just one hole," he said. "Now I feel like it's all starting to come together. I'd love to play four or five weeks in a row like I used to do. I can't do that because I'm not exempt."
Daly will have to rely on the kindness of strangers to get his career back on track. He hopes to land a handful of sponsors exemptions to get into a few early PGA Tour stops next year. If he does that, he thinks he can play well enough to make some money and play his way back onto the tour.
"I hope the tournament organizers that gave me exemptions last couple years when I was hurt see that and let me try it again," he said.
One place he definitely plans on playing next year is St. Andrews, where he won the British Open in 1995. And he doesn't plan on doing it alone. Daly is auctioning the opportunity to join him at the birthplace of golf in an effort to raise money for The John Daly Foundation.
The trip for three will include private jet to the tournament, the chance to play 18 holes at a local course with Daly, accommodations at Daly's villa and four passes to the clubhouse.
If you're expecting "the John Daly experience," however, you'll be disappointed. While there'll be plenty of cookouts, Daly says don't expect a trip to the pub or the local sports book.
"They will get an idea of how hard it is what we do and they'll understand things people read and hear about John Daly aren't always true," he said.
Maybe, but some things are. Even as he approaches his mid-40s he admits he's still hardly in peak physical condition. He'll never be a workout fiend, though he says he is watching his weight a little more closely.
And he's still playing golf, but doing it the Daly way. He spent last week in Missouri hosting a celebrity golf benefit, and is scheduled to make an appearance in Bowling Green, Ky., later this month at a charity golf tournament hosted by country musician Steve Azar.
After that he'll probably head to Australia or Asia and try to hone his game before the 2009 season begins. If there's a tee and an invitation, he'll probably take it.
"I've always got a place to play," he said. "That's what I need to do is play."