News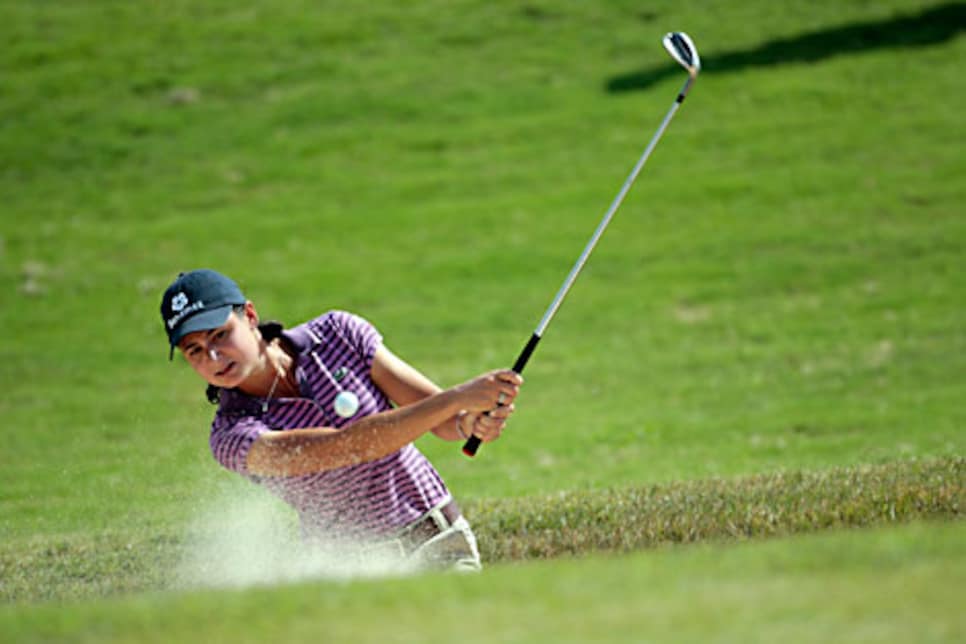 Lorena will be battling Louise Friberg as she tries to get her 7th victory of the year.
PRATTVILLE, Ala. (AP) -- Winless since May, top-ranked Lorena Ochoa shot a 3-under 69 on Saturday for a share of third-round lead in the Navistar LPGA Classic.
The Mexican star, making her first start since tying for sixth in the Safeway Classic on Aug. 24, matched Louise Friberg (65) at 13-under 203.
"It was a little bit tougher today for me," Ochoa said. "I didn't feel a great rhythm with my irons, with my swing. So I was struggling a little bit, but I was able to finish under par and I think that's always good."
Ochoa has four top-seven finishes in a row, but is winless in seven starts. She opened the year with six wins in nine events, including four straight.
"What matters is to be in a good position for tomorrow, to be in the last group and to have a chance to win the tournament," Ochoa said. "So I'm going to be there tomorrow, 100 percent, it will be great to do it."
After opening with consecutive 67s, Ochoa had five birdies and two bogeys in the third round on the links-style Senator Course, part of the Robert Trent Jones Golf Trail's Capitol Hill complex.
"Overall, I think it was a good round," Ochoa said. "I think as long as you make birdies and give yourself chances, it will be there. There's nothing I need to change. I'm going to try to do the same for tomorrow.
Friberg, the MasterCard Classic winner in Mexico in March in only her third start as a tour member and fourth overall, had seven birdies in her bogey-free round.
"I feel pretty calm," Friberg said. "I played well and I hit the ball a little bit closer to the pin today than I did yesterday. I managed to make a few key putts.
"I've actually been waiting for this for quite some time, because my last win, I came from far behind, so I've been waiting to get up to the top to get to learn the Sundays, how they work and how to be in contention and manage to keep it."
LPGA Championship winner Yani Tseng (68), Christina Kim (69), Song-Hee Kim (69), Michele Redman (70) and second-round leader Janice Moodie (67) were 11 under.
"I'm very excited for tomorrow," Tseng said. "I'm looking forward to it. I'm ready to win. I'll do my best. ... I feel like I'll keep playing well. I'm only two shots behind. I'll do my best, stay relaxed and have fun."