News
Stanford's 10-Under Par Leads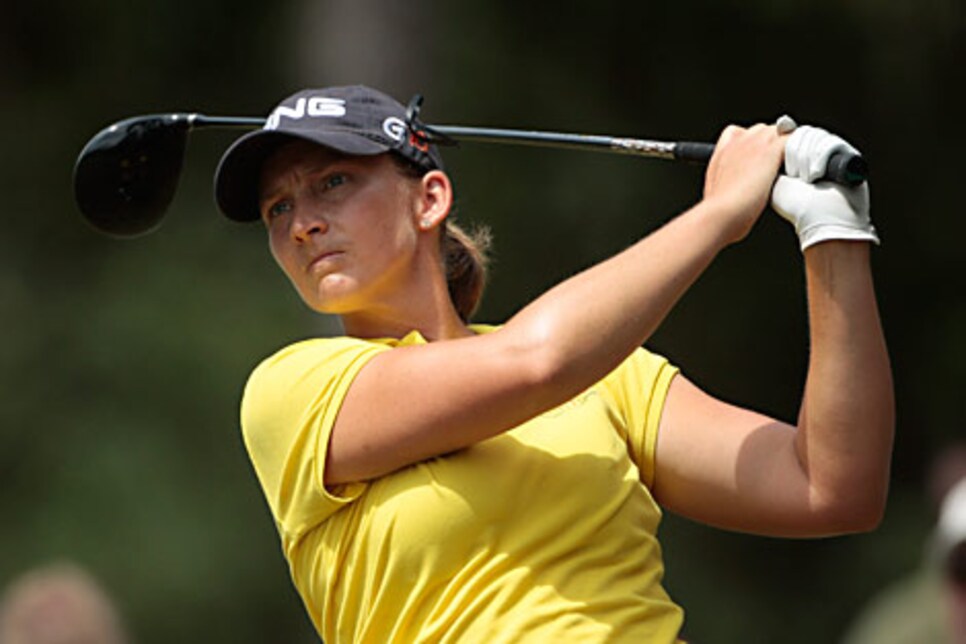 Stanford's last victory was the 2003 ShopRite LPGA Classic.
MOBILE, Ala. (AP) -- Angela Stanford shot her second straight 5-under 67 on Saturday to take a four-stroke lead in the Bell Micro LPGA Classic.
"I'm having such a good time playing this golf course," said Stanford, who won the 2003 ShopRite LPGA Classic for her lone tour title.
"It's been a while since I've been in this position, and I'm just having so much fun this week that I don't think there's any pressure."
Stanford had seven birdies, including four in a row on the back nine, to reach 12-under 204 on The Crossings course at Magnolia Grove.
"That may be the best back nine I've ever played," said Stanford, who shot a 5-under 31 on the final nine holes. "We really had a hard time on the front side with the wind. ... It seemed to be more consistent on the back nine."
Canadian Women's Open winner Katherine Hull was 8 under after a 68, and Angela Park (69) and Shanshan Feng (70) were tied for third at 6 under.
Cristie Kerr, two strokes ahead of Stanford after a second-round 66, shot a 76 to drop seven shots back at 5 under. Danielle Downey (64), Kim Hall (67), Kristy McPherson (67), H.J. Choi (67), Hee Young Park (70) and Reilley Rankin (72) also were 5 under.
Hull had a one-stroke lead through 13 holes, but bogeyed 14 and got into big trouble on 18, where she trickled a shot out of the bunker, chipped well short of the hole and missed a 7-foot putt en route to a double bogey.
"I guess I haven't had a lot of bunker shots and probably took it a little for granted," Hull said. "I'll probably forget about it in about 10 minutes. The bottom line is, I shot 68 and played pretty well."
Park dropped a stroke with a bogey on 18.
"I didn't putt very well yesterday, which I think hurt me a little bit for the tournament, but I went out there today and said, 'I'm going to go as slow as I can,'" Park said. "I'm making plenty of birdies out there, and making a couple of bogeys here and there that I should not. Hopefully, tomorrow we won't have any more bogeys."
Downey followed a 78 in the windy second round with her bogey-free 64.
"I hit a lot of fairways today," said Downey, who birdied five of the last six holes. "I had three tap-in birdies, so that helped. I struck the ball well to get to that point."