News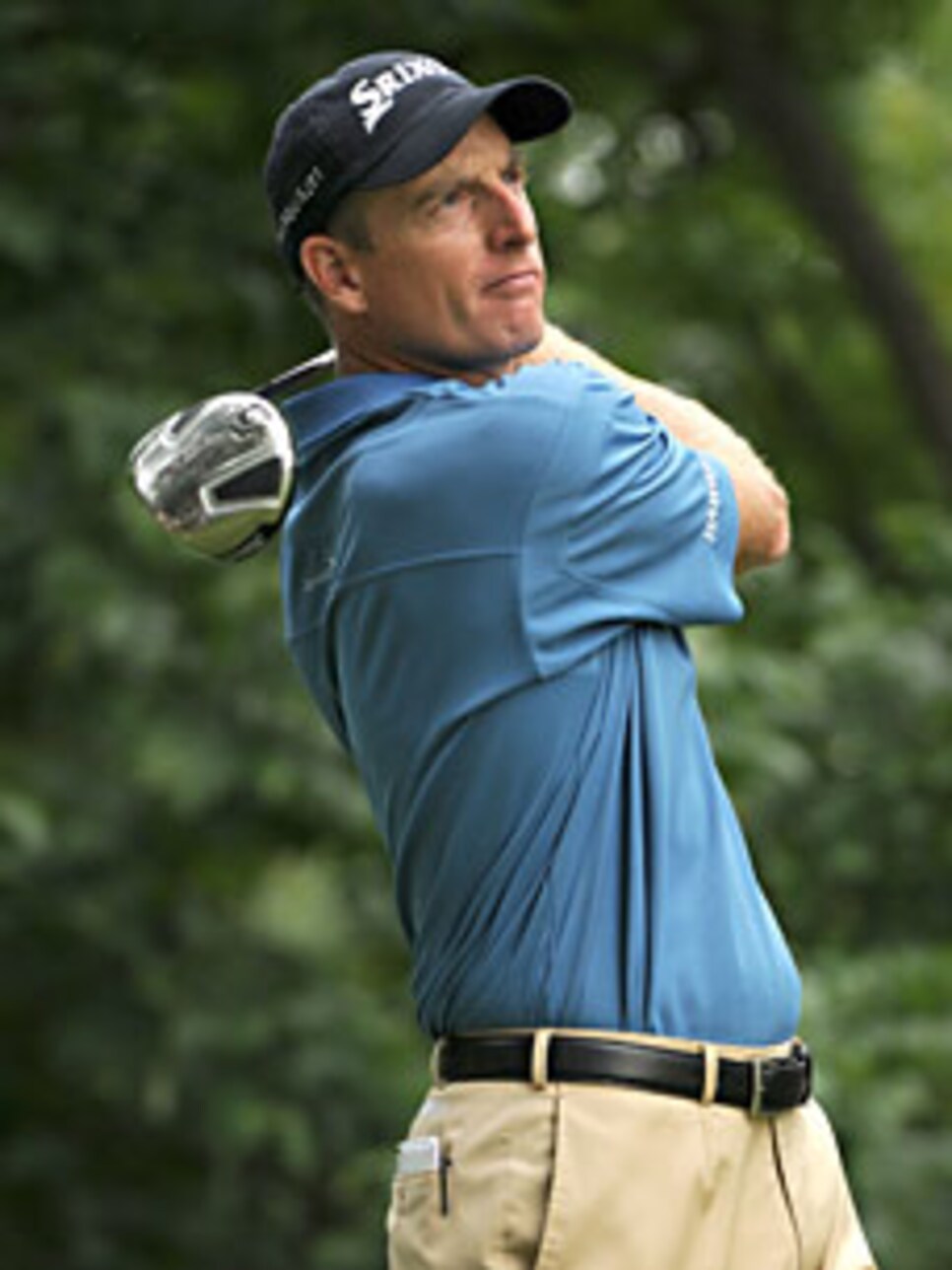 Furyk is one of two Ryder Cup team members without a win this season.
ST. LOUIS (AP) -- Jim Furyk quietly pumped his fist when his final putt of a marathon day disappeared in the cup. Even though it was for bogey, this was cause for a small celebration Saturday at the BMW Championship.
He played 36 holes over 10 hours on a soggy course that made it feel as though he were walking through sand. He took only 128 shots, including an 8-under 62 in the second round to set the course record at Bellerive. He hit 24 consecutive fairways, a streak that ended in the twilight on the 18th hole as focus wavered and he made bogey.
Above all, he gave himself a chance to win.
"My goal was to get myself into position to win the golf tournament," Furyk said. "And I did that."
It seemed like it took forever.
The best part of this long day was that he finished, shooting 66 in the afternoon to complete 54 holes at 12-under 198 for the clubhouse lead. Camilo Villegas, who led by one shot after 36 holes with a 66 in the morning, also was at 12 under and had five holes remaining.
Villegas will be among 23 players who have to return Sunday morning to complete the third round in a tournament twice interrupted by weather. Rain kept the BMW Championship from starting until Friday, and the plan for everyone to play 36 holes on Saturday was disrupted by a 90-minute fog delay in the morning.
But it was packed with all kinds of drama.
Sergio Garcia made the first hole-in-one of his professional career, a 5-iron from 205 yards on the third hole in the morning that put him into the mix. Bart Bryant made an ace in the afternoon, on No. 13, four holes after learning he had been docked two shots in a bizarre penalty that basically amounted to him opening his mouth.
Martin Laird tamped down his own pitch mark on the fringe of the 16th green during the second round, which he was not supposed to do because it was in the line of Bryant's ball in the rough. The fact Bryant said, "Yes" when Laird asked if it was in his line meant Bryant was penalized because he allowed his line to be improved.
Laird was not disqualified because it was not his intent to help Bryant, who chipped well over the mark.
Asked if he should have been penalized, Bryant said, "Yes, because I broke the rule." He was more concerned that Laird, a rookie from Scotland who needs to finish this tournament to secure his PGA Tour card, was not disqualified.
Much more steady was Furyk, who hit 24 consecutive fairways off the tee until he started to tire at the end of a long day and found the rough on the 18th hole. He could not advance it to the green, came up short with a wedge and was thrilled to sink a tricky 5-footer for bogey.
"I'm tired," Furyk said. "I like the idea of getting some sleep."
Villegas is keen to get his first PGA Tour victory to accompany his marketing appeal, and this is the second straight week he'll have that opportunity. At the Deutsche Bank Championship, he was one shot out of the lead going into the final round until Vijay Singh closed with a 63 to win by five shots.
The 26-year-old Colombian turned potential trouble into determination.
Sailing along in the morning, Villegas four-putted for double bogey on the ninth hole -- the final three putts were inside 4 feet -- and he was steaming when he left the green.
But the answer was swift -- two straight birdies -- and Villegas added one more from 12 feet on the 18th hole to take the lead into the third round. The tour did not make new pairings with hopes of finishing, so Furyk managed to finish 54 holes well ahead of Villegas.
"I'm feeling good," Villegas said. "I'm enjoying playing golf right now. I'm playing pretty good. I'm rolling in some great putts, and I'm excited about tomorrow."
Brian Gay was 10 under with three holes to play. Anthony Kim, already a two-time winner on the PGA Tour this year, was at 9 under with one hole to play. Right behind at 8-under 202 was a group that included K.J. Choi and D.J. Trahan, who was passed over as a Ryder Cup pick earlier this week, his final-round 80 at the TPC Boston not helping his cause.
Phil Mickelson was 7 under and had faced a 20-foot birdie putt on the par-5 eighth hole, his 17th.
Furyk has not won since the Canadian Open last year, and he has not even led after any round since then. He has been steady and has done everything but win.
It didn't appear this would be the week when he was 1 under for the tournament on the back nine of his second round. Everything changed when he holed a wedge from 114 yards for eagle, then polished off his round with five straight birdies, none longer than 15 feet.
"Through 10 (holes), I probably didn't see a 62 coming," Furyk said. "And then you hole out a wedge and a whole bunch of putts go in. I was real happy about the way I hit it."
After a short break for lunch, he birdied the first hole and kept finding fairways. Furyk had warned at lunch that the hardest part of the 36-hole day is the final nine, and he was right.
He didn't swing through a 5-wood to the 235-yard 16th, and had to save par from the bunker with a 12-foot putt. Then came his only missed fairway of the third round on the final hole, but the determined, quiet fist pump when he sank the bogey putt spoke volumes.
"Although it was a bogey, I ended on a good note," he said.