News
Kerr's 7-Under Caps Comeback Win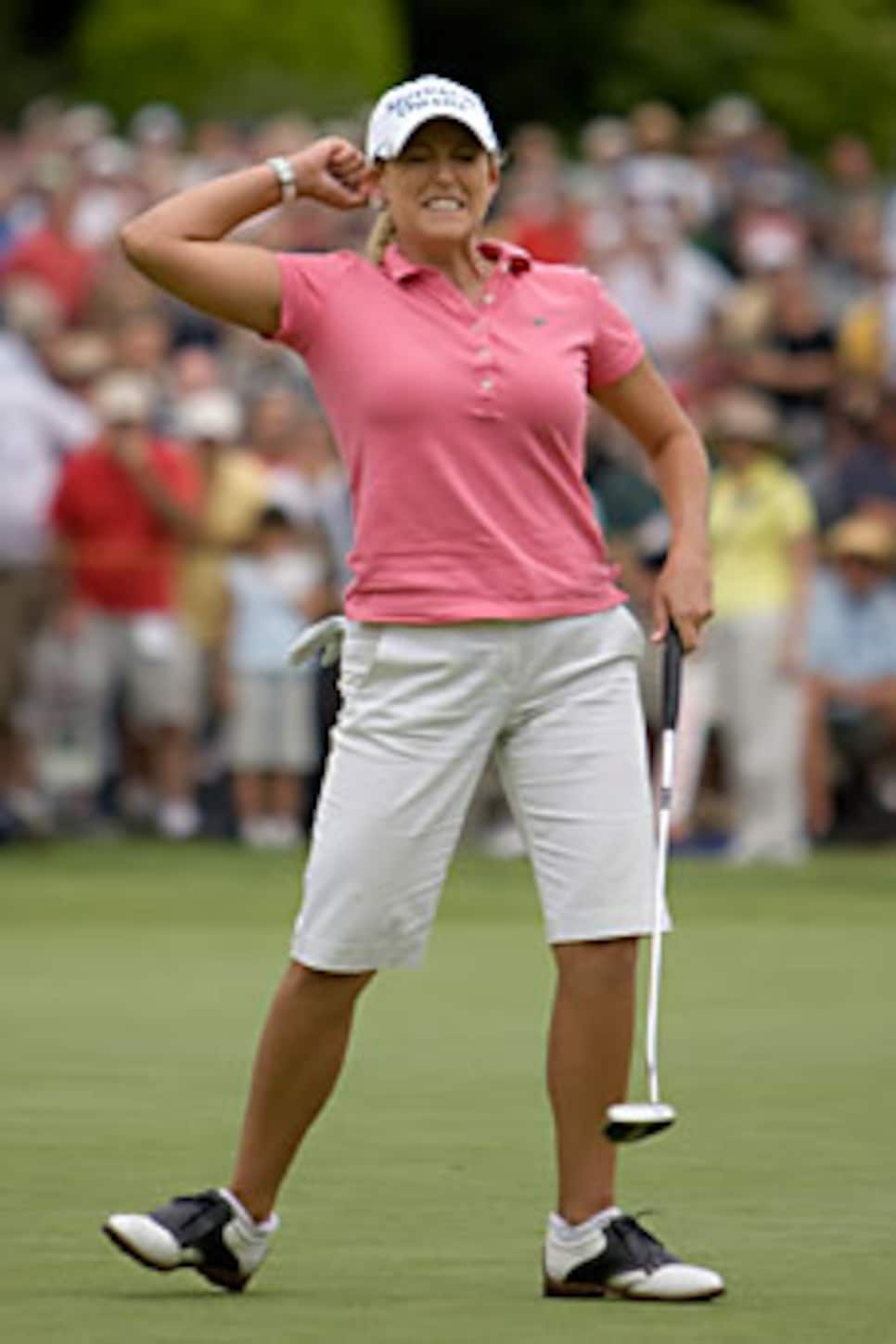 The win was Kerr's first since the 2007 U.S. Women's Open.
PORTLAND, Ore. (AP) -- All Cristie Kerr wanted was a chance to win the Safeway Classic with her putter.
When she got that shot, she nailed it.
Kerr rolled in a downhill 20-foot birdie on the first playoff hole Sunday to beat Helen Alfredsson and Sophie Gustafson at Columbia Edgewater Country Club.
Kerr, who shot a final round 7-under par 65, Alfredsson and Gustafson finished 54 regulation holes at 13-under 203.
The three played 18 again and Alfredsson (69) and Gustafson (68) missed birdie putts, opening the opportunity for Kerr.
"I said to myself, 'Get in the fairway, get on the green and give yourself a chance, because putting is what I do best,' " Kerr said.
It was Kerr's 11th career win on the LPGA Tour. Her last victory was the 2007 U.S. Women's Open. She collected a first prize of $255,000 from the tournament's $1.7 million purse. Kerr trailed Alfredsson, the second-round leader, by four strokes heading into the final round.
After making pars on her first four holes, Kerr took off, going 8-under on her final 15 holes, including the playoff.
"I knew if I hit it good enough with the way I putt, I knew I'd have a chance," Kerr said.
That chance came as Kerr stood on the 18th green. Alfredsson and Gustafson, tied for the lead and one stroke ahead of Kerr, bogeyed 17 as Kerr looked over an uphill 15-foot birdie putt.
Kerr made it, briefly giving her a one-stroke lead. Alfredsson and Gustafson quickly responded by dropping birdie putts at 18 to set up a sudden-death playoff, also played on the 383-yard, par-4 18th.
Kerr hit the fairway, then lofted an 8-iron to within 20 feet. Alfredsson and Gustafson also hit the green, leaving slightly longer putting attempts.
"That putt was a lot more difficult than the one I had in regulation," Kerr said. "It broke a couple feet. It's a pretty amazing putt to make in a playoff."
It was Kerr's second career playoff win, though this was much easier than her first. In 2004, Kerr needed seven holes to beat Seo-Yeon Jeon in the Takefuji Classic.
Neither playoff loser showed disappointment. For Gustafson, it was the second consecutive year she finished in a tie for second at Portland. But this year was nothing like 2007, when Gustafson fell apart and went 4 over on the final five holes.
On Sunday, Gustafson made five birdies on the back nine.
"I am happy. I played well," Gustafson said.
Alfredsson, who won in July at the Evian Masters for the first time since 2003, retained at least a share of the lead throughout the final round until the playoffs conclusion.
"It's fun to show I can play, that I can still make putts under pressure," said the 43-year-old Alfredsson.
Katherine Hull (67) finished fourth at 205, two strokes out of the playoff. Hull won the CN Canadian Women's Open last week.
Hee-Won Han (66) placed fifth at 206. Annika Sorenstam (69) and defending Safeway Classic champion Lorena Ochoa (70) were among five players to finish in a tie for sixth at 209.
Sorenstam got to within two shots of the lead on the back nine, but quickly faded and eventually finished with a double bogey at 18.
Ochoa also briefly flirted with contention after making three consecutive birdies early on the back nine.
Joining Sorenstam and Ochoa at 209 were first-round leader Angela Park (70), Catriona Matthew (70) and Paula Creamer (72).
Karrie Webb (71), Allison Fouch (68), Eunjung Yi (68), Laura Diaz (68), Jee Young Lee (72) and Hee Young Park (71) finished at 210.