News
Alfredsson's Never Been Better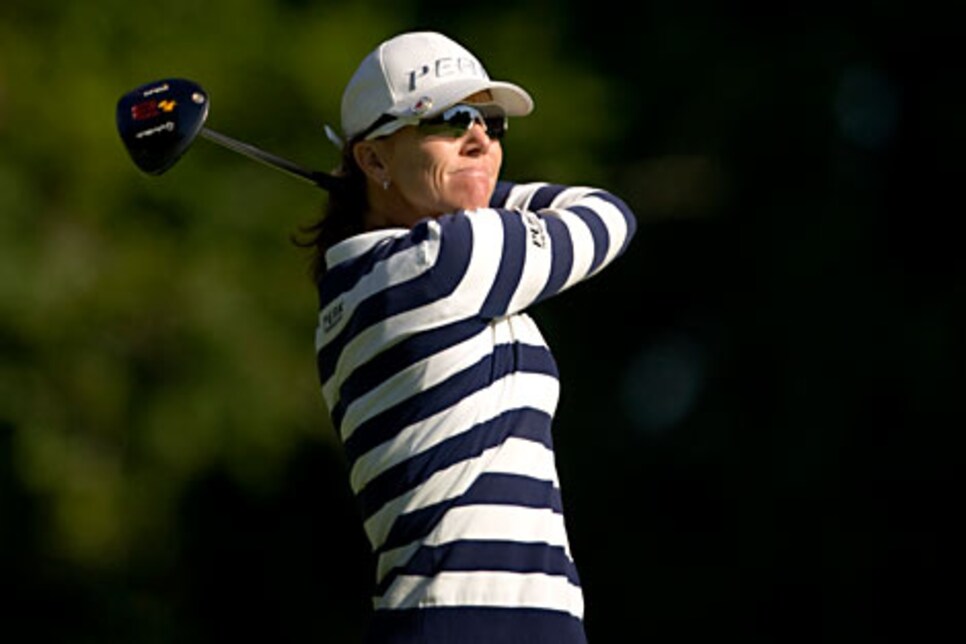 After winning a bit more than $66,000 in all of 2007, Alfredsson should break $1 million in 2008.
PORTLAND, Ore. (AP) -- Healthy again, 43-year-old Helen Alfredsson is playing as well as she ever has before.
Alfredsson shot a 67 Saturday to take a one-stroke lead after the second round of the Safeway Classic at Columbia Edgewater Country Club.
Alfredsson matched her first round of 67 for a 10-under 134, one stroke ahead of Sophie Gustafson, who shot 68.
Three strokes back of Alfredsson in third place at 137 are Paula Creamer (68) and Kelli Kuehne (70). Lorena Ochoa and first-round leader Angela Park are in a group five shots back, and Annika Sorenstam rebounded from a first-round 72 to shoot 68, putting her among nine players at 140.
Alfredsson, who won for the first time since 2003 in July at the Evian Masters, has earned $961,817 in 2008, more than double her previous best season. Alfredsson will climb over $1 million in earnings this season should she finish eighth or better in the Safeway.
It's a remarkable rebound from 2007, when Alfredsson played in only 11 tournaments and won $66,316. Alfredsson suffered from a herniated disc, which caused her to lose strength and feeling in her right arm. Surgery and months of therapy cured the problem.
Alfredsson said this season rates as the best of her career.
"I think I've been striking it much, much better, and I think with a little more confidence," she said.
Alfredsson contrasted her play in 2008 to another thriving era of her career, when she turned professional in 1989 and played on the European Tour. Back then, Alfredsson said she played with no fear.
"The problem is when you go through slumps," she said. "You know that the trees are not 99 percent air, for example, which you think when you're young. And you do get bad lies, which you never do when you're younger it seems like. But yeah, I'm enjoying this."
Alfredsson's round consisted of six birdies and one bogey. She made four birdies on the front nine, three with putts of seven feet or less. Alfredsson finished her round by canning a 15-foot birdie putt at the par-4, 383-yard 18th.
She made six birdies -- four on the front nine and three with putts of 7 feet or less -- and one bogey in the second round. Alfredsson finished her round by holing a 15-foot birdie putt at the par-4, 383-yard 18th.
She made her only bogey of the tournament at the par-5, 462-yard seventh, though it was unconventional. Alfredsson drove her tee shot out of bounds, then used her next two shots to get to within 3 feet of the hole. She missed the putt, and settled for a bogey.
Gustafson reached as low as 11-under until she made back-to-back bogeys at 16 and 17, her first two of the tournament. She ran off a string of four consecutive birdies early in the round on the way to recording a 4-under 32 on the front nine. Gustafson is aiming to avoid a repeat of 2007, when she stumbled down the stretch, going 4-over on the final five holes to finish in a four-way tie for second, five shots behind Ochoa.
"Hopefully, I'm going to do better," Gustafson said.
Kuehne, who has missed the cut in 12 of her previous 14 tournaments, is having the best week of the season. She hasn't won since 1999. "My name is on the board, so that's a good thing," Kuehne said.
Creamer is in contention for her fourth win of 2008, and 21 players are within five strokes of the lead heading into the final round.
"You're going to have to go pretty low," Creamer said.
The cut was even-par 144. Among those failing to qualify for Sunday's final round include Rookie of the Year points leader Yani Tseng (145) and Se Ri Pak (150).
First prize in the $1.7 million Safeway Classic, the longest running non-major on the LPGA Tour, is $255,000.