News
No Nostalgia Tour For Funk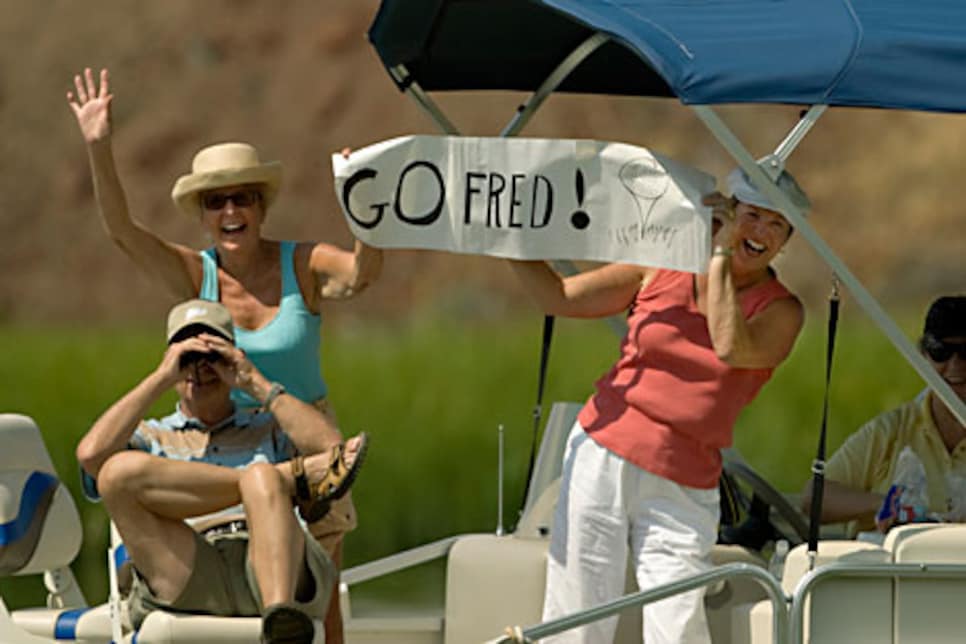 Funk's fans don't care which tour he plays on. They just want him to win.
SUNRIVER, Ore. -- The archaic notion that nostalgia is the underpinning of the Champions Tour and code for old no doubt still exists to some degree, for which Fred Funk is the antidote. The manner in which he bounds around a golf course suggests that his battery is perpetually fully charged, that he's 52 going on 42, and -- here is the point -- he doesn't disagree.
Funk won the Jeld-Wen Tradition by three shots Sunday. It was not his most important victory (he won the Players Championship on the PGA Tour in 2005), but his first win in a major championship, and one impressive enough to conclude that he would be a boon to the Champions Tour in the months ahead.
It is to the Champions Tour's regret, however, that he intends to move on, or more precisely, to move back. Earlier this week, he stated his intention to take advantage of a PGA Tour exemption through 2010 (by virtue of his Players Championship victory) and play with the younger set nearly exclusively in 2009.
He isn't doing so for the purpose of staging his own nostalgia tour, either. The good old days have occurred too recently to be considered as such; only last year Funk won the Mayakoba Golf Classic at Riviera Maya-Cancun, a PGA Tour event. Moreover, the fact that he is exempt to play on the PGA Tour is evidence in and of itself that he's skilled enough to play there.
Of course, this is assuming that in the last year erosion hasn't softened the edges of his game, and there wasn't anything in his play at the Crosswater Club in Sunriver, Ore., to challenge his assertion that he's a better player now than he was a decade ago. He led by as many as six shots.
"The way I played today was really solid, almost flawless until 16," he said. "I wanted basically to bury the field. When I got to 16 I was doing exactly what I wanted to do."
The only costly glitch he encountered came when his 3-iron tee shot on 16 went crooked and ended up beneath a tree in a water hazard, leading to a double-bogey, his first over-par hole since the ninth on Friday. It and a bogey at 17 prevented him only from threatening the tournament record of 23 under par. Funk finished 72 holes in 19-under 268, three up on Champions Tour rookie Mike Goodes.
Maybe the only toll that time has taken is that he continues to be bedeviled by injuries. Sunday he had fluid drained from his knee for the fifth time this year, and neck pain that surfaced at the U.S. Senior Open two weeks prior required daily treatments from a Sunriver chiropractor.
Still, he is looking forward to a return to the PGA Tour and intends to play in that tour's Viking Classic in September, a tournament he's won twice.
"Maybe I can beat the young guys," he said, "and get back to Kapalua [the Mercedes Championship]."