News
Pettersson Is Still On Top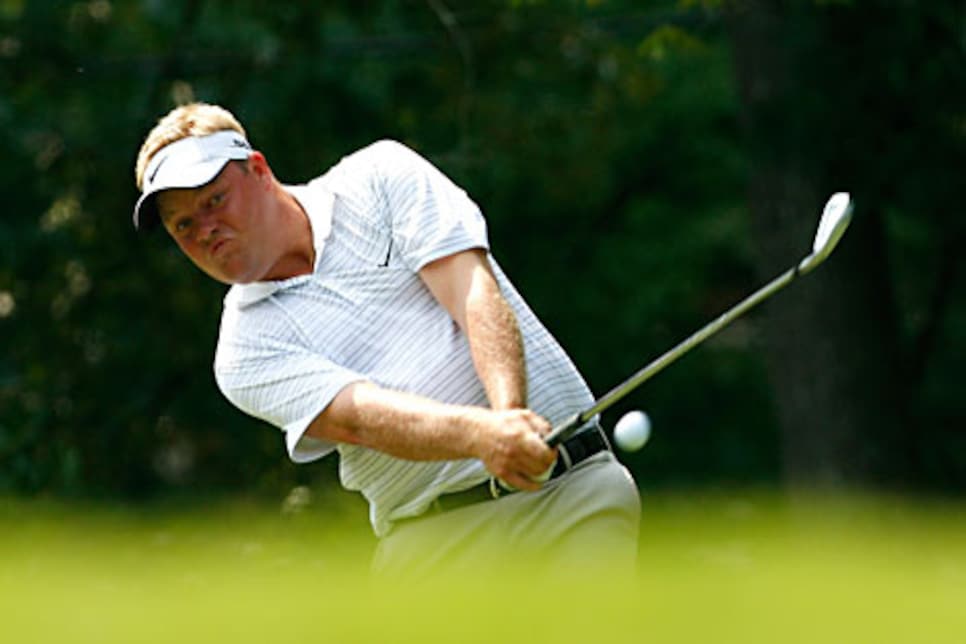 Pettersson is in a perfect to capture his third PGA Tour title and first since 2006.
GREENSBORO, N.C. (AP) -- The pressure to follow a record round with an even better number got to Carl Pettersson. Just not enough to cost him the lead.
Pettersson topped the Sedgefield Country Club leaderboard for the second straight day, shooting a 4-under 66 on Saturday to follow his tournament-record 61 and take a two-stroke lead after three rounds of the Wyndham Championship.
A local fan favorite who went to high school in Greensboro and is on the tournament's board of directors, Pettersson had a 19-under 191 total. The Swede is in position to claim his third career PGA Tour victory and first since 2006 -- even if he admitted that he occasionally tried too hard to outdo his second-round performance.
"Unless you get off to a really hot start, you kind of feel like you're behind the 8-ball," Pettersson said. "Sometimes you can start pressing too much, and in golf, pressing's not really good to do. You've got to let the birdies happen, let the putts go in. You can't really force them in. ... I think it's easy to get agitated the day after you made everything."
Scott McCarron was second. He holed a 45-yard sand shot on 18 for a 64. Briny Baird (62), Garrett Willis (69) and Kevin Streelman (67) were six strokes back.
Leading after 54 holes in Greensboro usually leads to a victory. From 1999-2006, every champion of this tournament had held or shared the third-round lead, a string broken last year when eventual PGA Tour rookie of the year Brandt Snedeker erased Jeff Overton's three-stroke advantage across town at Forest Oaks.
Then again, with low scores commonplace all weekend at the original Donald Ross-designed course, no lead is safe.
"Where we are, and where Carl is, even if Carl stumbles and falls back, it's still going to take a low number (Sunday) for somebody to win the tournament," Baird said. "The golf course is set up for low numbers."
This time, Pettersson had three birdies and an eagle, opening with four pars before his 3 on the 529-yard, par-5 fifth. He landed his approach 4 feet from the pin and sank that putt to eagle the hole for the second time in three days.
But he also bogeyed the course's easiest hole -- the par-5 15th -- for the second day in a row. He sent his approach shot into the primary rough, recovered, then lipped out consecutive 4-foot putts to slip to 18 under.
"I had so many chances today, but I just didn't convert the putts like I did yesterday," Pettersson said. "I've played that hole terrible all week, so I'll just keep the trend going."
He regained that stroke two holes later with a birdie on the par-4 17th after landing his fairway shot 4 feet from the flagstick. On the 18th, he left his 20-foot birdie putt 4 inches short and tapped in for par.
McCarron, who entered trailing Pettersson by four strokes, was bogey-free and had three consecutive birdies on Nos. 2-4 to move to 14 under. He said he didn't peek at the leaderboard until midway through his round, when he remained four strokes back.
"At that point, I got a sense that Carl was still putting the pedal to the metal," McCarron said. "So I had to make some more birdies. ... I got back in the hunt."
He finished strong with birdies on two of his final three holes -- the par-3 16th, and then his spectacular, round-closing shot from a downhill lie in the bunker.
"I told my caddie if I made this, I would get in the bunker and do a snow angel," McCarron said. "I chickened out."
Baird had the best round of the day, a 62 that included seven birdies on the back nine and birdies on his final four holes. He began the round 10 strokes off the lead but could only hope that Pettersson would somehow self-destruct on his hometown course.
"I shot 28 on the back nine. He does something like that, the tournament is out of reach," Baird said. "If he can be friendly and make a bunch of pars, it would leave a lot of people back in it."