News
Two Majors In A Row For Harrington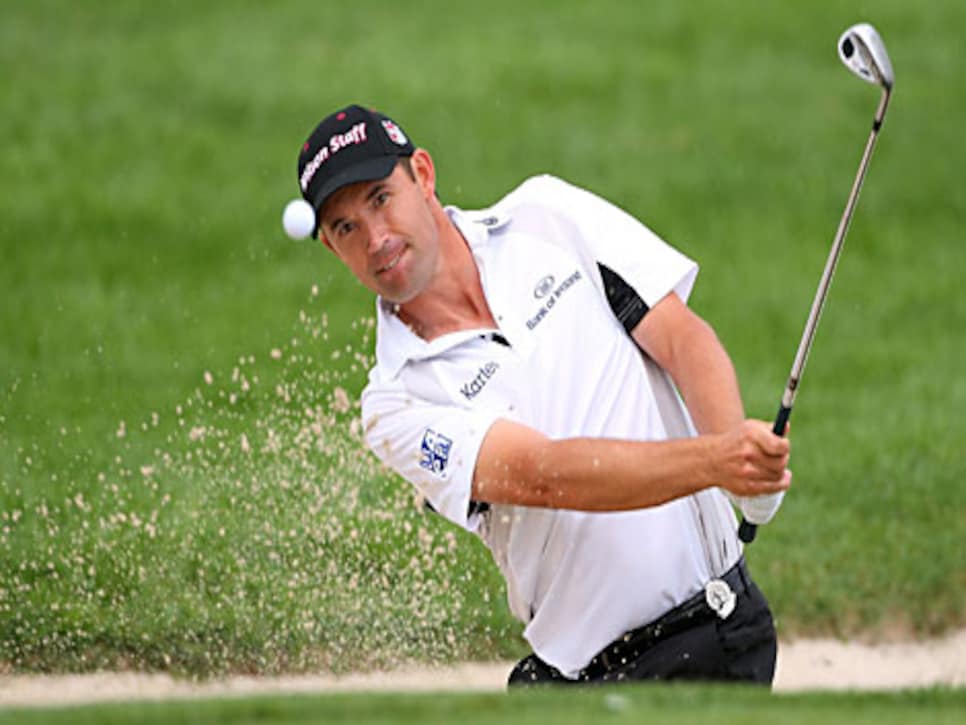 Padraig dug it out of the sand and the rough on 18 then dropped the par putt that sealed the win.
BLOOMFIELD TOWNSHIP, Mich. (AP) -- Padraig Harrington isn't interested in sentimental story lines that keep popping up at the majors. He's too busy winning them, and writing his name into the history books.
First came the British Open, where he ended a fairy tale for Greg Norman with a 32 on the back nine of Royal Birkdale. Then came the PGA Championship, where even Harrington could sense destiny on the side of Sergio Garcia.
It turned out to be a familiar story Sunday -- and for Garcia, a familiar finish.
Three shots behind at the turn, Harrington again shot a 32 on the back nine thanks to three putts that major champions make -- a 12-footer for par on the 16th to tie, a 10-footer at No. 17 to take the lead and a 15-foot par putt at the end that set off another celebration.
Harrington closed with a 4-under 66 at Oakland Hills for a two-shot victory over Garcia and Ben Curtis to become only the fourth player to win the British Open and the PGA Championship in the same year.
Along the way, he ended 78 years without a European winner at the PGA Championship. And to top it off, he became the first European ever to win consecutive majors.
"I obviously hold a lot of European players who I grew up watching in high esteem," Harrington said. "To believe that I achieved something they hadn't is very special."
He showed no regard for one of his own for the second straight year.
Garcia ran his record to 0-38 in the majors, right when the 28-year-old Spaniard felt it was all coming together. He had a one-shot lead and was in the middle of the 16th fairway when he hit into the water and had to scramble for bogey. Then he missed a 4-foot birdie on the 17th to match Harrington. And he could only watch -- again -- as Harrington knocked in a par on the last.
"I have no regrets of anything I did out there," Garcia said.
Harrington talked about going to another level after winning the British Open, and he wound up in elite company a month later. He joined Tiger Woods (2000 and 2006), Nick Price (1994) and Walter Hagen (1924) as the only players to win the PGA and British Open in the same year. And he now has won three of the last six majors, accumulating them at a rate only Woods can appreciate over the last 25 years.
"That's Tiger-like, right there," Curtis said.
Woods, who missed his second straight major after season-ending knee surgery, could have appreciated Harrington's clutch performance. Even more impressive was how he kept his cool, rarely showing emotion over key putts until the final one dropped.
Harrington pumped his fist twice, then a third time for effect.
Moments later, after Curtis failed to hole his shot from the fairway, he was holding son Patrick by his heels in a family moment and hoisting the Wanamaker Trophy for another major victory.
Harrington finished at 3-under 277 and earned $1.35 million.
Curtis lost a chance to validate his shocking victory in the 2003 British Open. He bogeyed two of the final four holes for a 71, but came away with a big consolation. His tie for second was enough to move him up to No. 7 in the U.S. standings and qualify for the Ryder Cup.
"It's almost a victory in itself," Curtis said.
Garcia moved to No. 3 in the European standings and sewed up a spot on his fifth straight team.
Harrington wasn't even in the picture Sunday morning when players returned to Oakland Hills to resume the weather-delayed third round, some of them playing 36 holes. He was 4 over after nine holes, then ran off four straight birdies on the back nine for a 66 to get into contention going into the final 18.
With another major at stake under gloomy skies, Harrington simply shined.
And for the second straight year, Garcia suffered.
Harrington rallied from six shots behind last year to beat Garcia in a playoff at Carnoustie. This time, he spotted the Spaniard three shots when they made the turn and made four birdies over the back nine.
Garcia accepted defeat far more graciously than at Carnoustie, although he was terse when asked if he sensed he would win his first major as he headed to the back nine after two tremendous par saves.
"Next question, please," he said. "Let's try to keep this as positive as we can, please."
J.B. Holmes, who had a one-shot lead when he arrived Sunday morning to play the final 36 holes, was one shot behind going into the final round and collapsed in a hurry with a triple bogey. He shot 81.
Boo Weekley closed with a 66 to finish at No. 8 in the standings and earn his first trip to the Ryder Cup.
Woods is the only other player to win so many majors so quickly in the last 25 years -- the U.S. Open in June made him 4-of-8 until the surgery.
Trying to play it safe after Garcia went into the water on the 16th, Harrington pulled his approach into the bunker and blasted out some 12 feet beyond the cup, leaving himself a putt with about 2 feet of break. He made it for par, then hit 5-iron to 8 feet on the 17th for one of only four birdies there in the final round.
As well as Harrington played, however, Garcia had a hand in his victory.
He chunked a chip short of the par-5 12th green that made him settle for par. His 6-iron to the 15th flew into the cup on the fly and bounced out, leaving him a 10-foot birdie putt that never had a chance. And after answering Harrington with a tee shot to 4 feet on the 17th, he couldn't match his birdie. Garcia's putt was left all the way, catching the lip and spinning away.
The other member of the threesome was Charlie Wi, playing in his first major.
"I turned to my caddie on 16 and said, 'God, this is a lot of fun just to watch,'" said Wi, who shot 74 and tied for ninth.
Curtis shot 68 in the morning to finish his third round at 2-under 208 for his first 54-hole lead in a major. He was the only player to reach 4 under on the weekend with a two-putt birdie on No. 6, where the tees were moved up to make the hole play 294 yards. He had three solid par saves on the front, but none on the back when it mattered.
He was tied for lead after a 10-foot birdie on the 14th, but pulled his drive on the 15th and made bogey, then watched his tee shot on the 17th land too hard and roll into a clump of rough behind the green, leading to another bogey.