News
Three-Way Firestone Dogfight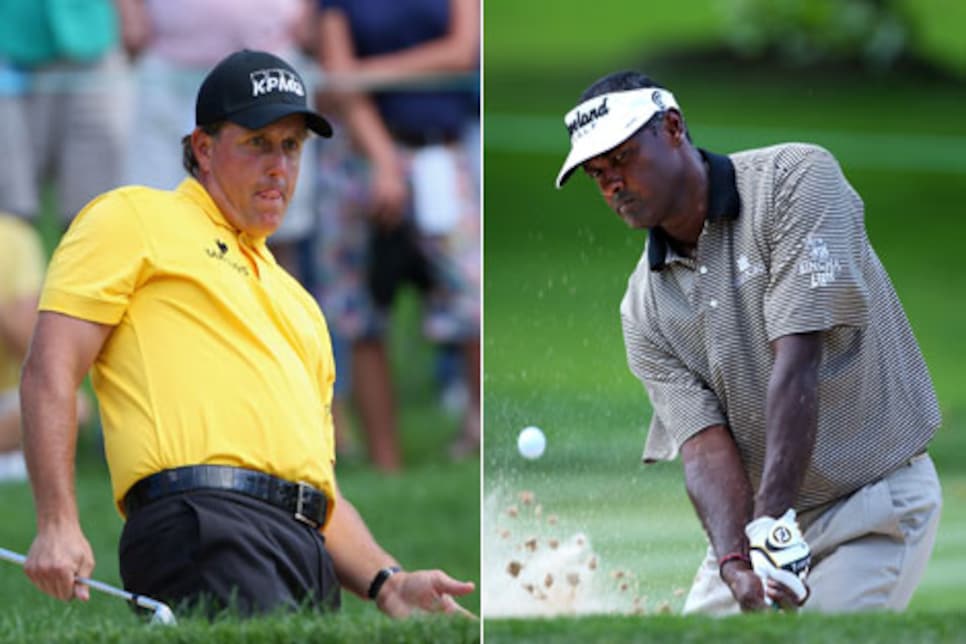 The days lowlights: Phil went six straight holes without hitting a fairway. Vijay missed two putts inside 3 1/2 feet.
AKRON, Ohio (AP) -- Phil Mickelson and Vijay Singh slugged it out in the trees and on the greens Saturday throughout an up-and-down day at the Bridgestone Invitational until they wound up in a tie for the lead with a far more conventional Lee Westwood.
Mickelson went six straight holes without hitting a fairway, then poured it on late with three straight birdies until he finished with a bogey from the fairway for a 2-under 68.
Singh twice missed par putts from inside 3½ feet, but chipped in from a scary lie above the third hole for birdie and managed a 69. Westwood drove the ball as well as he ever has and made long putts for birdie and par on his way to a 67.
They all were at 8-under 202 and gave this World Golf Championship a truly global feel -- three players from three parts of the world, each seeking his first WGC title.
One shot behind was Stuart Appleby of Australia, the only player to compete in all 29 of these events since they began 10 years ago.
"You want to win everywhere, don't you?" Westwood asked. "I'm proud that I've won on every tour, basically. I haven't won a World Golf Championship, so it would mean a lot, and obviously give me a massive amount of confidence going into the next week."
Mickelson won at Firestone a dozen years ago before it was a WGC event, and this might be his best chance at a world title. After straightening out his tee shots, he closed out his string of birdies by going for the green on the 620-yard 16th hole, hitting a hybrid into the back bunker and getting up and down.
But he lost the outright lead on the final hole with a wedge in his hand, blocking the shot enough that it clipped a tree and came up well short of the green. Mickelson failed to save par from 8 feet.
On a Firestone South course that was slowly starting to dry, the third round separated what had been a jammed leaderboard. Even so, 10 players were separated by four shots going into the final round, a group that included Darren Clarke, who had a 65 and was four behind as he tries to win a third WGC title.
After two relatively quiet days, the gallery came to life for a final pairing of Singh and Mickelson, the two best players behind Tiger Woods over the last five years. Mickelson got most of the attention, with one man screaming out, "I love you more than my wife."
But it took a while for them to put on a show.
Singh birdied consecutive holes early, chipping to 3 feet on the par-5 second and holing his delicate chip on the third. But the Fijian hung his head when an approach spun off the false front of the fourth green, and he badly missed from just over 3 feet, setting the tone for a spotty afternoon with his belly putter.
"A few short putts here and there would have made a big difference," Singh said.
Mickelson, who had only broken par three times in the last four years at Firestone, posted his third straight round in the 60s this week thanks to an adjustment in his alignment. He was off slightly early on, hitting his opening tee shot into the trees and missing his mark by some 50 feet with a mid-iron on the second.
But it didn't get his attention until two big misses off the tee on the 11th and 13th, one leading to bogey. Mickelson made sure he was more square to the target, blasted a tee shot on the 14th and began his run of birdies.
"I didn't really address it until I missed it big on 11 and 13 because I had been playing so well, and I felt like it was only a couple of yards off the fairway most of the time," Mickelson said.
Westwood, a 35-year-old from England, hasn't won since the British Masters last summer but is far more comfortable with his consistency over the last eight months. He had a chance to win his first major at the U.S. Open, missing a 15-foot birdie putt on the final hole at Torrey Pines to miss the playoff by one shot.
"Winning is strange," Westwood said. "Sometimes it doesn't go your way. Sometimes, somebody else plays a little bit better."
That could be just about anybody on Sunday, although Mickelson is convinced the winner will come from the final two groups, unless someone such as Retief Goosen (68) at 5-under 205 gets hot.
"All four of us are playing well," Mickelson said of the leaders and Appleby. "I expect at least one and probably two or three us to have good rounds in the 60s tomorrow and force the guys behind us to catch up with birdies."
If that's the case, it could be the first world title for any of them.
Even Mickelson got a chuckle when it was jokingly pointed out to him that he was the best player to have never won a World Golf Championship, 0-for-24 since the series began.
"They started midway through my career, so I haven't given them the priority like I do a major, or care about like a major," Mickelson said. "But they are always the best fields in the game, they're always on great golf courses, they're always on tough tests. So I think there's a lot of merit to whoever wins those."