News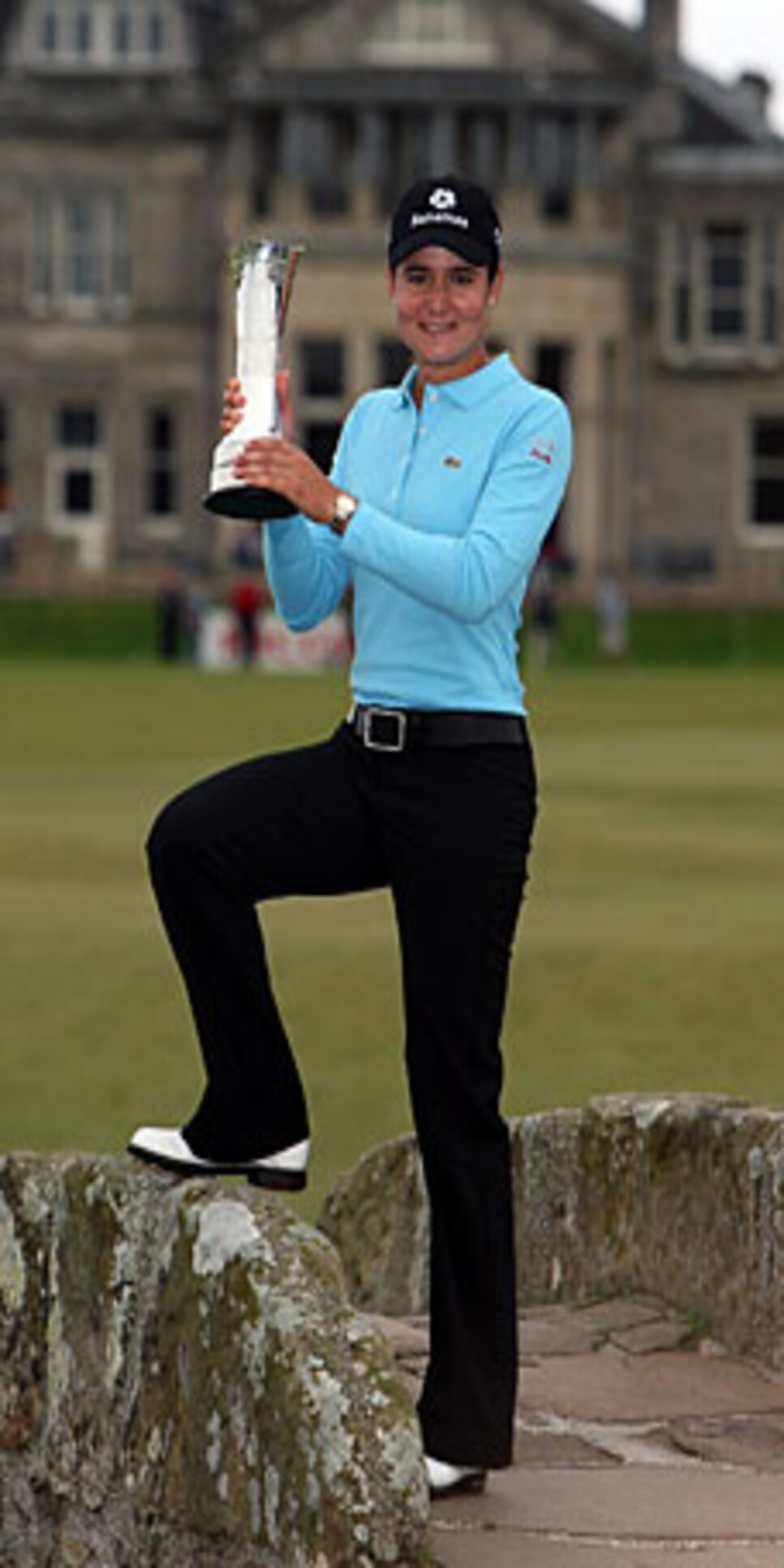 With seven 2008 LPGA winners 22-years old or younger Lorena's title defense will have to withstand the onslaught of youth.
SUNNINGDALE, England -- Suddenly, Lorena Ochoa and Suzann Pettersen, barely in the second half of their 20s, are looking like grizzled veterans. And Annika Sorenstam, at the age of 37, is absolutely ancient. Someone opened the spigot to the fountain of youth at the LPGA and the outpouring appears to be endless.
Players 22 and younger won the seven LPGA tournaments immediately preceding the Evian Masters, and teenagers won the last two major championships. Does anyone old enough to remember there was a first President Bush have a chance to win the Ricoh Women's British Open, the final major of the year?
Ochoa won last year's Women's British at St. Andrews and when she backed that up with a dominating effort at the Kraft Nabisco Championship in April those magic words "Grand Slam" were whispered. But a couple of kids had different ideas.
Yani Tseng of Taiwan won the McDonald's LPGA Championship in a playoff over Maria Hjorth, and Inbee Park of Korea waltzed across the back nine at Interlachen CC to take the U.S. Women's Open. Both were 19 when they won.
In 2004 -- the last time the Women's British was at Sunningdale, site of this year's competition beginning Thursday -- Karen Stupples rode the greatest final-round start in major championship history to victory.
Sunningdale opens with two par-5 holes and all Stupples did was start her Sunday round eagle, double eagle. How would you like to have been Cristie Kerr, Stupples' playing partner, who started with two pars and had dropped five strokes?
That 2004 tournament was also when Minea Blomqvist shot the first 62 ever in a major -- male or female -- a feat since matched by Ochoa in the Kraft Nabisco Championship. Maybe Blomqvist, who was all of 18 years old when she took it low, was just trying to give us a heads-up about the impending youth wave.
Going back to the 2007 Kraft Nabisco, when then 18-year-old Morgan Pressel became the youngest player to win an LPGA major, three of the last seven Grand Slam events have been won by teenagers. Is there another one in the pipeline with a chance to win at Sunningdale? Absolutely.
Angela Park, a Korean born in Brazil who turns 20 three weeks after the Women's British, has contended in each of the last two U.S. Women's Opens (and lost in a playoff to Helen Alfredsson at last week's Evian Masters). But the youngest player with the best chance to win at Sunningdale is Paula Creamer, who turns 22 two days after the champion is crowned.
Creamer has already won seven LPGA events, three of them this year, and has two more wins in Japan. She led this year's U.S. Women's Open after 54 holes but faltered with a 78 Sunday. Impressively, she bounced back two weeks later to win the Owens Corning Jamie Farr, blistering the course with an opening-round 60.
Another young talent to watch is Seon Hwa Lee, a 22-year-old Korean who has four LPGA wins in her brief career, including the week before the McDonalds and the week after the U.S. Open this year. Maybe this time she will get the timing right and peak the week of a major.
But the storylines at Sunningdale will extend well beyond the kiddie corps. Ochoa, 26, hasn't won since May after grabbing six of the first nine events she played, grieving the death of her grandfather and uncle within weeks of each other. She has taken a few weeks off and likely will return with renewed focus and fire.
Pettersen, 27, got her first major at the McDonald's last year, a season in which she notched five LPGA titles. She's been shutout on the LPGA circuit this year but has won twice in Europe and has played well all year. She can overpower Sunningdale.
Cristie Kerr, Karrie Webb and Se Ri Pak -- all major championship winners -- have to be considered contenders. So does Mi Hyun Kim, who with eight career wins shares the dubious distinction with Rachel Hetherington of being the active player with the most victories without a major.
Kim is the only player to finish in the top 10 in the first three majors of the year. Hetherington was second at Sunningdale in 2004 and could factor again. Sherrie Steinhauer and Sophie Gustafson always play well in the Women's British.
And then there is the 37-year-old Sorenstam. This may very well be her last major championship. She says she will step away from competitive golf at the end of the year and the only door she has left open to playing again is years down the road, perhaps after having a child.
If she had putted even a little bit better she could have won the Kraft Nabisco, where she was second, and the McDonald's, where she finished third. Sorenstam also hit the ball great at the Women's Open, only to be sabotaged by her putter, finally fading to T-24.
Annika has a flair for history and she could make some at Sunningdale. Her first LPGA victory was the 1995 U.S. Women's Open. Perhaps she has in mind ending her major-championship career by book-ending things with the Women's British Open. She'll just have to put those kids in their place.