News
Championship Goes To Thompson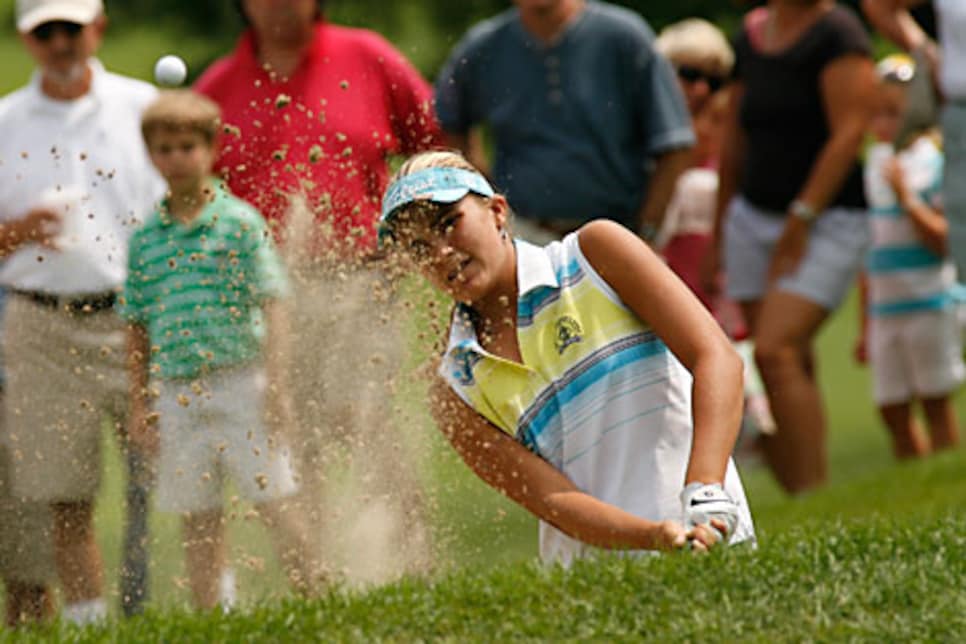 Alexis Thompson took 51 putts over the 34 holes of the championship match on Sunday.
West Hartford, Conn. – Alexis Thompson of Coral Springs, Fla., defeated Karen Chung of Livingston, N.J., 5 and 4, in the 36-hole championship match of the 2008 U.S. Girls' Junior on Sunday at Hartford Golf Club, becoming the second-youngest winner in the event's 60-year history.
At 13 years, 5 months and 17 days, Thompson is only two months older than 1999 champion Aree Song Wongluekiet, who was 13 years, 3 months, 7 days. Chung, also 13, would have been nine days older than Wongluekiet.
This was also the first time two 13-year-olds had met in a U.S. Girls' Junior final.
The long-hitting Thompson, who last year was the youngest-ever qualifier for the U.S. Women's Open and youngest quarterfinalist in U.S. Women's Amateur history, used her superior length to eventually wear down Chung, a first-time U.S. Girls' Junior participant competing in her first match-play competition. Over the 32 holes, Thompson was the equivalent of two over par, with the usual match-play concessions, while Chung was six over, including bogeys on three of the last four holes.
Thompson owned a 2-up lead at the lunch break and maintained that advantage through 27 holes. But a winning birdie on the 28th hole and two winning pars at holes 31 and 32 closed out the match about 45 minutes before a major thunderstorm rolled through the area.
Weather issues plagued the championship early in the week, with heavy rains and thunderstorms washing out play completely on Thursday and forcing the Girls' Junior to be held over an extra day for the time in its history.
Thompson joins a long list of high-profile past U.S. Girls' Junior champions that include Hall of Famers Mickey Wright, JoAnne Gunderson Carner, Amy Alcott and Nancy Lopez, along with reigning U.S. Women's Open champion Inbee Park and current LPGA Tour players Kelli Kuehne, Pat Hurst, Julieta Granada and In-Kyung Kim.
"Winning this is at the top [of my list] definitely," said Thompson, the younger sister of current PGA Tour pro and 2005 USA Walker Cupper Nicholas Thompson. "Just winning this is huge. Coming home with the trophy means a lot."
To reach the final, Chung survived the longest 18-hole match in the championship's history during Saturday's semifinals when she held off Kristina Wong in a 26-hole marathon. In fact, Chung played 80 holes of golf in a 48-hour period prior to Sunday's match, while Thompson needed only 64 holes in the same time frame. Chung's brilliant short game, which had carried her in the previous rounds, was a little off against Thompson, much of that she attributed to nerves.
"I was really nervous today," said Chung, who took up the game three years ago. "It was pretty tough out there today with all the wind [in the afternoon]. And Alexis hitting it like 50 yards beyond me on every hole.
"It does get on my nerves watching a girl hit an iron from where I am holding my wood."
Even with the calm conditions in the morning, Thompson continuously hit her drives past Chung, yet the match remained close. The two players traded holes on the first nine before Thompson won three consecutive holes from No. 10 for a 2-up lead. She led by as many as three holes before losing the 17th with a bogey.
Thompson opened the afternoon round with a winning par at the 19th hole, only to see Chung roll in a 12-footer for her first birdie of the match at the par-4 20th hole. Two holes later, the lead was trimmed to one when Chung converted a 15-foot birdie and Thompson failed from 8 feet.
But all week, Thompson had used the par-5 ninth and 10th holes to her advantage, reaching the 500-yard ninth in two during Saturday's quarterfinals and semifinals. While she failed to birdie that hole in the final match, she did hit one of her best shots of the week at the 10th, the 28th of the match. Her tee shot sailed was pushed to the right underneath some trees and she was forced to punch out to the fairway. Facing a 197-yard shot into the wind, Thompson pulled out her 7-wood and knocked it to 12 feet to set up a winning birdie and a 3-up lead.
"That meant a lot. That was a really good shot," said Thompson. "That shot saved me on that hole."
As the storm moved closer, the winds continued to increase, making it tougher on the shorter-hitting Chung. She failed to reach the 402-yard 13th hole in two and when her 25-foot par slid 4 feet past the hole, Thompson, who reached the green with an iron, calmly two-putted from 18 feet for a 4-up lead.
At the 389-yard, par-4 14th hole, Chung again failed to reach the green in regulation and missed a 6-foot par putt to extend the match. Thompson then clinched the title by holing a 3-footer for par.
"My putting was really good in the morning and half of the afternoon," said Thompson, who totaled 51 putts in 32 holes. "The putt that I had to win … was not an easy putt. That's not the putt I want; a left-to-righter and fast. Not my favorite."
But when Thompson was presented the Glenna Collett Vare Trophy moments later, she was relieved that the long week had ended with the title.
"My summer has gone really good so far," said Thompson, who now has two victories and several other top-10 finishes. "I'm feeling really confident going into the [U.S. Women's] Amateur [Aug. 4-10] and the Westfield PGA [in the middle of August] and any other golf tournaments."
Both finalists are exempt for the U.S. Women's Amateur in Eugene, Ore., and each receives a local exemption for next year's U.S. Women's Open.
The U.S. Girls' Junior is one of 13 national championships conducted annually by the United States Golf Association, 10 of which are strictly for amateurs.