News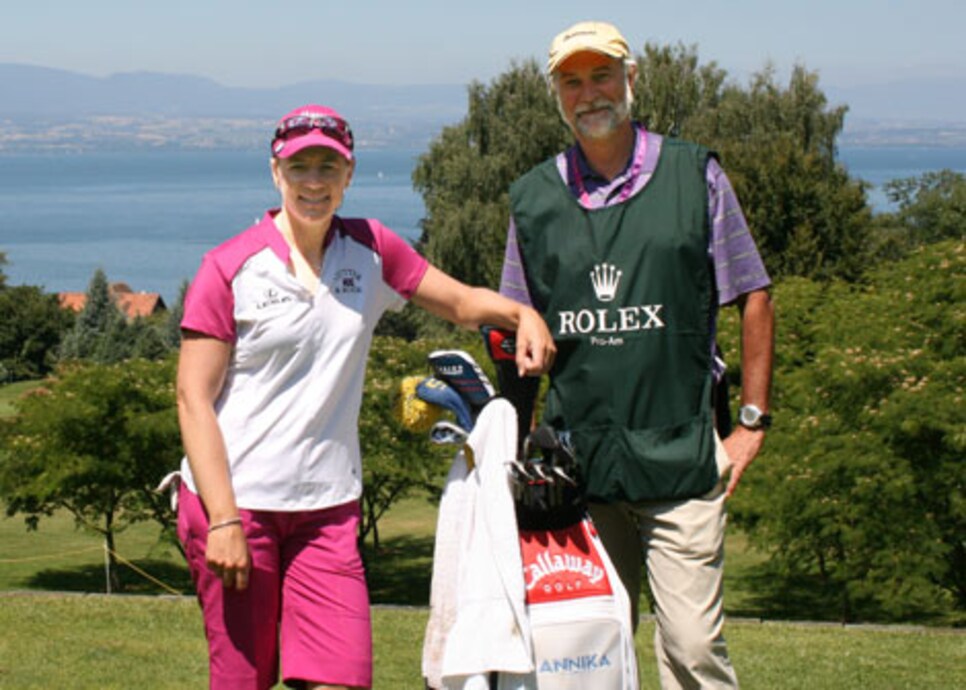 Annika Sorenstam and her Master Looper for a day, Ron Sirak.
EVIAN-LES-BAINS, France -- The chances are good that since I started covering the LPGA regularly for Golf World in 2002 the only person who has seen Annika Sorenstam hit more shots in competition than me is her caddie, Terry McNamara. Annika won so often in the five seasons from '02 through '06 -- 38 times -- that she was pretty much always the story, and I always walk with the story.
Aware of how many holes I've trekked with her, Annika asked me an interesting question a couple of months ago, soon after she decided she would retire from competition at the end of this year: "Have you ever caddied?"
I said I had but certainly not on any sort of professional level. She said, "Since you've walked with me so much and since this is my last year, why don't you walk inside the ropes with me at a tournament and caddie for me in a pro-am?" Sounds like a plan was my reply.
The amusing thing was the response of NcNamara when Annika told him he was going to get a Wednesday off. With a mischievous grin he said: "I know just the course -- Evian." Annika giggled. I groaned. Evian is a spectacularly beautiful course that clings to the side of a mountain in the foothills of the French Alps. It has some climbs that make goats dizzy.
One of the great things about the Evian Masters is the relaxed atmosphere. It's like holding a tournament at a summer camp for adults. There is a tournament going on with an extremely large purse, but there is also a party going on with an extremely high entertainment value.
So Tuesday night as I was hanging out on the Rue de Nacionale having a beer with a few players and caddies, Terry mentioned I had the bag the next day. What the other caddies wanted was to be standing at the fifth green to see how I looked after I made the climb from No. 4 that is so steep it just about requires ropes and crampons.
Wednesday morning when Terry handed me the yardage book and the scorecard I started to get nervous. Terry's notes in the yardage book were so detailed I was certain there was no way I was going to be able to decipher it and give Annika an accurate yardage without needing a half-hour to complete the task. I think Terry knew that as well.
My growing concerns were not eased when Meaghan Francella, seeing me lugging the bag, asked with a look of total disbelief: "Have you ever walked this course?" I had, of course, many times as a journalist. But I was carrying a 4-ounce notebook and not a 40-pound bag.
Then Terry said something that really made me nervous. "If you break something, they won't even find your body," he said. "One day people will just say, 'Hey, where's Ron? Haven't seen him in a while.'" With that we were off.
Now I'm not a fan of the "I played with so-and-so" or "I caddied for so-and-so" stories, so I won't bore you with details of the round. Let's just say that the enormous respect I already had for professional golfers and professional caddies grew enormously.
I knew this round was important to Annika as a practice round and I was greatly relieved that Terry walked with us to give her yardages. They have been together almost nine years and the rapport between them is obvious.
It's hard not to be impressed when Terry says, "89 yards to the hole, fly it 91 and it will spin back two yards." Even more mind-boggling was when Annika did exactly that, leaving her ball pin-high a yard right of the hole.
Anyway, I made it up the hill on No. 5, I didn't lose anything or break anything, kept the scorecard for the pro-am match and woke up the next day with only mildly aching quadriceps. But I'm pretty glad I'm back to toting a 4-ounce notebook.