News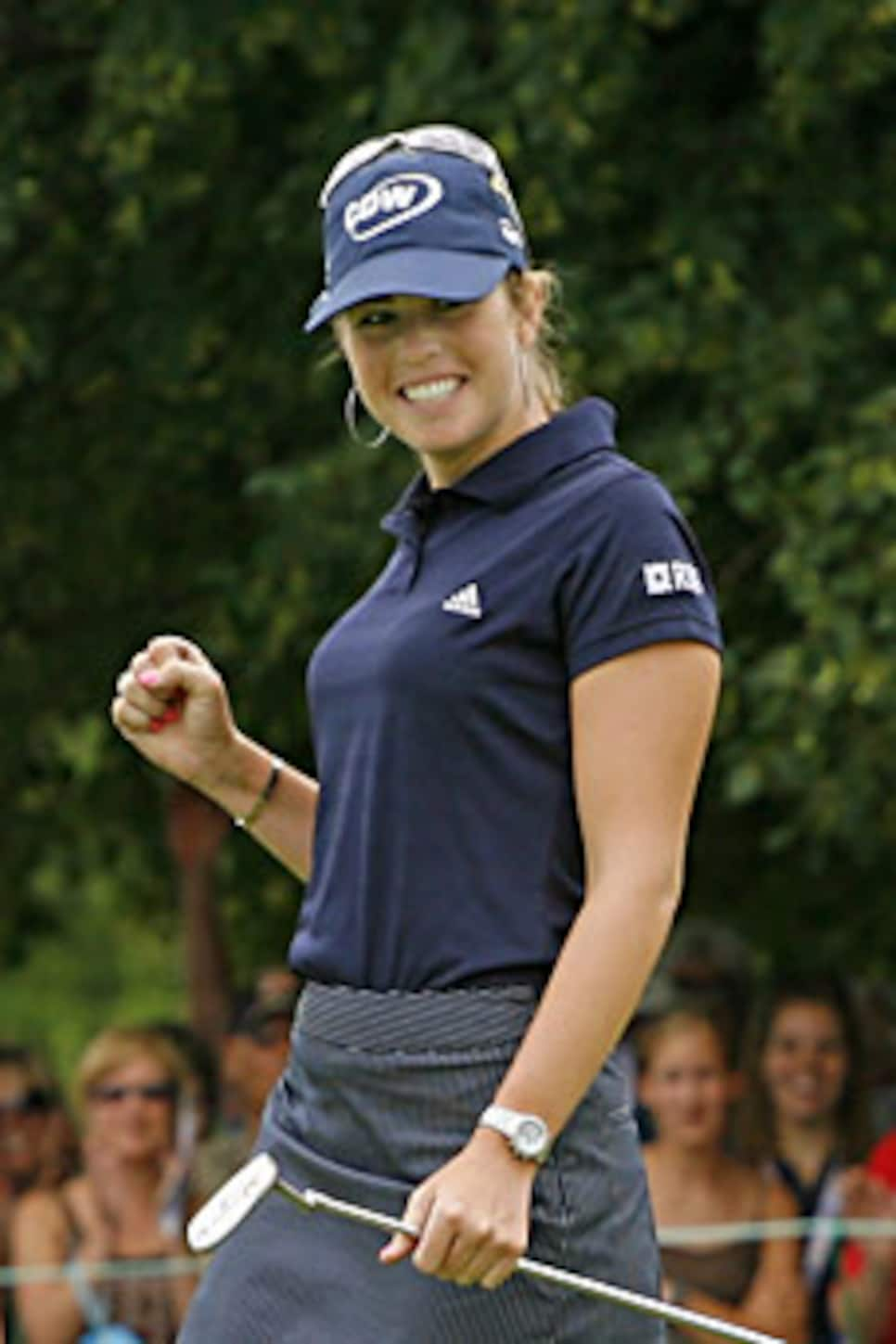 Creamer birdied 9 of the last 11 holes and just missed a few others that would have let her tie Annika's record of 59.
SYLVANIA, Ohio (AP) -- Imagine what Paula Creamer might have done if she had only known she was close to shooting a 59.
Creamer birdied nine of her last 11 holes to shoot a course-record 60 on the par-71 Highland Meadows course Thursday in the opening round of the Jamie Farr Owens Corning Classic.
"Well, I didn't know it was a par 71," Creamer said with a laugh. "I thought it was a par 72. If I would have known that, who knows?"
Creamer would have had to hole out a 137-yard 7-iron from the fairway to shoot 59, though she didn't realize it at the time. She made a 20-foot birdie putt for 60.
Only a handful of players have matched that magic number 59 in a competitive round on the PGA or LPGA tours. But Creamer was oblivious that she was so close to making history.
It was the 21-year-old's lowest LPGA round by four strokes. She matched the tour record of raw score for nine holes with a 27 on the home half.
"We were all standing on the green and Kimmie (Mi Hyun Kim) was looking at me, 'Wow, that was unbelievable.' (I thought) what did we shoot here? Sixty? I didn't know. I didn't realize it."
The 60 was one off the LPGA mark of 59 set by Annika Sorenstam in the second round of the 2001 Standard Register PING on a par-72 course. It matched the scores of three other players: Meg Mallon (2003 Welch's/Fry on the par-70 Dell Urich Golf Course in Tucson, Ariz.), Jung Yeon Lee (2004 Welch's/Fry) and Anna Acker-Macosko (2004 Longs Drug Challenge, par-71 The Ridge Golf Course, Auburn, Calif.).
David Duval (1999 Bob Hope), Chip Beck (1991 Las Vegas) and Al Geiberger (1977 Memphis) are the only three players to shoot a 59 on the PGA Tour.
With half the field in the clubhouse at the midpoint of the Farr, she led by five strokes.
"Paula is so talented. She could birdie every hole," said playing partner Natalie Gulbis, who shot a 74. "She's a birdie machine. I don't think there's a day that she goes out not thinking she can birdie every hole."
Creamer, No. 3 on the LPGA money list, started on the back nine and was 4 under at the turn after birdies on 17 and 18. The rest of the way, she had all birdies except for a pair of two-putt pars.
She birdied the first three holes on her last nine, hitting putts of 9, 30 and 15 feet. After missing a 20-foot birdie putt and settling for par at No. 4, she almost holed a 3-rescue club from 188 yards on the par-4 fifth, tapping in from 6 inches for birdie.
She barely missed a 15-footer for birdie at the sixth hole in what was her last realistic shot at 59 before closing with the three birdies.
After completing the round, she and caddie Colin Cann finally realized par was 71 instead of 72.
"Colin and I were looking at it (and he said), 'Seventy-one! You should have shot a 59! What were you doing out there?'" Creamer said. "It was funny."
The Highland Meadows layout, which stretches 6,428 yards, has yielded low scores before. Se Ri Pak shot rounds of 63 and 61 -- establishing the course record -- in winning the Farr in 1998. Pak, the Farr's defending champion, had a 68 Thursday in her attempt to become the first LPGA player to win the same tournament six times.
"Somebody is always going to break it," Pak said of her course record.
She said now she would take aim on regaining her low mark.
"Why not?" she said with a smile. "I shot 10-under before. I can go a little more than 10-under."