News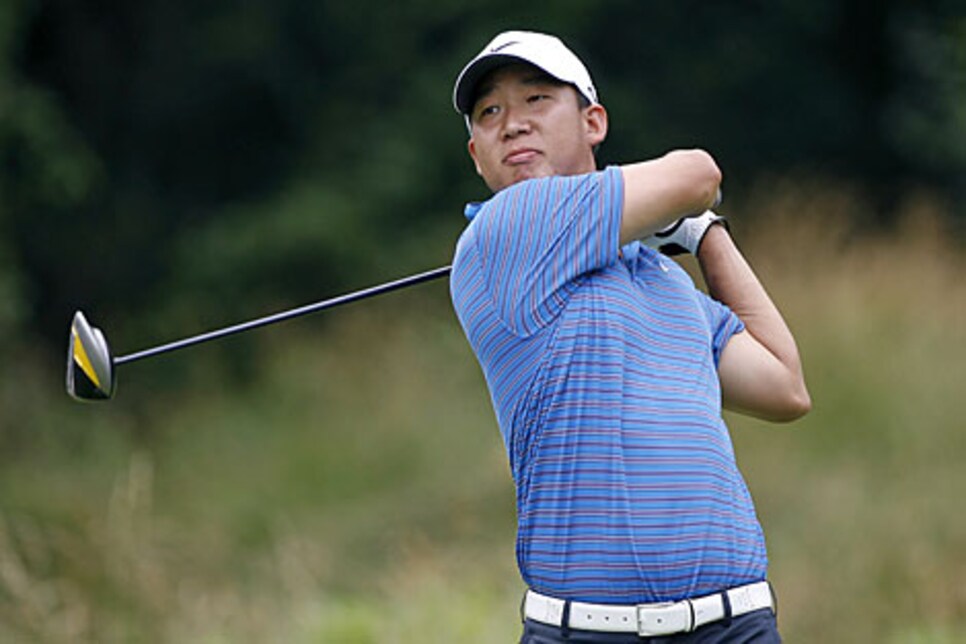 With Tiger on hiatus, will Anthony Kim step up to the plate and do what other young stars haven't?
Those searching for someone to step into the void and make the PGA Tour interesting while Tiger Woods is on the shelf don't have to look any further than Tiger's own tournament, the ATT National. Anthony Kim may not just spice things up while the boss is on the mend, he may very well use Woods' absence to build up some momentum and emerge as a serious candidate to reside on that tier just below Tiger, where the mere mortals compete for the honor of being known as the best player not named Woods.
With his victory Sunday at Congressional, the 23-year-old Kim won for the second time since Woods limped to the sidelines the first time this year after the Masters. Kim's closing 65, in which he wiped out a three-stroke deficit going to the final round, made him the first American under the age of 25 to win two PGA Tour events in the same season since Woods did it in 1996. And it made him a young player to be taken very seriously.
It could be that the biggest advantage Kim has over some of the other young and talented players on tour is that he has accumulated less Tiger-inflicted scar tissue over the years because he has simply had fewer years in which to be slapped around by Woods. Kim is young enough to know that Woods is not going to haunt his entire career.
The most-resilient player in the Tiger Era has been Phil Mickelson. No matter what disappointment he endures he just keeps bouncing back to his feet and coming back for more. But if Woods is the overwhelming No. 1 and Mickelson is the clear No. 2, who is No. 3? The World Golf Ranking says it's Adam Scott, but that's by statistical default simply because someone has to be No. 3. Is there really an obvious choice -- or even a group of candidates -- for that position?
Remember when the scramble for Nos. 2 through 7 included names like Mickelson, Ernie Els, Vijay Singh, Retief Goosen, Sergio Garcia and David Duval? And remember half a dozen or so years ago when an extremely talented crop of Tiger challengers appeared on the scene and many felt it was only a matter of time before one of them emerged as the next great player. Well, we are still waiting.
There are three reasons why Kim might be that next great player. The first is ability. In less than two years on tour he has demonstrated he has game. The second is attitude. The diamond-studded "AK" belt buckle speaks rather eloquently on that matter. And then there is age. At 23, Kim has had to absorb fewer body blows from Woods than the generation of players Tiger has pummeled for his 11-plus seasons on tour.
Consider this: When Woods turned pro in 1996, Kim was 11 years old. And when Tiger blew away the field by 15 strokes in the 2000 U.S. Open, Kim wasn't yet 15. He has been a spectator to greatness, not a victim of it. Mickelson, Els, Singh, Garcia, Goosen and Duval were all run over by that bus.
Now write down these names: Garcia, Scott, Justin Rose, Luke Donald, Aaron Baddeley, Paul Casey and Charles Howell III. They are all between the ages of 27 and 30; they all have at least half a dozen years of playing the PGA Tour. And they have combined to win zero major championships. Much more was expected of them than has been delivered.
Of those seven players, only Garcia (7) and Scott (6) have more than the two career victories Kim has racked up in less than two years since turning professional. And while Kim is in only his second full season on tour, Scott is in his seventh and Garcia his ninth. Unlike Garcia and Scott, Kim is young enough to have been inspired by Woods, not destroyed by him. Don't underestimate the significance of that.
The victory Sunday pretty much guarantees Kim a spot on the U.S. Ryder Cup team, and that will provide another opportunity for him to grow as a player. The words he said after winning the ATT -- things like the importance of him being mature enough to be a responsible role model for kids -- indicate he is growing that way as well.
This is a road we have traveled before. A young talent emerges and we expect -- hope for, really -- great things. It's a road that more often than not turns out to be a dead end. In a way, we're setting ourselves up for disappointment if we expect too much from Kim.
Certainly, it is way too early and Kim has accomplished far too little for anyone to anoint him as the next anything. But it isn't a stretch to think he might capitalize the most during Tiger's absence. And maybe in doing so he'll gain the confidence to take on Woods when he returns.
If Kim, currently No. 14 in the World Ranking, does emerge as a legitimate contender for No. 3, he'll have this going for him: He has far fewer Tiger paw prints on him than anyone else in the top 20.