News
No U.S. Blues In Minnesota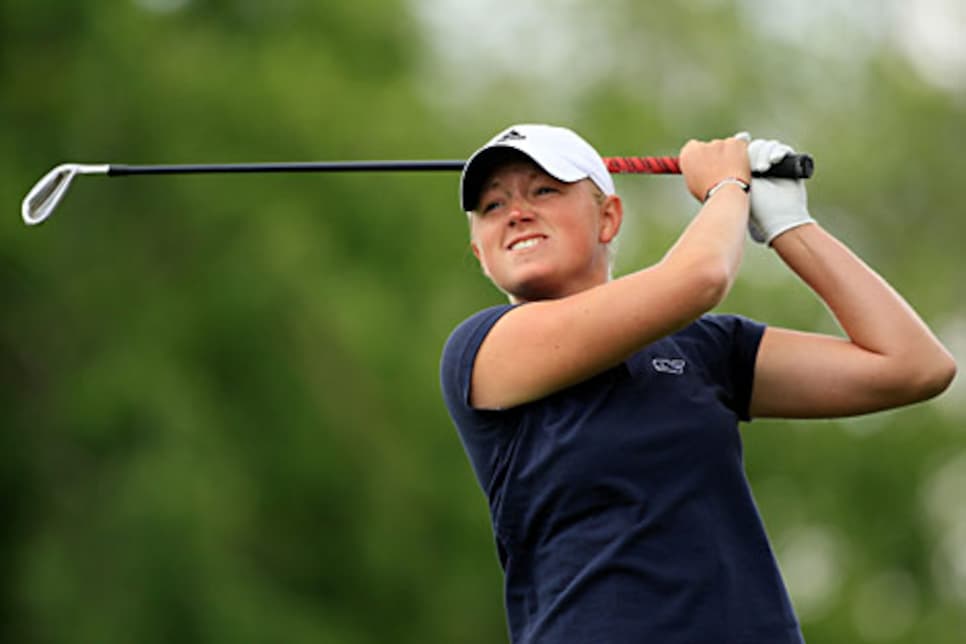 19 days into her pro career, Stacy Lewis finds herself on center stage.
EDINA, Minn. -- Just like that, the "U.S." is back in the U.S. Women's Open. Even though there are only two Americans among the top dozen on the leader board going into Sunday's final round, they are at the very top. And while one half of the duo is hardly a surprise, the other is a bit of a shocker -- to everyone except herself.
Stacy Lewis, 23, playing in her first tournament as a professional, putted her way to a six-under-par 67 in Saturday's third round at Interlachen Country Club. She's at nine-under 210 and one shot ahead of Paula Creamer with 18 holes to go. That red, white and blue final pairing -- with a touch of Creamer's Pink Panther act added to the mix -- is sure to excite the large, golf-savvy, enthusiastic galleries gathered just miles from the Mall of America.
Lewis' path to the U.S. Open, like her path to golf, has been anything but easy. Diagnosed with scoliosis when she was 11, Lewis wore a back brace for seven and a half years, only to find out the procedure didn't work and she needed surgery. That bad news came three months after she had accepted a golf scholarship to the University of Arkansas.
"I just cried," she recalled after Saturday's round.. "All I had ever wanted to do was play college golf, and now I thought it might not happen."
At the end of her senior year in high school Lewis had a rod and five screws placed in her back to straighten it. Following surgery she was in a brace for another three months and then endured six more months during which she couldn't bend over or lift anything weighing more than five pounds. "I had a lot of time to work on my short game," she said.
After red-shirting her freshman year at Arkansas, Lewis played golf for the Razorbacks and won 12 times including the 2007 NCAA individual championship. She concluded her amateur career last month by becoming the first player to go 5-0 in the Curtis Cup as she led the United States to a 13-7 victory over Great Britain and Ireland.
Lewis turned pro on June 9, the day she tried for qualify for the U.S. Women's Open at Eastern Hills Country Club in Garland Tex., and won the qualifier by four strokes. She enters Sunday's final round short on professional experience but battle tested in the amateur ranks and long on confidence.
"Truthfully, I'm not really that surprised," she said about leading the Open after 54 holes. "I thought I could compete at this level and I thought I could win at this level. I just wanted to put myself in position to have a chance to win on Sunday, which is what I do in every tournament. The Curtis Cup gave me a lot of confidence."
She put herself in that position by making everything she looked at on the greens Saturday, needing only 23 putts among her 67 strokes. The key, she said, was a 15-foot par-saving putt on No. 10 that inspired birdies on three of the final five holes, including the last. "That got things going," she said about the putt on No. 10.
Lewis has the odd distinction of winning an LPGA event the record book says was never played. Last year, as an amateur, she shot a 65 in the first round of the NW Arkansas Championship and topped the leader board. Unfortunately, because of weather no more golf was played and it was called a no contest.
"It was wiped off the books," she said good-naturedly. "That was hard to take at first because it was the round of my life. But I just look at it that I beat 143 of the best players in the world on that one day."
Lewis won't have 143 players to beat Sunday at Interlachen, but she will have some formidable opposition. Creamer has six LPGA victories at the age of 21 and is trying to win her her first major championship. Two strokes back are 43-year-old Helen Alfredsson and 19-year-old Inbee Park.
"I'll probably sleep pretty well tonight," Lewis said. "I'm pretty tired. It's more exhausting to play good golf than to play bad golf."
So far, she has played a lot of good golf. And now she has a chance to win a major championship in her first tournament as a professional.